To keep up with increasing customer demand and the constant evolution of battery technology, the latest generation Fuso eCanter offers buyers more options than ever. Fuso produces the eCanter in four weight classes, three of which will be available in Ireland. Add to that a range of purposes from box body to tipper truck across various wheelbases, and Fuso has a comprehensive offering. Furthermore, it is launching a dedicated website and software package that assists operators in maximising the productivity and efficiency of a single vehicle or fleet.  
Fuso eCanter range 
When you go through all of the different combinations of battery size, wheelbase and body styles, there are 38 different variants available to order. More than 550 eCanters have gone into service, racking up more than eight million kilometres of driving free of local emissions.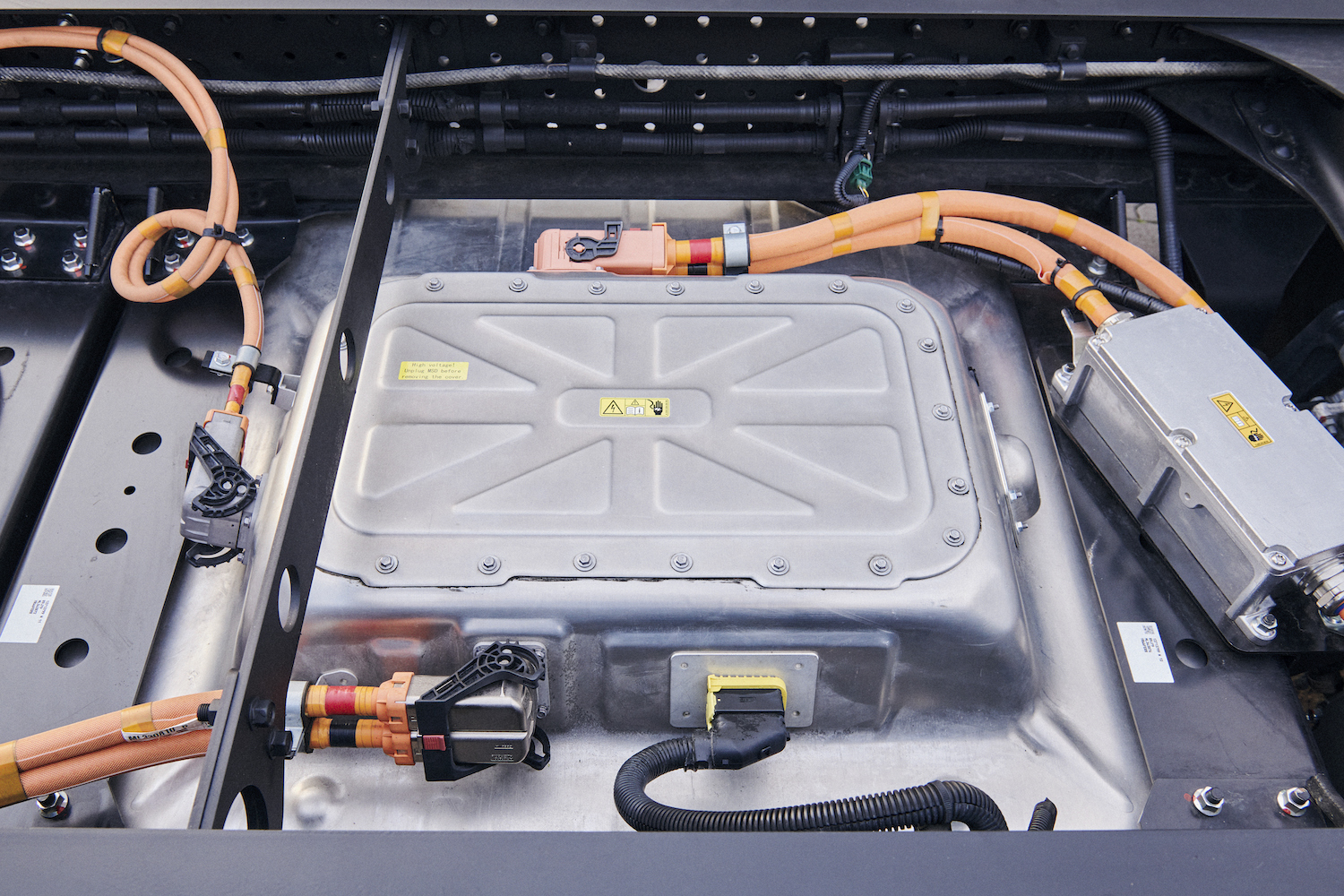 The main news is that there are three battery options available that Fuso refers to as S, M and L according to size. These all use the latest lithium iron phosphate composition, resulting in greater capacity and longer service life. The S battery is a 41.3kWh unit with enough energy to provide a driving range of up to 70 kilometres.
One important thing to note is that Fuso specifically downplays its battery range figures to give customers a more realistic idea of what to expect and therefore help with planning and ordering vehicles. In many cases, the eCanter will go further, but as so many variables can affect driving range beyond the standardised tests, Fuso errs on the side of caution with its range figures. 
The M battery has an 82.6kWh capacity, doubling its driving range to 140 kilometres. Previously the eCanter only had a single 81kWh battery option that could travel up to 100 kilometres, so this M version already betters that. For those requiring extended driving ranges, the L battery provides a 124kWh capacity and can drive up to 200 kilometres on a single charge.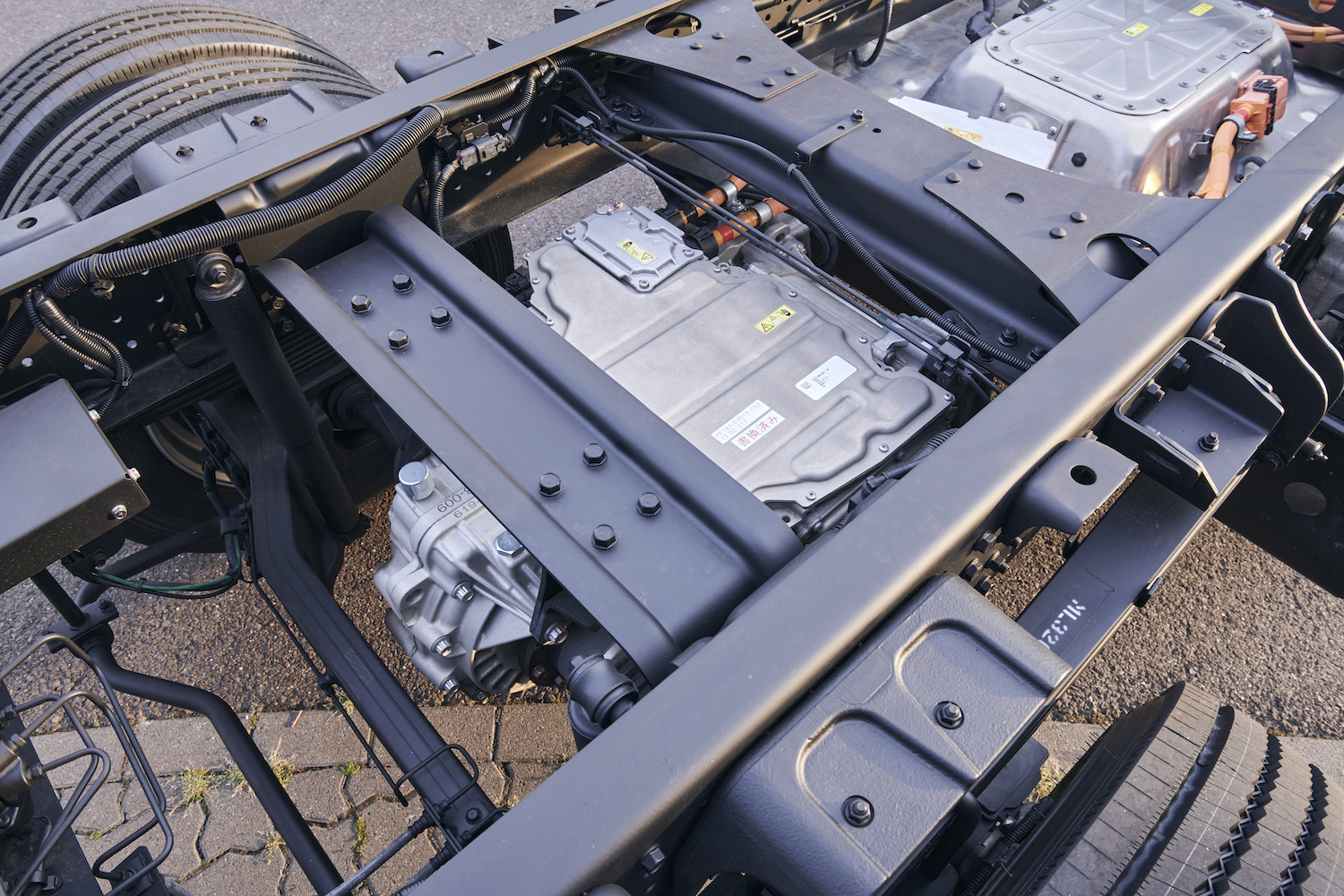 When it comes to charging, the eCanter offers alternating current (AC) and direct current (DC), the latter being the faster of the two. The S battery has an 11kW AC charge rate, whereas the two other batteries use a 22kW AC charge rate. That means it can take four to six hours to fully charge, which is fine if it's done overnight. 
Through its CCS charger, rapid DC charging can replenish the charge from 20 to 80 per cent in 24 minutes with the S battery, 26 minutes with the M battery and 39 minutes with the range-topping L battery. This feature can be more useful if the vehicle requires a faster turnaround between tasks or needs to recharge at a mid-way point on a journey or route.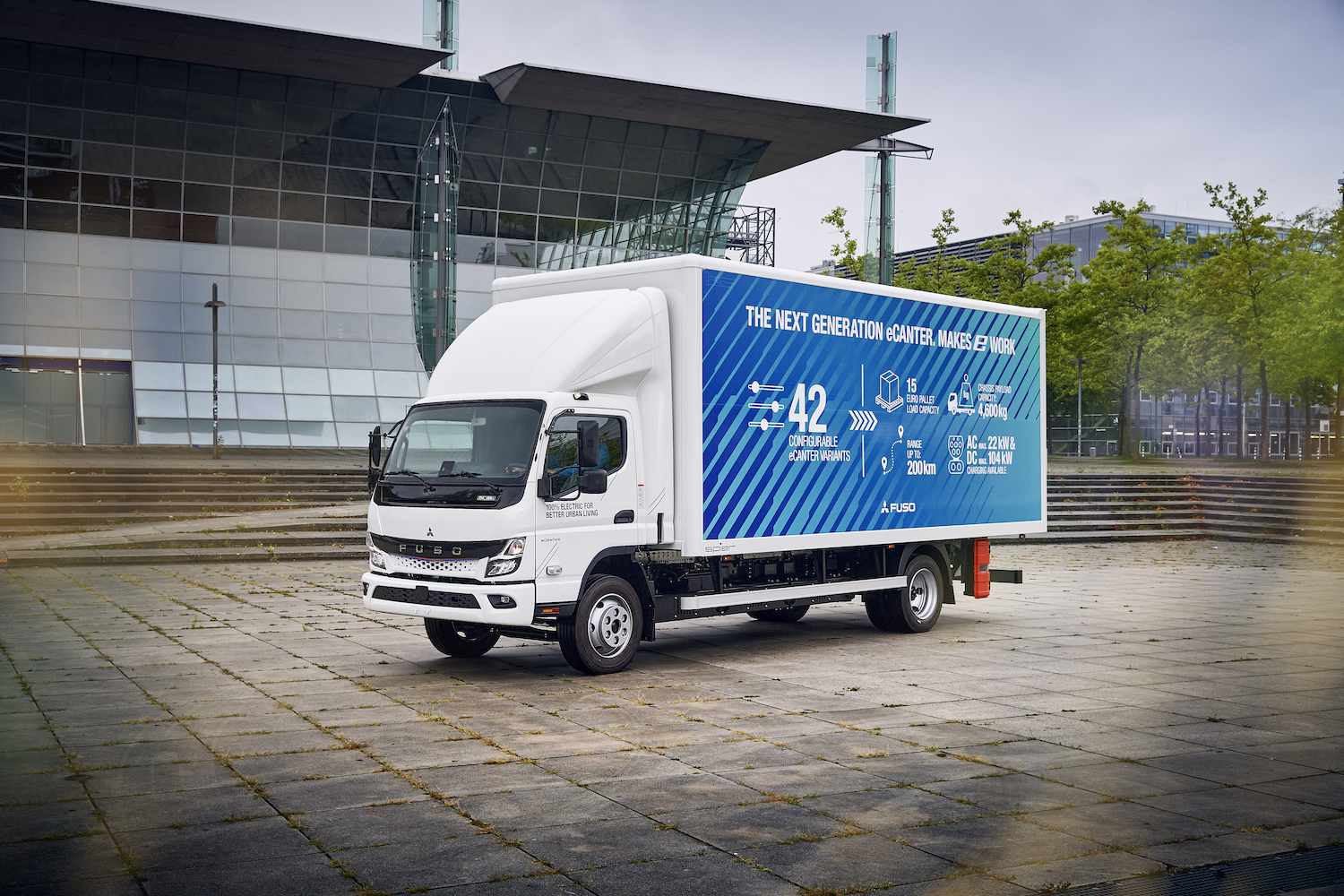 Fuso eCanter interior 
One of the unique features of the Fuso eCanter is the option of a narrow cab that reduces overall width to 1.7 metres (instead of the standard 2.0-metre cab) and is a boon when operating in especially narrow or confined spaces such as municipal streets or even hotel resorts or golf courses. There is plenty of interior space, whichever cab you choose, and the driving position provides excellent visibility. Getting in and out isn't that difficult either, which has benefits if there are multiple stops during a particular delivery route.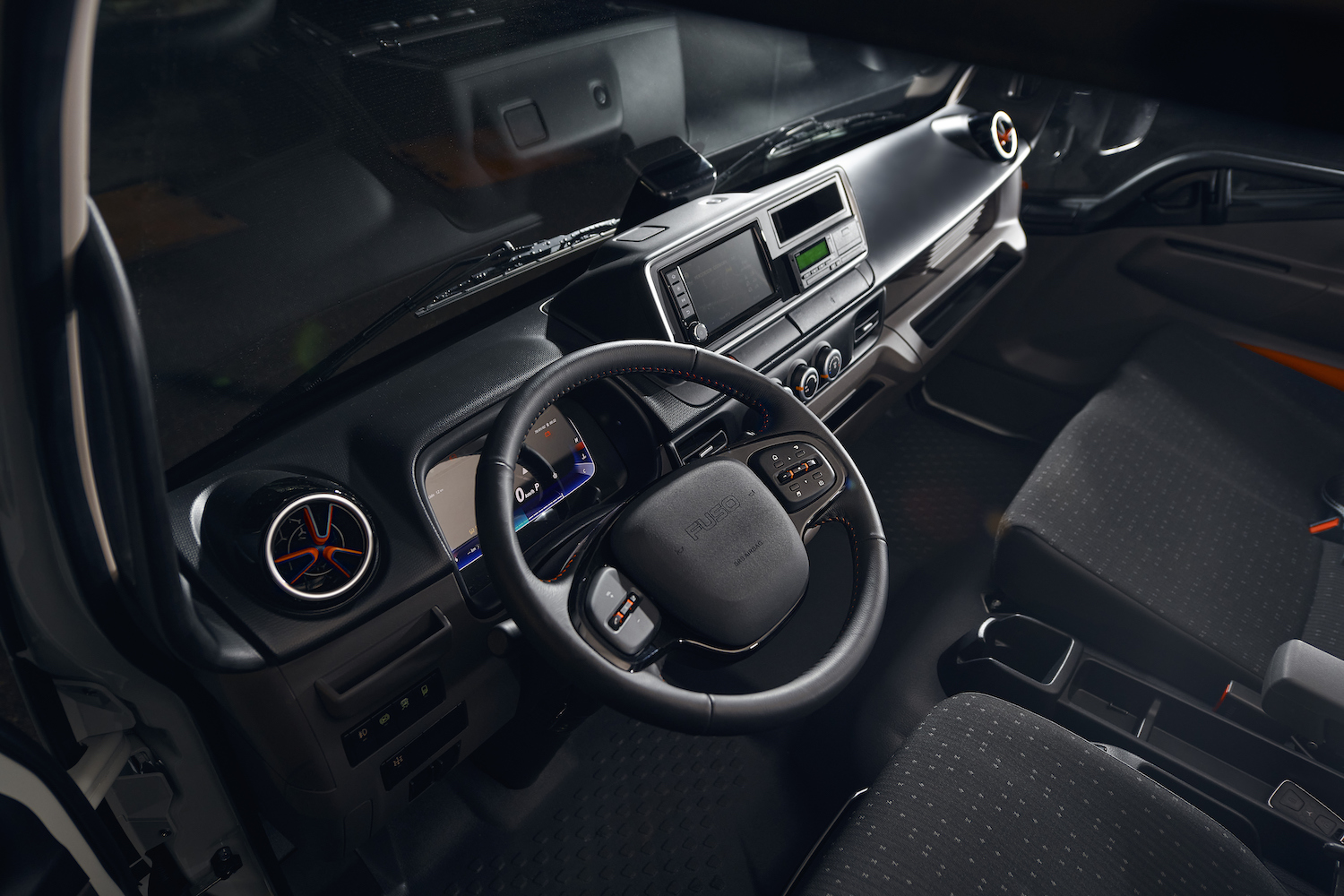 While the layout is simple, some modern touches include a digital instrument display that clearly shows all of the most important driving data at a glance. Our test vehicle was also equipped with a digital touchscreen display for infotainment, which includes more battery-related information. A small drive selector is fixed onto the dashboard next to the steering wheel, and the wheel itself is a two-spoke design with multifunction controls. The electronic handbrake switch is small and located beside the driver's seat. Numerous storage areas are dotted throughout the interior. 
Driving the Fuso eCanter 
One version that may interest some companies is the 4.25t eCanter, as those with a full car license can drive it, thus opening it up to more employees to drive. Even for those with less experience with larger commercial vehicles, the eCanter is simple and relatively straightforward to drive once you're used to its size. That can be attributed to the automatic transmission and smoothness of the electric motor's power delivery.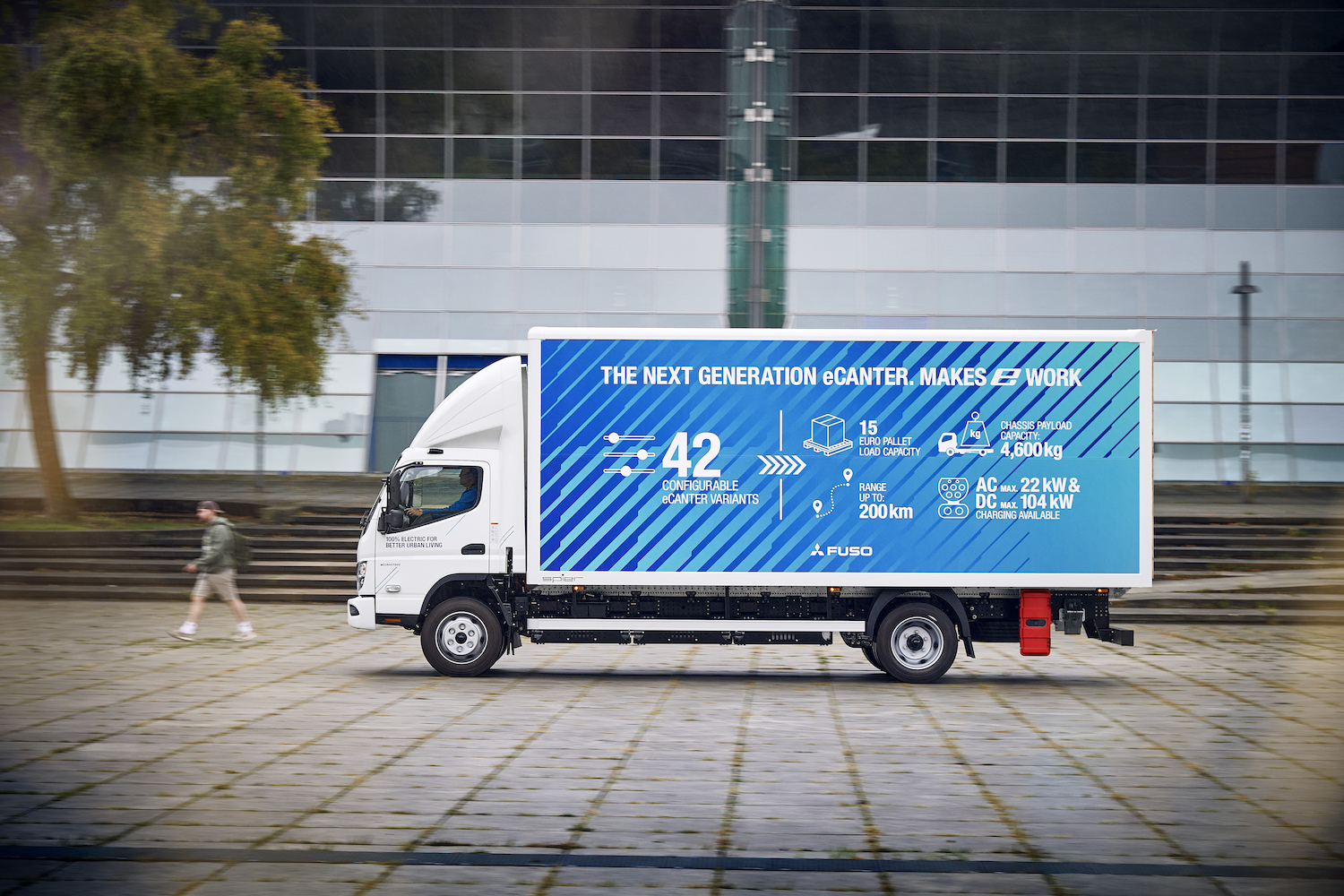 It will get up to speed quite quickly and that's the first big difference you notice compared to driving the diesel version. The additional smoothness of the electric motor and automatic transmission also makes driving less tiring, especially in heavy traffic. When you lift off the accelerator, there is sufficient energy recovery from the electric motor to slow the eCanter down noticeably. With some driver coaching and experience, it's possible that users could help to significantly decrease brake pad and disc wear over time, resulting in yet more cost savings. 
Fuso eCanter alternatives 
The Fuso eCanter was the first series production electric truck of its kind when it was first launched, and it remains almost unchallenged in the market. Its smallest version could be comparable to the bigger electric vans such as the Mercedes-Benz eSprinter, Citroen e-Relay and Ford E-Transit.  
Summary 
The improvements to the Fuso eCanter's driving range, combined with the broader choice of powertrain choice, make it much more appealing than before. By remaining conservative when quoting driving range figures and generally being more transparent about performance, buyers can look at the eCanter more confidently. The additional supports that Fuso is rolling out with the vehicle, such as route optimisation and planning, bolster its potential to be an asset to a business.