As Opel is now part of the Stellantis Group, it means that its all-new Movano van will use a similar platform to the Peugeot Boxer and Citroen Relay. These first images of the new Movano reveal a familiar design with a lower front bumper section that carries the Opel badging.
Fully electric Opel Movano
This new generation of Opel Movano will be the first from the German brand to offer a fully electric version in the large panel van sector. Buyers will be able to choose between 37kWh and 70kWh lithium-ion batteries in the Movano-e, and these provide a driving range of between 117- and 224 kilometres, respectively. As the battery sits below the cargo area, it does not impact on load space.
Both versions are powered by a 90kW (122hp) electric motor that also produces 260Nm of torque. Top speed is limited to 110km/h, although these electric models are more likely to see use in towns and cities than the open road and motorway. They are also expected to have a reduced maximum payload weight.
Opel's CEO, Michael Lohscheller, said:
"The new Opel Movano-e completes our range of electric light commercial vehicles. Our customers from trade and commerce can therefore drive and transport emissions-free. We are convinced that the new generation Movano will win additional market share for the brand."
Two diesel engines and multiple body versions
Powering the non-electrified Movano is a 2.2-litre diesel engine that will come with 120hp and 165hp outputs. Only manual gearboxes will be available with these engines, with drive going to the front wheels.
Opel plans to offer a wide range of versions to suit different buyers. In all, there will be four lengths (L1-4) and three heights (H1-3) for the Opel Movano, giving it a maximum load volume of between 8.0- and 17 cubic metres.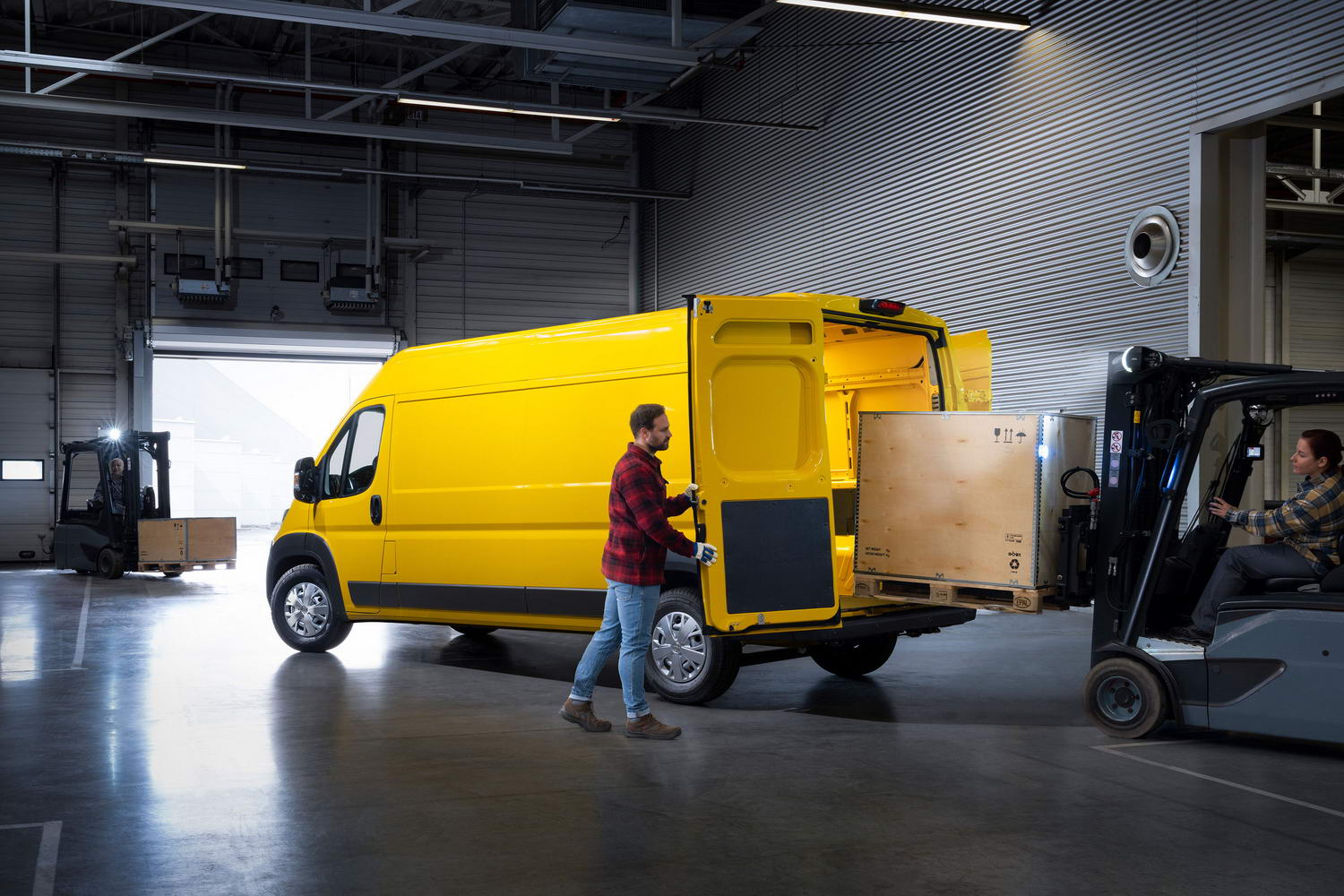 The rear doors of the H3 measure 2.03 metres in height, making them currently the tallest in the segment according to Opel. These can open to 180 degrees and can be optionally extended to 270 degrees for easier loading. The rear sill height goes as low as 494mm, and there is a span of 1,422mm between the rear wheel arches - and 1,870mm between the panels.
The cab will have a single row of three seats as standard, while a crew cab can add a second row of seating for additional passengers. Opel will offer various driver assistance systems such as Blind Spot Warning, Lane Departure, Hill Descent Control and Automatic Emergency Braking.
Committing to an electrified future
With the addition of the Movano-e, Opel will have a battery electric version of all its LCV range as it joins the Combo Cargo-e and Vivaro-e. The company has set out plans to offer an electrified version of all passenger and LCV models by 2024.