Opel Vivaro-e overview
Opel's new Vivaro breaks away from its past links with Renault and Nissan and instead joins up with the rest of its new brethren from the enormous Stellantis Group, sharing a body and powertrains with the likes of the Peugeot Expert and Citroen Dispatch. There's also a connection to the Toyota Proace. The Vivaro is a direct rival to the likes of the Volkswagen Transporter and the Ford Transit Custom and, as with the Peugeot, Citroen and Toyota models, is now available with a choice of diesel or fully-electric power.
Opel Vivaro-e range
It's the electric Vivaro-e that we're concentrating on here, and it gets the same 100kW electric motor and 50kWh battery that are already being used in Opel's Corsa-eand Mokka-e. There is the option of a larger 75kWh battery, which extends the one-charge range to 330km, but as we shall see, the available range on this standard model is actually pretty adequate.
The Vivaro-e range kicks off with the L1h1 Edition 50kWh battery model (that's the shorter wheelbase version) priced at €29,833 ex. VAT, while you can have the same basic model with an increased payload for €30,077, which increases the maximum load to 1,200kg.
The next step up the range is the longer-wheelbase L2H1 Edition 50kWh model for €30,890, or you can have the same model with the larger 75Wh battery for €35,930.
The top spec model is the Sportive, which in L1H1 50kWh form costs €31,459. The upgrade to the extra payload will cost you €31,703, or you can have the longer wheelbase for €32,516. That's the model we're testing here. The 75kWh battery, in Sportive L2H1 spec costs €37,556 ex VAT.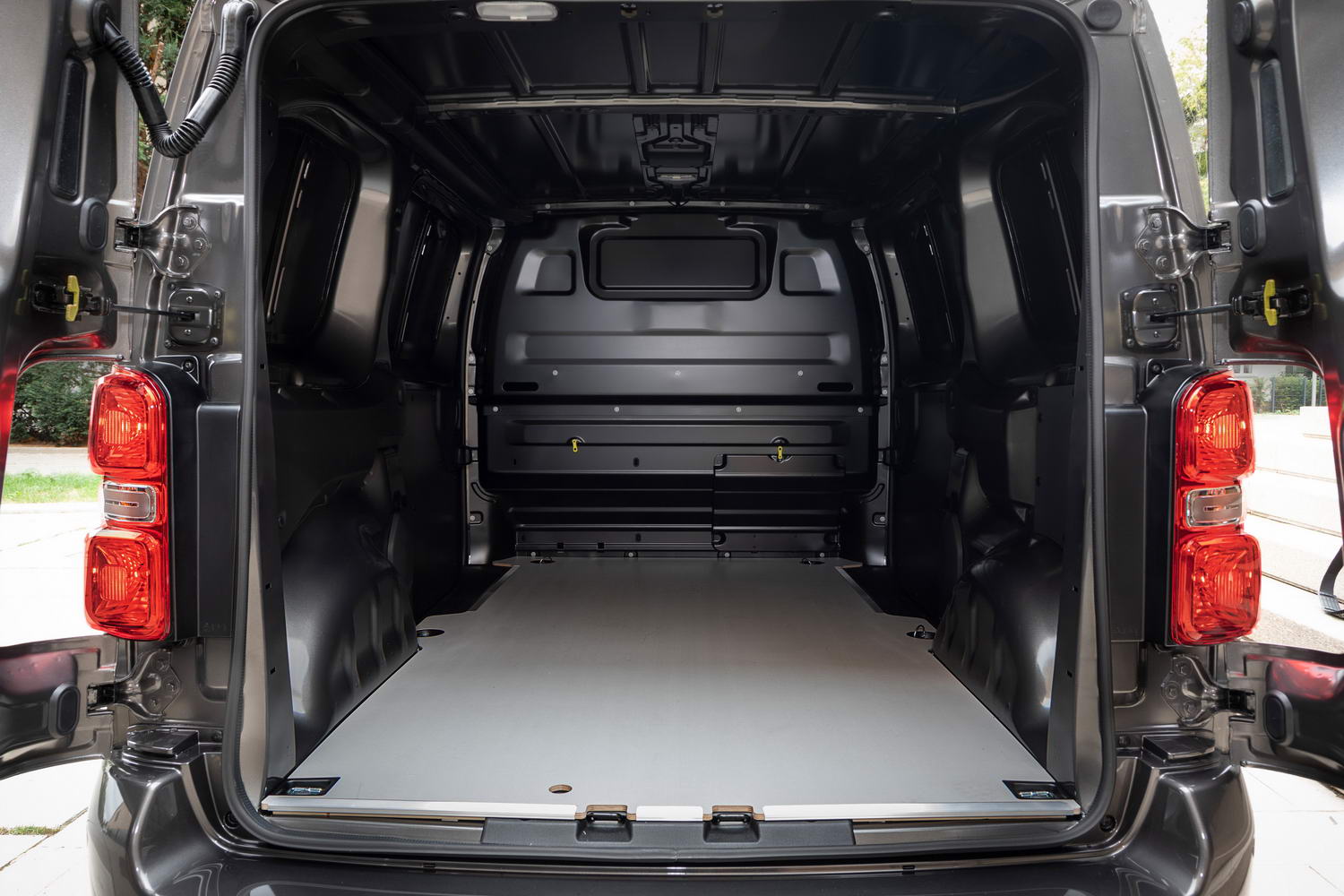 All Vivaro-e models come with three seats, storage under the passenger bench seat, a six-way adjusting driver's seat with armrest, driver and passenger airbags, an electric parking brake, cruise control, a full-size spare wheel, a 3.5-inch colour dashboard display, remote central deadlocking, two side sliding doors, electric front windows with one-touch operation, electrically adjustable and heated door mirrors, a DAB radio with five-inch display, USB socket and four speakers, Bluetooth phone connection and audio streaming and steering-column remote audio controls.
Sportive models also get air conditioning, a seven-inch colour touchscreen with smartphone projection, body-coloured bumpers (except, for some reason, on Red GEO models), front fog lights, LED daytime running lights, rear parking sensors, automatic lights and wipers, electrically folding door mirrors, a sound-deadening acoustic windscreen and full-size wheel covers.
Right now the Vivaro-e is available only as a panel van, but a double-cab model will come on stream shortly.
For reference, the standard diesel Vivaro has prices starting from €24,095 ex VAT.
Opel Vivaro-e interior
It's well worth going for the Sportive model, not least because that gets you air conditioning in the cab of your Vivaro-e, and on a warm day that can make life much more comfortable, not to mention a little safer. The basic dashboard and components will be instantly recognisable if you've ever driven one of the Peugeot, Citroen, or Toyota models, and, with a single seat for the driver, and a two-seat bench, there's plenty of space.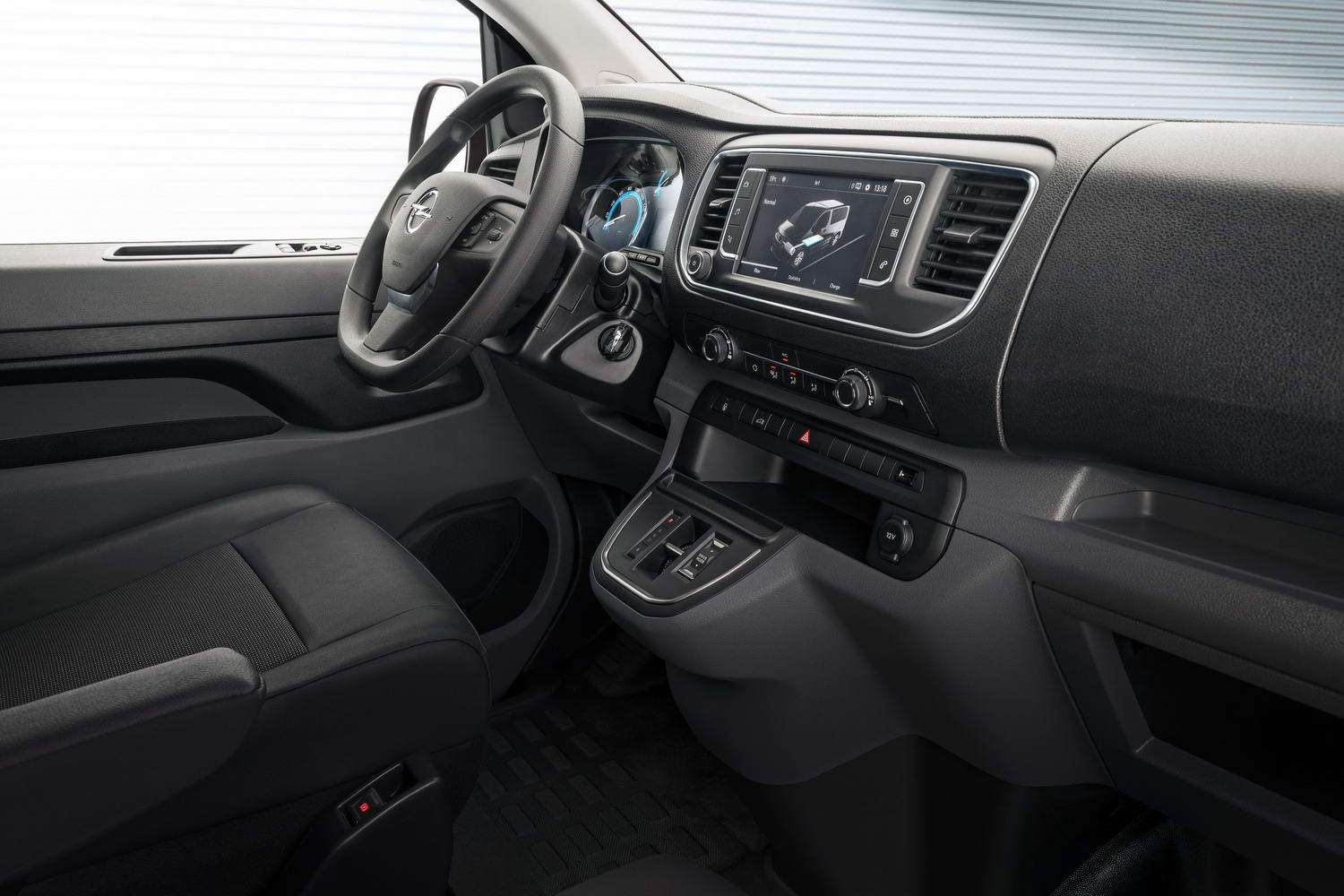 However, in spite of big, deep door bins and a large, lidded glovebox, there's a lack of places to stash items in the cab. Some of the storage trays and bins are irritatingly small, especially the dash-top mounted cup-holders, which are too small for a medium-sized bottle of water. Still, the basic driving position is good, and the driver's seat is comfortable and supportive, so all-day operations are less of a literal pain in the backside. Overall quality is very good too, and the Sportive spec's small, but useful, touchscreen is well worth the upgrade. Not least because it comes with Apple CarPlay connectivity, so hooking up your phone for voice and text messages, via the single USB slot in the dashboard, is a piece of cake.
The main dials are simple and logical, and a special mention must go to the analogue battery dial, which has neat, legible graduations and which allows you to keep a close and precise eye on how much charge you have left.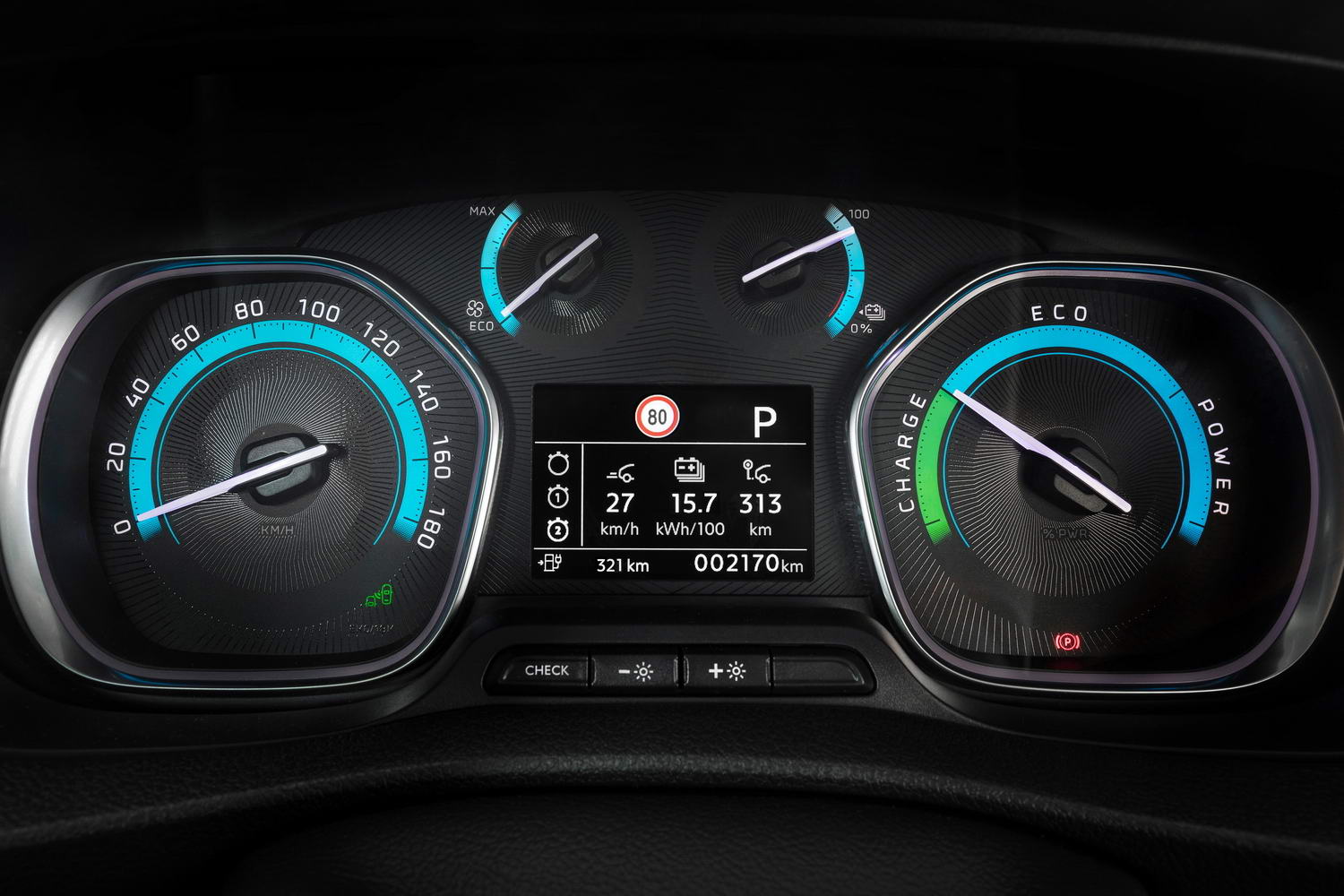 In the back, this L2H1 model has a maximum load-length of 2.86 metres, which should be sufficient for most purposes, but Sportive models come with a load-through function, which allows you to poke longer, flatter items through under the front seats. That extends the maximum load length to 4.0 metres. The maximum loading height is 1.39 metres, and the maximum width 1.63 metres, with 1.25 metres available between the wheelarches. The double sliding side doors and twin rear doors, which open out flush with the sides, make for pretty easy loading and unloading.
Opel Vivaro-e driving experience
Obviously, how much charge you have left dominates the driving experience of the Vivaro-e, and it might surprise you just how much charge there is. Opel's official claim is that, with a full charge, you should be able to go for 231km before you'll have to plug in again. Impressively, the Vivaro-e delivers pretty much just that — we regularly saw more than 215km range displayed on the small digital screen on the dash, and our recorded average energy consumption of 25kWh per 100km backs that up.
Even more impressively, the Vivaro-e clings on to that range even when driven on the motorway, which is not always the case with electric vehicles. While consumption on motorway journeys is always going to be higher, as long as you keep your speed under control (cruising at around 100km/h seems to be the best), then you can usually squeeze as much as 150km out of the battery before needing to recharge, and that's leaving a safety margin of around 20km or so. Obviously, the bigger-battery 75kWh versions would handle longer journeys much more easily, but if your work is mostly urban based, or you have relatively low daily mileage, then this 50kWh model seems entirely adequate. With 100kW DC rapid charging, it also takes in a quick charge very quickly indeed, so you can be back on the road again with minimal delay.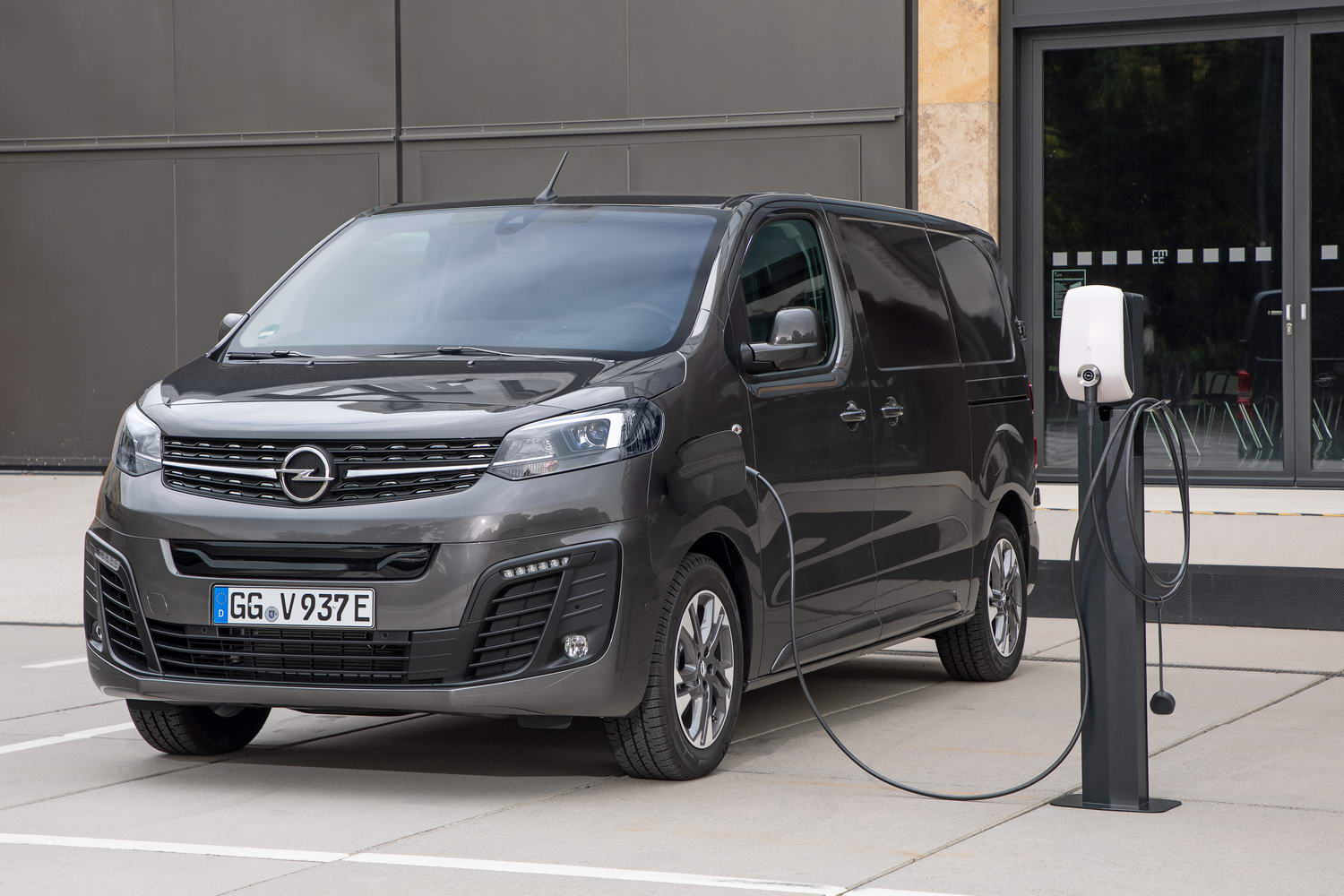 The Vivaro-e's range is helped by its regenerative braking system, which uses the drag of the electric motor to slow the van initially, an action that also tops up the battery a little. This helps to extend the battery range considerably, and if you're mostly doing urban miles, with lots of braking for traffic lights etc, it can add quite a lot of extra range. The downside is that the action of the brakes, and the changeover from regenerative braking to mechanical braking, can be a bit snatchy and sudden.
In terms of safety, all models come with traction and stability control, but it would have been nice — especially given the relatively small door mirrors — to have seen a blind spot monitor and a rear-view camera on the standard equipment list. Likewise, it's a shame that there's no standard heated seat, given that running in range-saving Eco mode switches off the heater, making long journeys on a chilly day quite uncomfortable.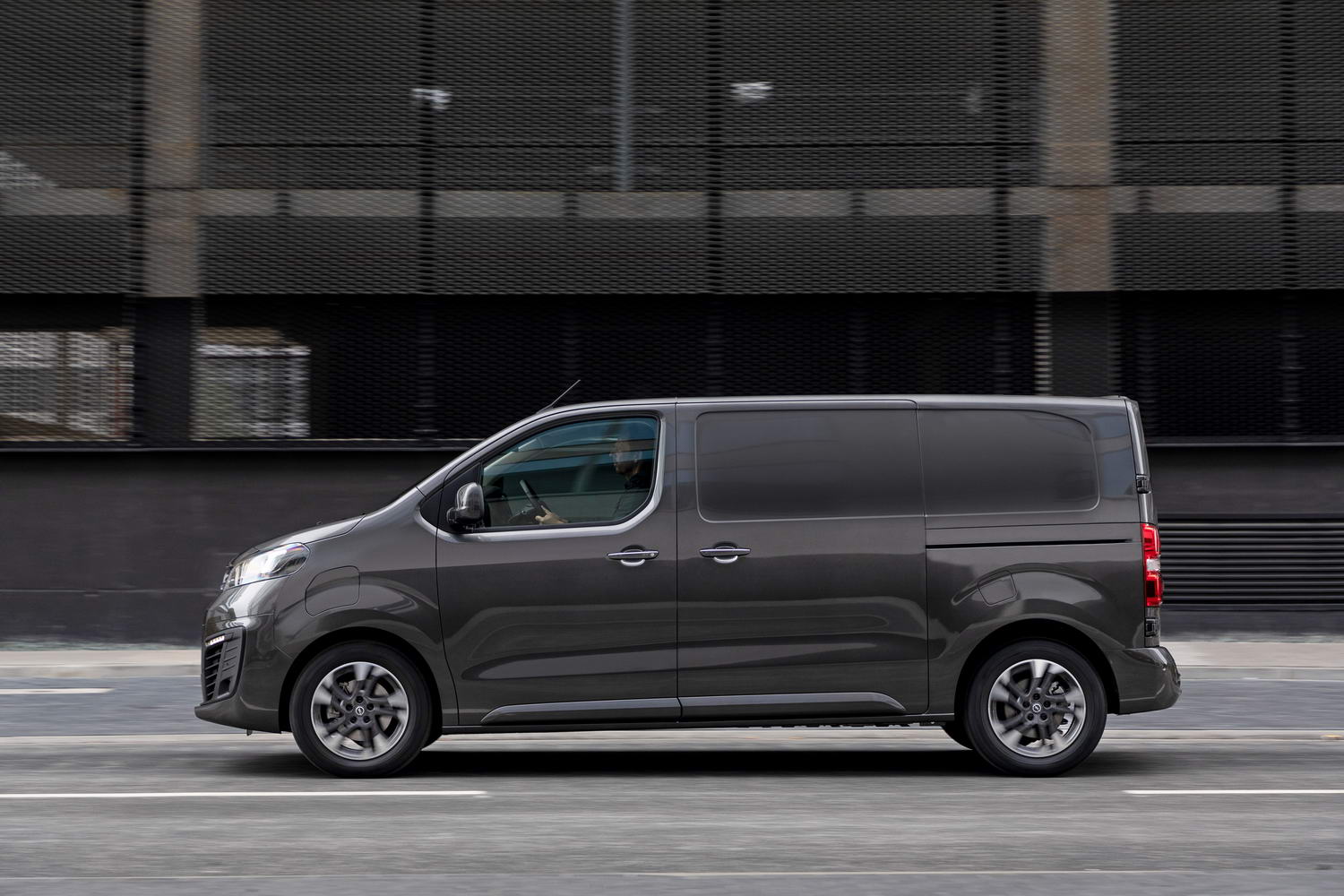 Opel Vivaro-e alternatives
The closest and most obvious alternatives are the Vivaro-e's fellow Stellantis Group models, the Peugeot Expert and Citroen Dispatch, with the Toyota Proace also being, basically, the same van under the skin. Beyond those, there's the Ford Transit Custom, which is not available as a fully-electric model yet, but which shortly will be (a plug-in hybrid Transit is currently available), and the Volkswagen Transporter, which again is not yet available with battery power, but which is set to gain such a model shortly. Likewise, Renault doesn't yet offer a fully-electric Trafic, but there is a ZE electric version of the larger Renault Master, although it has a short range of just 124km.
Opel Vivaro-e Summary
OK, so the Vivaro-e, in 50kWh form, appears to be somewhat hobbled by its relatively short range. But that's not the whole story. Yes, the more expensive 75kWh version would, obviously, be that bit more versatile, but the 50kWh model is no slouch, and its range figure is a reliable one. As long as you're not endlessly pounding the outside lane of the nation's motorways, all day every day, this could be a very solid choice for your first electric van.