With the unveiling of the Maxus eDeliver 7, the Chinese firm now has three electric vans covering all market sectors. As its name suggests, the eDeliver 7 slots between the eDeliver 3 and eDeliver 9. It is a medium-sized electric van designed to take on the likes of the Mercedes eVito and the fleet of tech-sharing Stellantis and Toyota vans including the Citroen e-Dispatch and Opel Vivaro Electric.
Maxus, whose vehicles are imported into the EU and UK by the Dublin-based Harris Group, will offer the eDeliver 7 in three sizes - standard wheelbase, long wheelbase and long wheelbase with a high roof. An 88kWh battery offers a WLTP-certified range of up to 365km on a full charge, but a smaller, less expensive 77kWh version will also go on sale.
Maximum charging rates haven't been confirmed, but the maximum rate from a DC source will replenish the battery from 0-80 per cent capacity in 43 minutes. Power comes from a 150kW (204hp) electric motor offering 330Nm of torque from a standstill. That means 0-100km/h takes 11 seconds. Three driving modes (Eco/Normal/Power) offer performance and energy-saving flexibility.
In terms of cargo carrying, the standard wheelbase model has 3,000mm between the axles and a cargo volume of 5.9 cubic metres. There's a 3,366mm wheelbase for the longer versions, while cargo volumes are 6.7 cubic metres and 8.7 cubic metres for the high-roof variant. Payload weights range from 1,025kg for the 88kWh L2H2 van, up to 1,200kg for the L1H1 version with the smaller (and therefore lighter) 77kWh battery.
Typical design, advanced on-board tech
The Maxus eDeliver 7 has a typical one-box panel van design, featuring slender LED headlights and a short bonnet up front that moves the cab as far forward as possible to maximise cargo space. There's a three-seater cabin, while the dashboard features tech that's already been seen in other Maxus models, such as the T90 EV electric pick-up and the MIFA 9 electric MPV.
This includes a 12.3-inch touchscreen display that can incorporate 360-degree cameras, plus Apple CarPlay and Android Auto phone connectivity, while safety kit is well ahead of what's offered in most rival vans. There are front and rear parking sensors, blind spot and lane change assist, autonomous emergency braking and driver tiredness monitoring.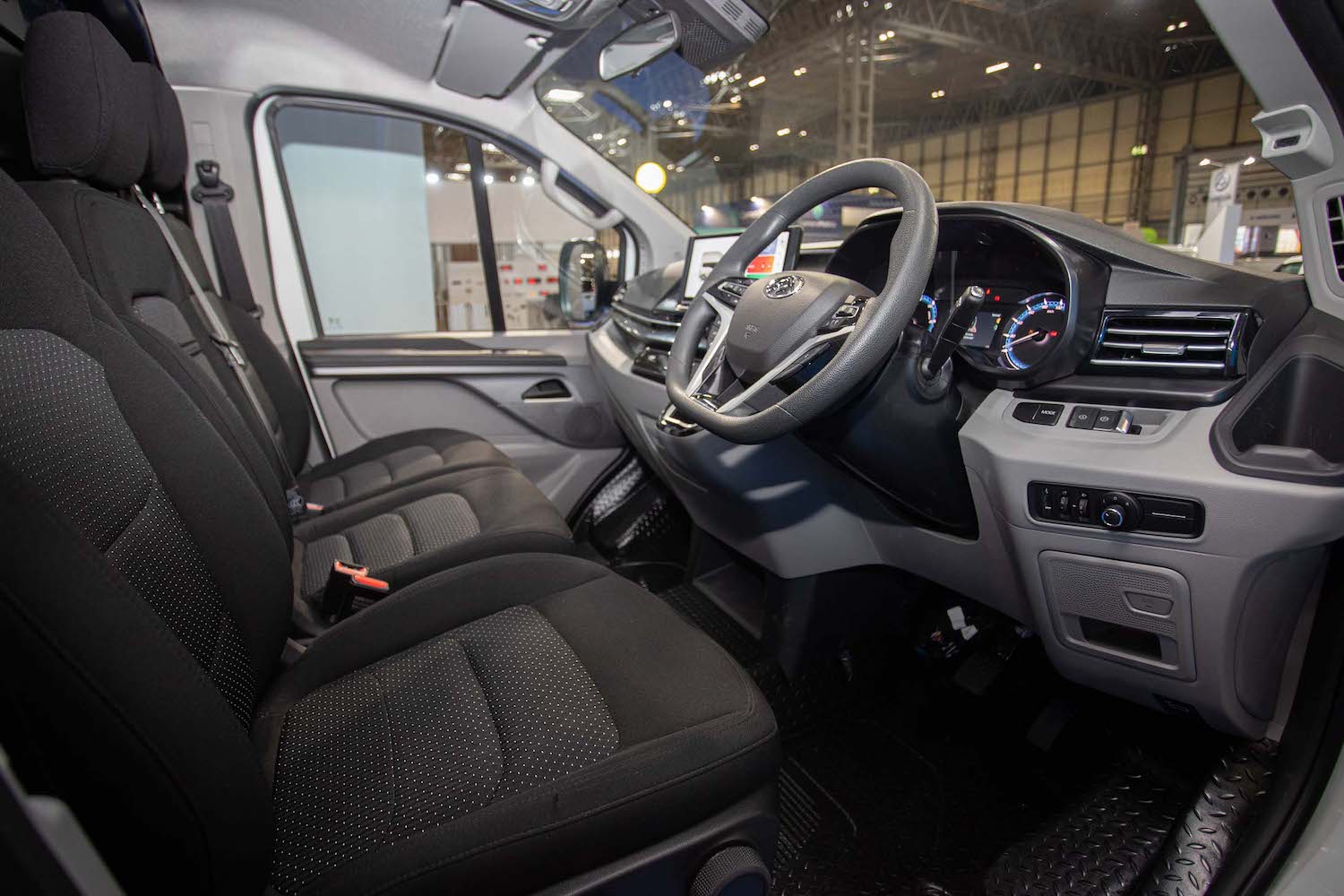 Speaking at the eDeliver 7's unveiling, Mark Barrett, director of official importer Harris Maxus, said: "Today marks our sixth EV launch in just seven years. In that time, we have positioned ourselves as a market leader when it comes to electric vehicles and the eDeliver 7 builds on our EV range.
"Our electric vans have proven popular with businesses in the delivery, pharma and grocery/retail sectors, as well as being the number-one choice for many local councils that are looking to switch to electric. Our latest addition is pitched at those who need more payload capacity than the eDeliver 3, but who may not need the full-size capabilities of our eDeliver 9."
While Maxus has cornered the electric commercial vehicle market with models in every class, it will have a tough time fighting for sales in the coming months and years. As well as existing Stellantis and Mercedes electric vans to contend with, the new Ford E-Transit Custom will likely offer very stiff competition. At the same time, the Renault Trafic E-Tech will finally see the French firm fill a gap in its range when it arrives later in 2023.
To that end, pricing should be on the side of the Maxus eDeliver 7. While these have yet to be announced (they're expected in June, before sales commence in August), the firm's existing vans are marketed competitively, while a five-year warranty adds peace of mind.