Just as we already see with vans, full electrification is coming to the pick-up segment, and one of the first models to go on sale is the Maxus T90EV. As this model is derived from an existing combustion engine version that Maxus sells in China, there are some compromises in equipping it with an electric powertrain. The battery's fitment limits both ground clearance and the break-over angle. We were disappointed to see how little underbody protection there is for the battery given what a critical element of the vehicle it is. Currently, the T90EV is available only with a rear-wheel-drive transmission, limiting its towing and off-road capabilities. On a more positive note, the payload capacity is now 1,000kg, an improvement over the initial launch version. 
Maxus T90EV range 
Currently, only one specification grade is available with the Maxus T90EV, called the Elite, costing €71,484 including VAT or €58,117 excluding VAT. It comes only as a four-door setup with a load bed that measures 1,485 x 1,510mm with a capacity of 1,000kg. That load capacity is an improvement from the T90EV's initial introduction. Lining the load bed is a hard-wearing material, and the rear bumper includes a step that makes access easier when the tailgate is up. Due to its electric powertrain, the maximum unbraked towing capacity is 750kg, while we expect the braked capacity to be only 1,500kg, pending confirmation.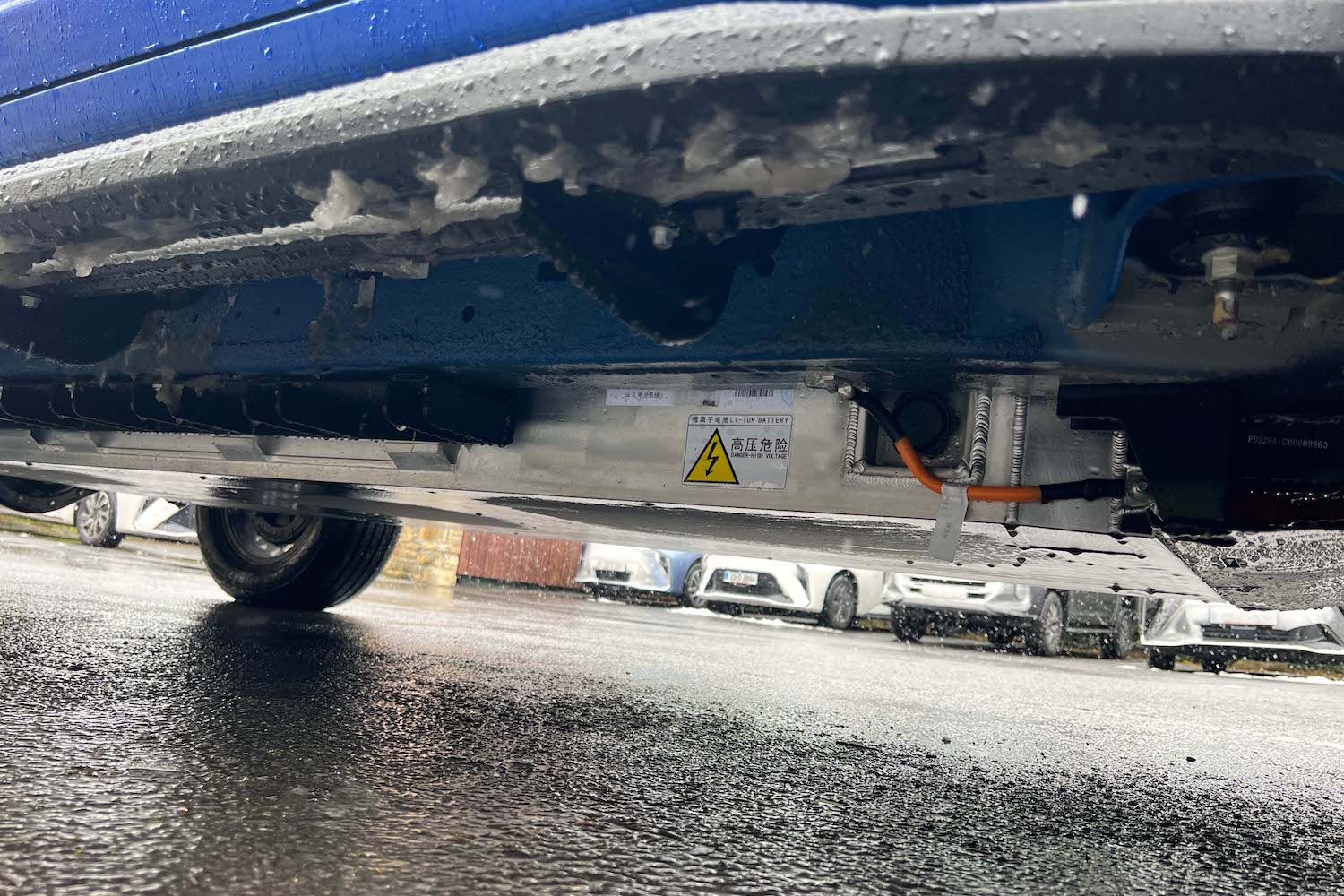 The battery that powers the Maxus T90EV has an 88.5kWh capacity, and on the combined WLTP cycle, it has a driving range of 330 kilometres. Topping up the battery doesn't take long as it has a peak DC charging rate of 80kW. That enables the battery to be recharged from 20 to 80 per cent in around 45 minutes. The AC charging rate of 11kW is also advantageous when using on-street parking chargers. 
Maxus T90 EV interior
The interior of the Maxus T90EV looks modern at first glance, but spend some more time in it, and you'll find that some of the materials and surfaces do feel cheap and aren't as rugged as you might expect from such a work vehicle. The multifunction steering wheel has controls on only one side, making it look on the basic side, and unlike many current pick-ups, there isn't a keyless start. An analogue instrument display lays out the relevant driving information and includes a small digital display for the onboard computer.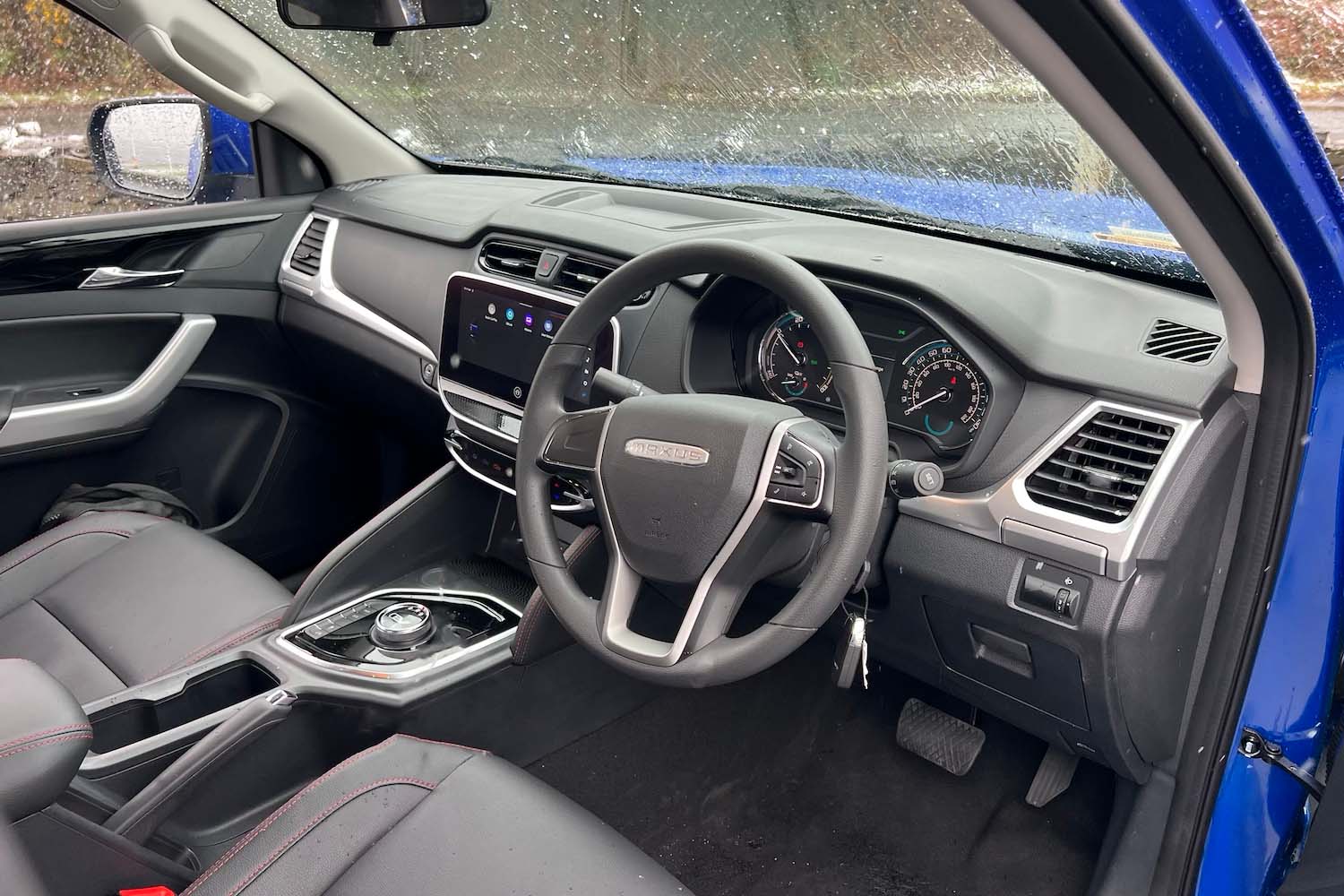 A 10.25-inch touchscreen display sits below the central air vents and has a basic operating system. It isn't the most intuitive to navigate and offers little functionality. There is the availability of Android Auto and Apple CarPlay, so connecting your smartphone via the USB port will mean you can use your preferred navigation and entertainment apps.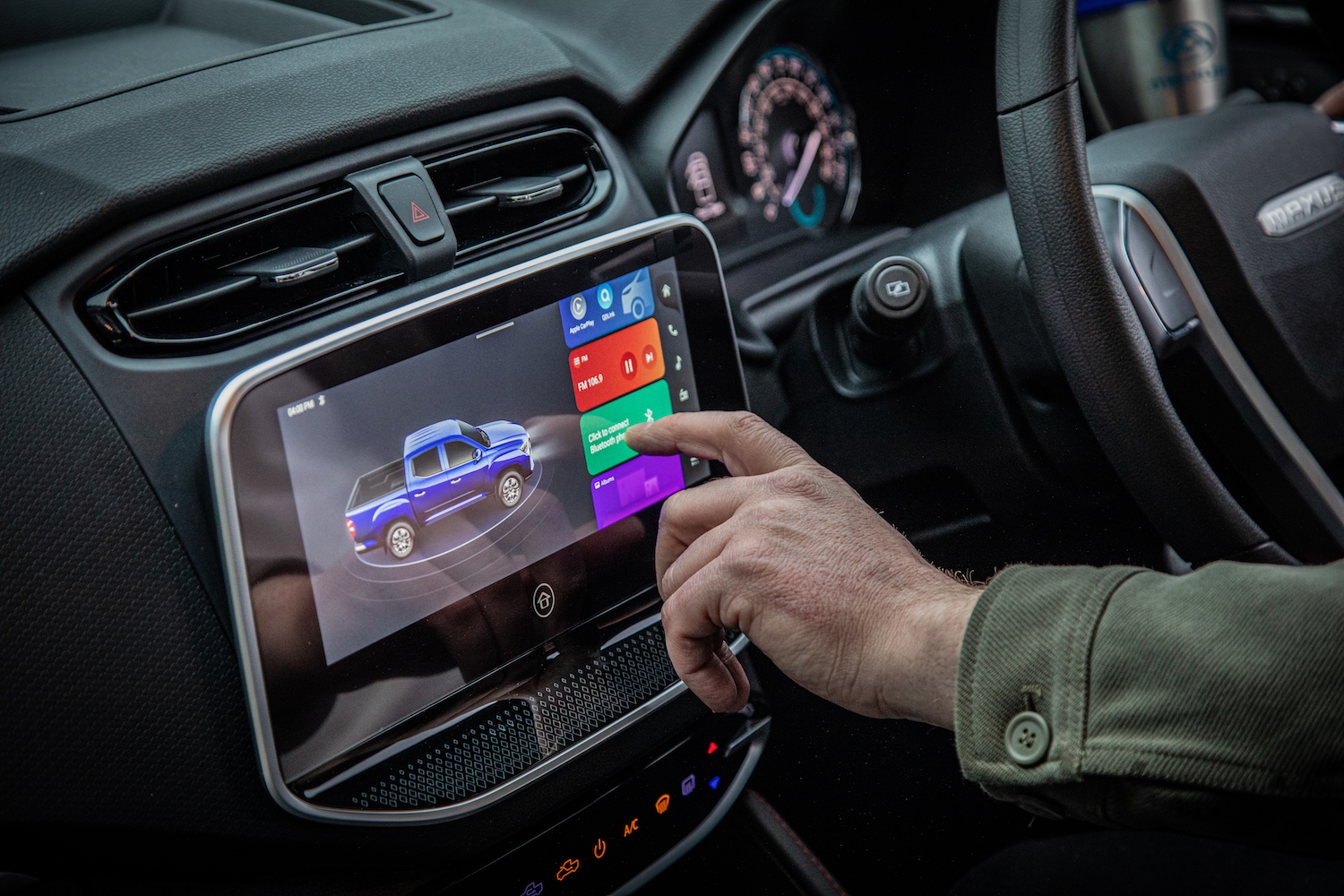 Maxus T90EV driving experience 
As you might expect with a fully electric powertrain, the T90EV provides a smooth power delivery, though it isn't quick off the line as you might expect if you've driven any of the latest electric cars. The rear-mounted electric motor has a modest power output and never makes the pick-up feel especially brisk, even in its sportiest 'Power' setting. It won't have any issue keeping up with traffic, nor is it likely to get any less experienced drivers into bother. Sticking with the default 'Normal' mode is fine for everyday driving, and there is little reason to bother with the different settings.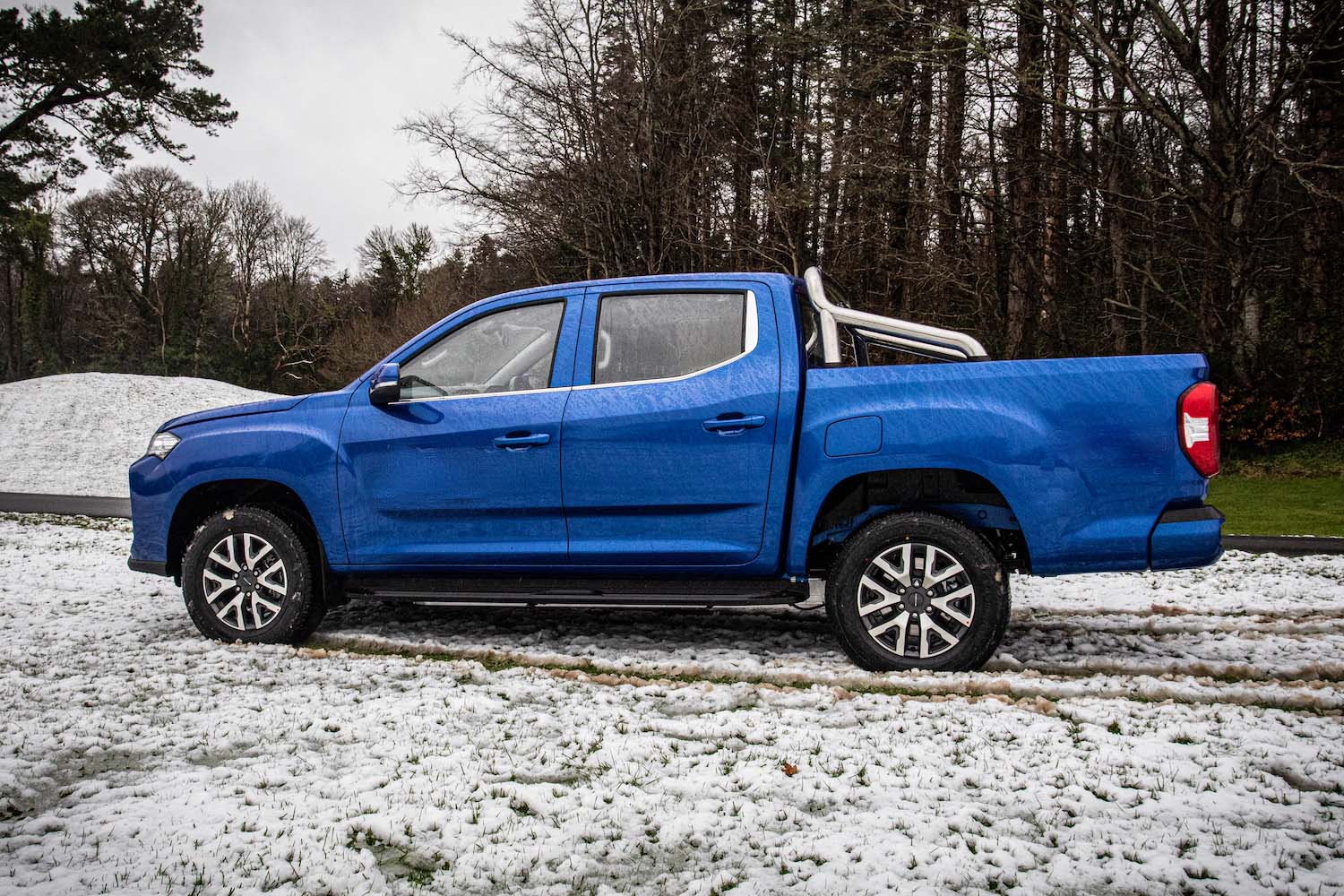 We found that the rotary controller for the drive selection felt finicky compared to similar setups, requiring a firm press on the brake pedal to shift between forward and reverse, making three-point turns a touch slower. The electrically assisted steering does feel light, and it does help to make it easy to manoeuvre, such as when parking. Maxus equips the T90EV with rear parking sensors and a reversing camera as standard.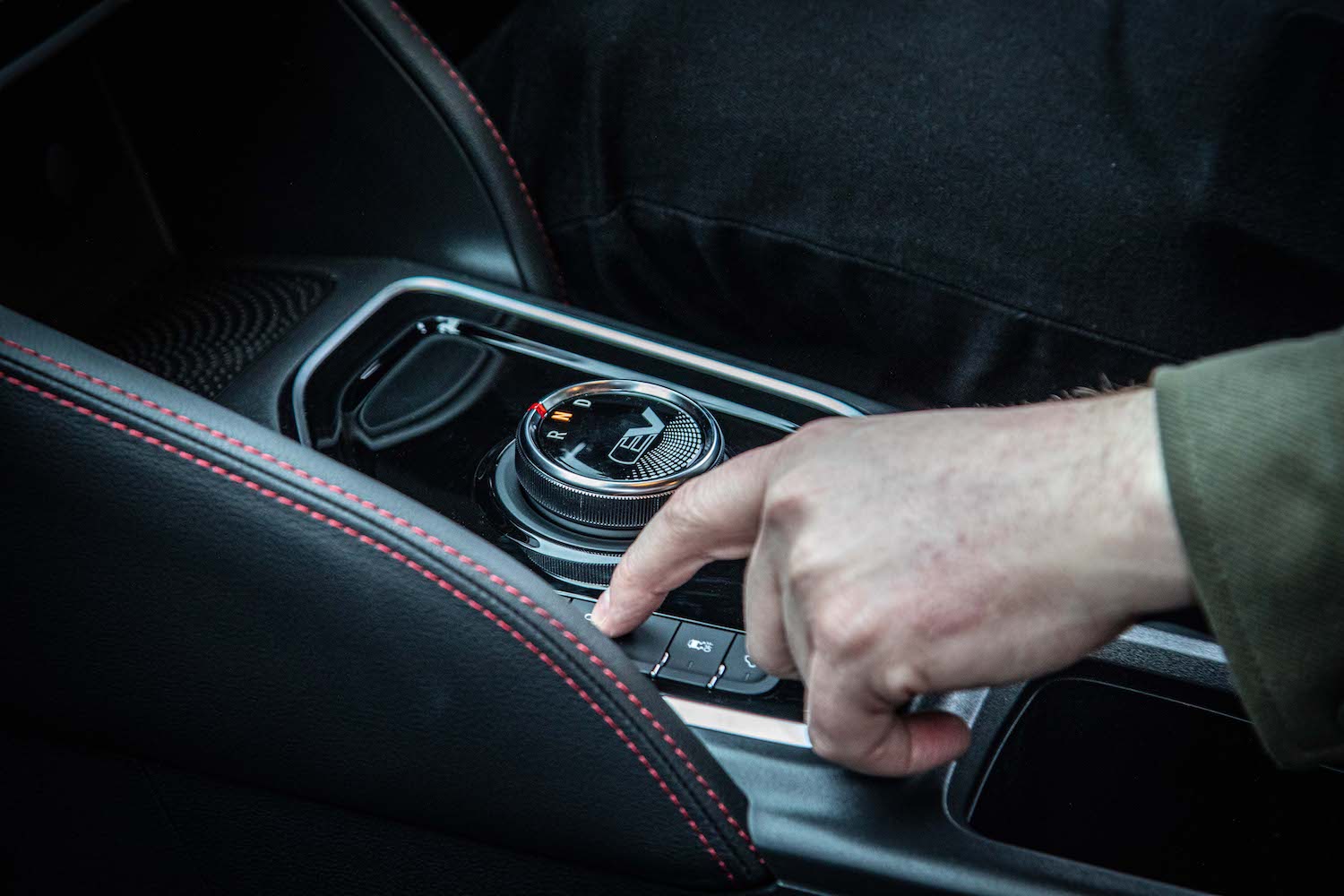 It's not unusual for pick-ups to have a degree of bounce from the suspension, especially when there is no load in the rear. The Maxus suffers from this, but in a way, that's worse than most others. The ride is sometimes uncomfortably firm, and passengers are unlikely to find it particularly comfortable when travelling in the rear. With much of the vehicle weight mounted low in the chassis, there isn't much body roll through corners, so the Maxus feels planted on the move. That battery does detract from the T90EV's ground clearance, which at 187mm is notably less than many of its rivals. Only having a rear-wheel-drive setup also restricts the off-road ability, which will be a critical aspect for buyers to consider. 
Alternatives to the Maxus T90EV
The Maxus T90EV will likely remain one of the only fully electric pick-ups on the market as most mainstream players are sticking with combustion engines for now. It is a compromised pick-up due to that electric powertrain, which will limit its appeal. While it is unlikely to be a hit with those needing to carry larger loads, tow or go off-road, it will fit the bill for entities such as parks and councils where having an electric pick-up could be seen as a greener option.