The latest generation Volkswagen Amarok debuts with a tougher exterior look, higher quality interior and will feature many more driving assistance and safety systems. It is the result of a partnership between Ford that will see it and the new Ranger share the same platform architecture and powertrains. 
Its look is an evolution of its predecessor which has been on sale since 2010. New LED headlights  give it a recognisable look and all-new sheet metal evolves the look of the Amarok. "We emphasise the different, expressive front designs of our pick-up with a charismatic Amarok signature that is also found with very large letters on the cargo box at the rear and is sported very proudly by the Amarok", said Albert-Johann Kirzinger, head of design at Volkswagen Commercial Vehicles.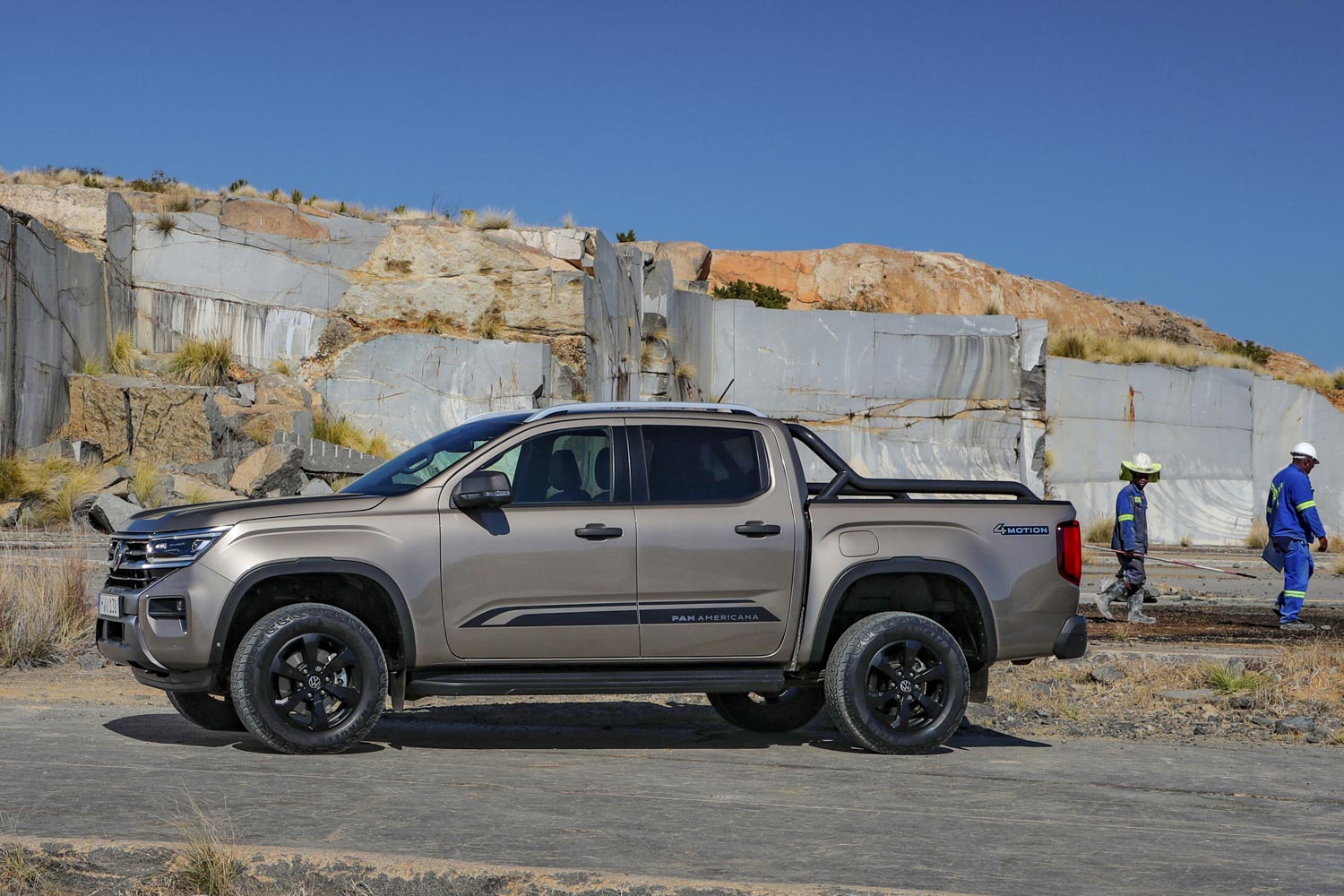 It grows in size with an overall increase in length of 96mm putting it at 5.3 metres. More importantly for interior space, the wheelbase gains a 173mm extension in comparison to the previous generation to bring additional legroom to the rear seats. Proportions also see improvement with better approach angles when going off-road and the pick-up's wading depth increases from 500mm to 800mm. Volkswagen will produce a single-cab model although this is not destined for the Irish market. The South African built pick-up will come in 'Amarok', 'Life' and 'Style' specification grades plus more rugged 'PanAmericana' and 'Aventura' versions.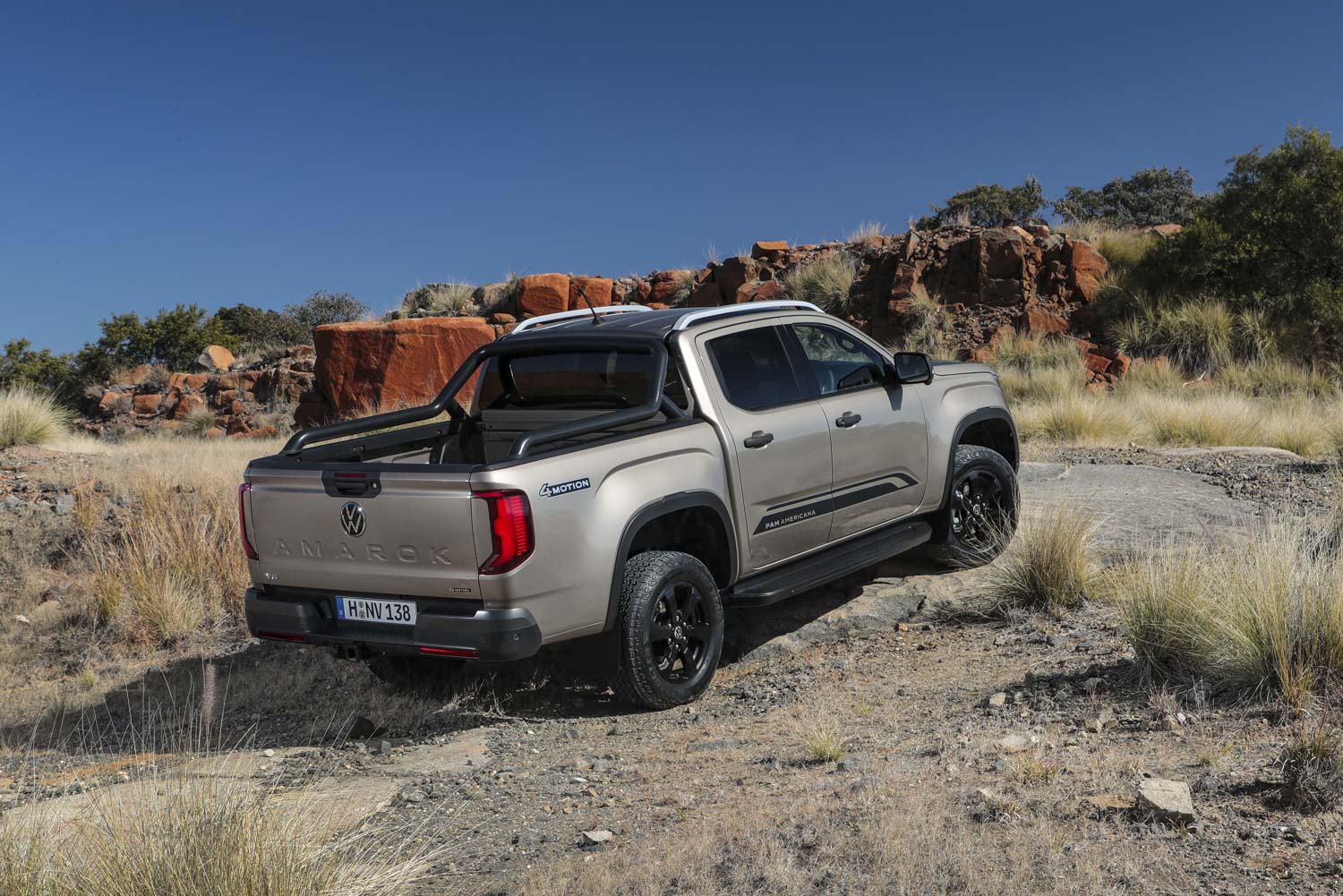 Five engine options
There are a total of five engine options with the Volkswagen Amarok made up of four diesels and a single petrol. The 2.0-litre turbocharged four-cylinder diesel engine will start at a 150hp output, with a 170hp also available. A twin-turbocharged version of the 2.0-litre engine produces 204hp or 209hp according to region. Topping the diesel range of engines is a 3.0-litre V6 with either 241hp or 250hp depending on the market. A 2.3-litre petrol engine, similar to what also powered the Ford Mustang, will have an output of 302hp. 
Both five- and six-speed manual gearboxes are available on various engines, with six-speed automatic transmissions on lower powered models. With power outputs of 209hp and above Volkswagen equips the Amarok with a ten-speed automatic transmission as standard. While rear-wheel-drive transmissions will be available in certain markets, many will opt for the 4MOTION all-wheel-drive transmission which comes selectable all-wheel drive and another option with permanent all-wheel drive. A maximum towing capacity of 3.5 tonnes is also available.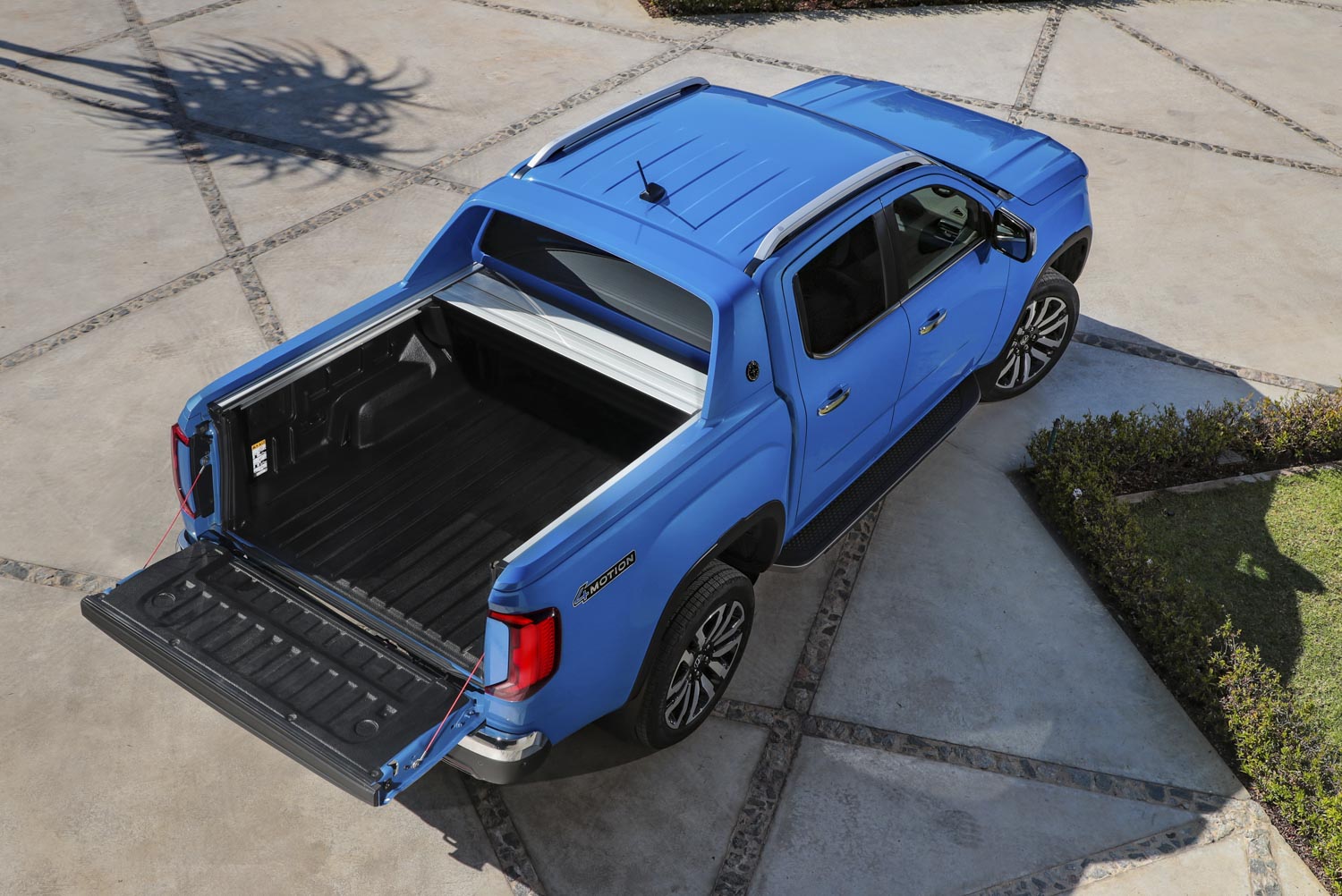 New Amarok carrying capacity
Thanks to the new design the maximum payload capacity for the rear increases to 1.16 tonnes and can continue to accommodate a single Euro pallet in the double cab. Numerous eye rings in the cargo bed can each take a load of 500 kilograms and there is the option of a new electrically operated roll cover for added convenience. A hardtop will also be available as will an array of extra body protection for those planning to do more extreme off-roading. Catering to the lifestyle element of pick-ups, a roof tent is also listed among the many accessories. The roof has a static load capacity of 350kg.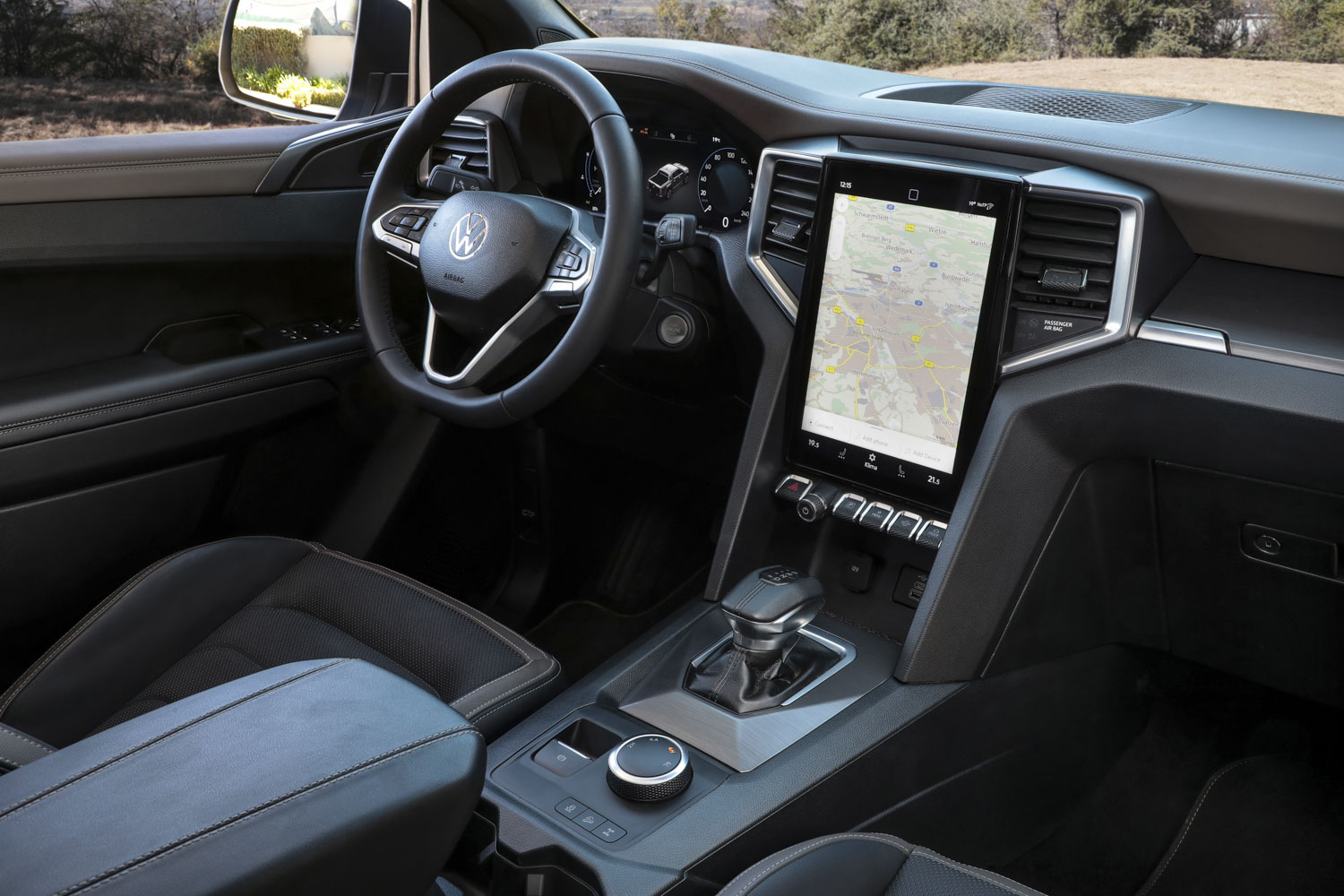 A modern interior for the Amarok 
Form and function go hand in hand with the Amarok's cabin which is now a more digital experience. There is a 'Digital Cockpit' made up of 8-inch instrument displays as standard and 12-inch screen upwards from Style grade. A 10-inch tablet-style touchscreen is standard for the infotainment system and from Style level this increases to 12-inches. Knowing that using a touchscreen isn't always so easy when driving, particularly off-road, there are still some physical buttons for certain functions such as volume control and all-wheel-drive settings. Android Auto and Apple CarPlay come as standard and there are multiple charging ports inside along with as many as 20 different storage compartments.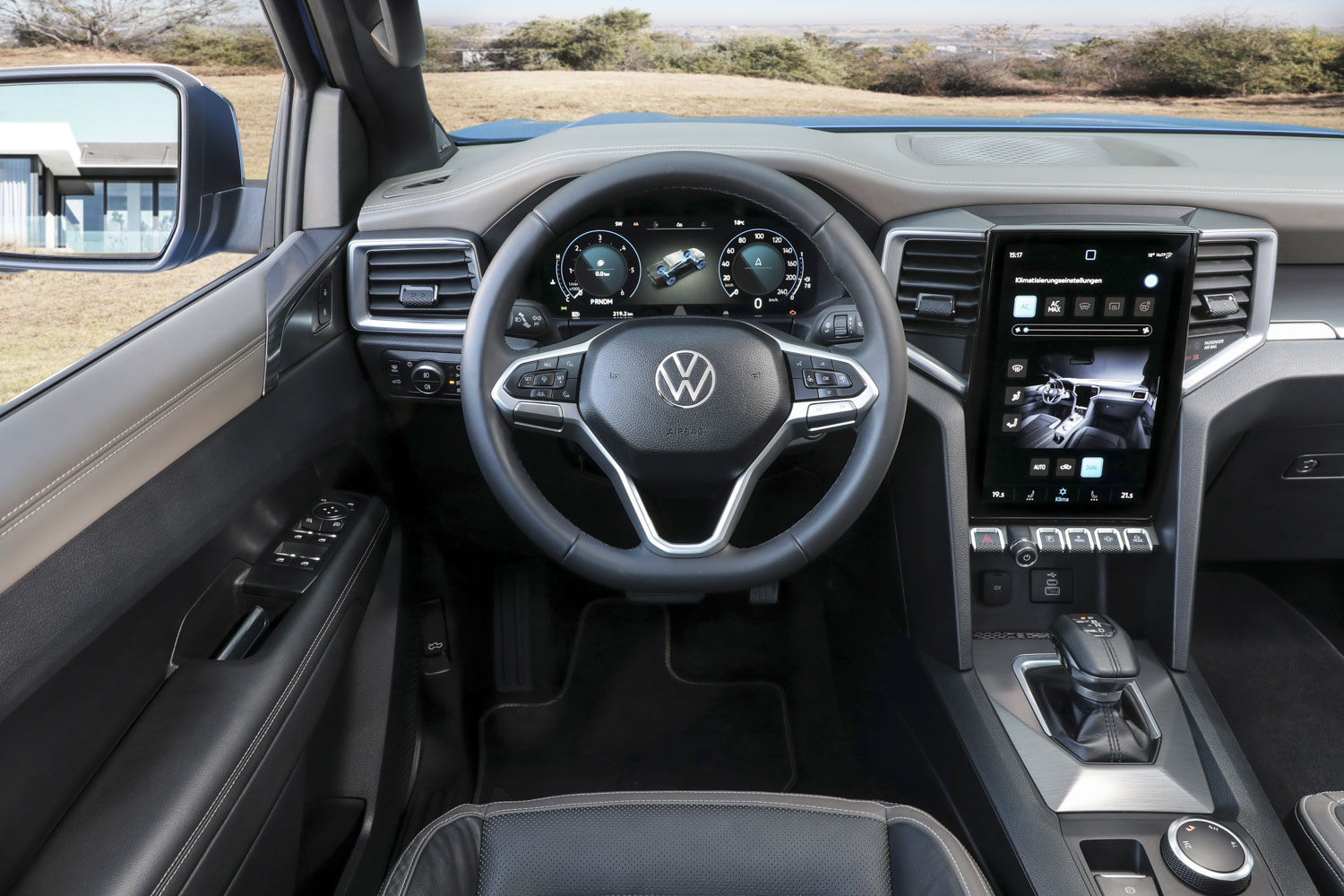 The Volkswagen Amarok is due to arrive in Ireland in the second quarter of 2023. Volkswagen Commercial Vehicles Ireland hopes that the new model can build on the 20 per cent market share that its predecessor commanded. Managing Director of Brand, Alan Bateson, said: "The new Amarok is a stunning looking vehicle and a key addition to the Volkswagen Commercial Vehicles line-up. Packed with technology and new features that haven't been seen in this segment before, it combines the strengths of an incredibly capable off-roader with the comfort and versatility of a highly desirable pick-up. I cannot wait to see it on Irish roads."