The new Ford Ranger pickup has been revealed, but don't hold your breath if you're looking to buy one. Ford of Europe says that order books for the Ranger will open in late 2022 for delivery in early 2023.
Market leader in Europe
Given that the current Ranger is the best-selling pickup in Europe as it is, Ford doesn't feel any great need to rush in a replacement. There is also the pickup-hungry US market to feed first, where the Ranger will sit between the F-150 and the newly-introduced hybrid Maverick compact pickup. In style terms, the new Ranger seems like the perfect mid-point between those two sister vehicles.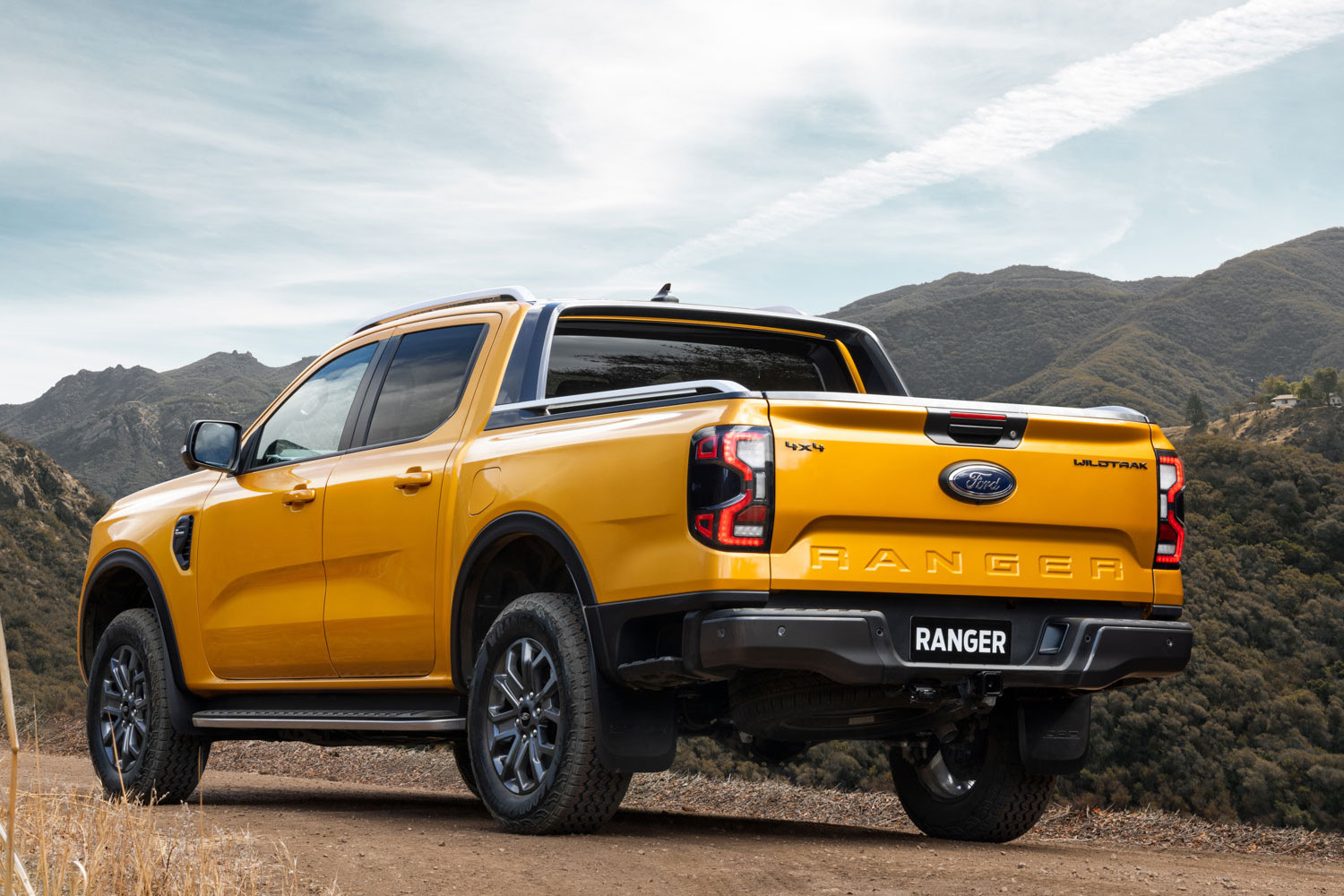 While it might prove popular in the US, the Ranger was primarily developed by Ford Australia. "Our team was focused on one goal – to make this Ranger the toughest and most capable we've ever created," said Graham Pearson, Ranger vehicle program director. "They put it through one of the most exhaustive global testing schedules we've ever developed and would not rest until we were satisfied that it was Built Ford Tough."
The Ranger looks all-new up front, where there is a much more upright grille and bumper, and huge c-shaped running lights, taken from the F-150. The gently curved passenger cab looks pretty familiar from the side, but actually, the chassis is all-new (and will be shared with the next-generation VW Amarok) and has a 50mm longer wheelbase. The suspension track is 50mm wider too. A new 'hydroformed' front structure under the bonnet allows for the fitting of a V6 engine.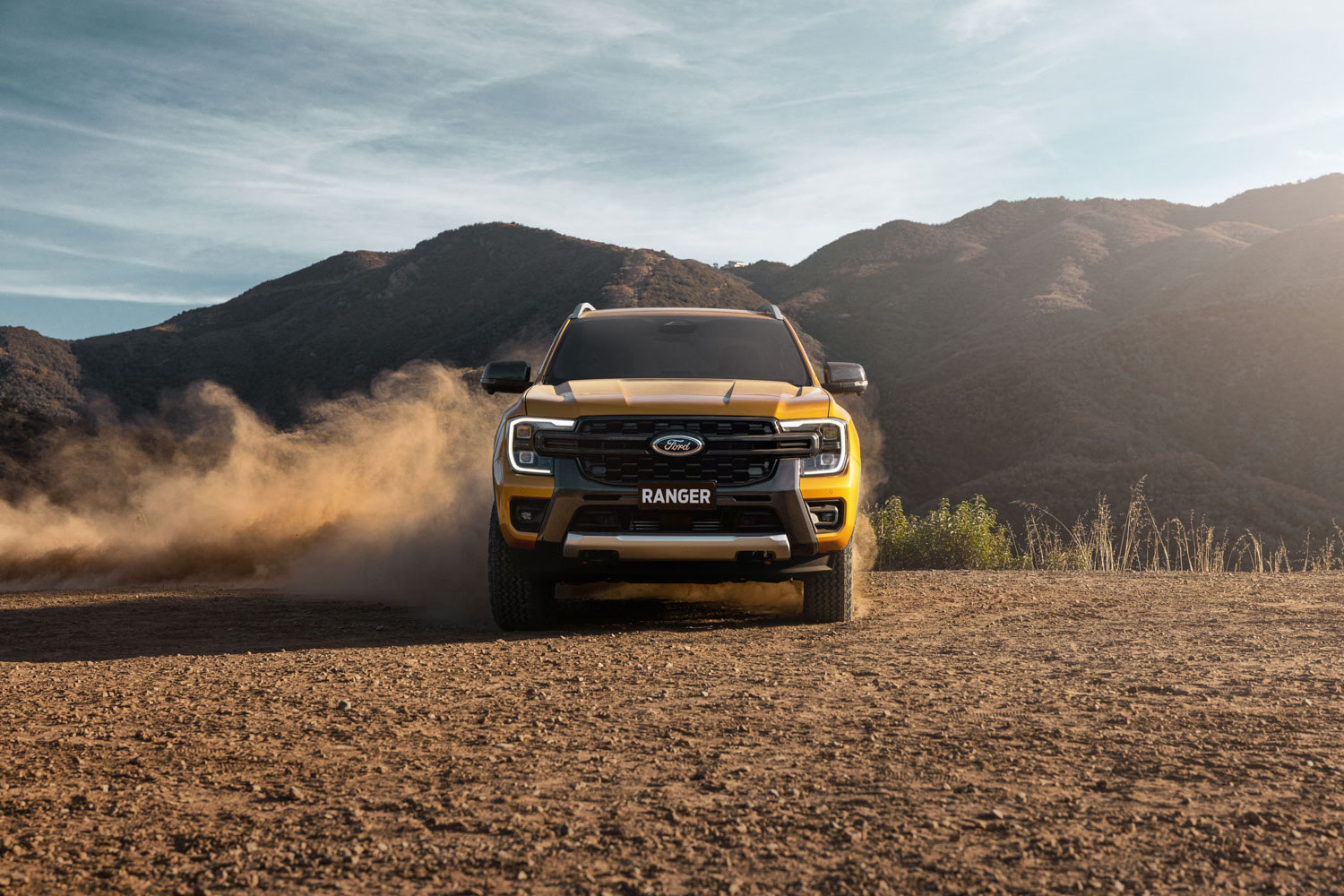 V6 diesel option
That V6 is a 3.0-litre diesel unit. "The 3.0-litre turbodiesel V6 delivers," said Pritika Maharaj, Ranger program manager. "When you drive a Ranger with the V6 turbodiesel, it feels like a much bigger truck. And it feels really tough in the sense that it's got endless power and torque, which is exactly what our customers wanted."
There will also be single turbo and bi-turbo four-cylinder diesels, but Ford hasn't yet indicated whether there will be any electric or hybrid versions. Given the platform share with Volkswagen (and the clamour for the electric F-150 Lightning, stateside), it's likely that there will be.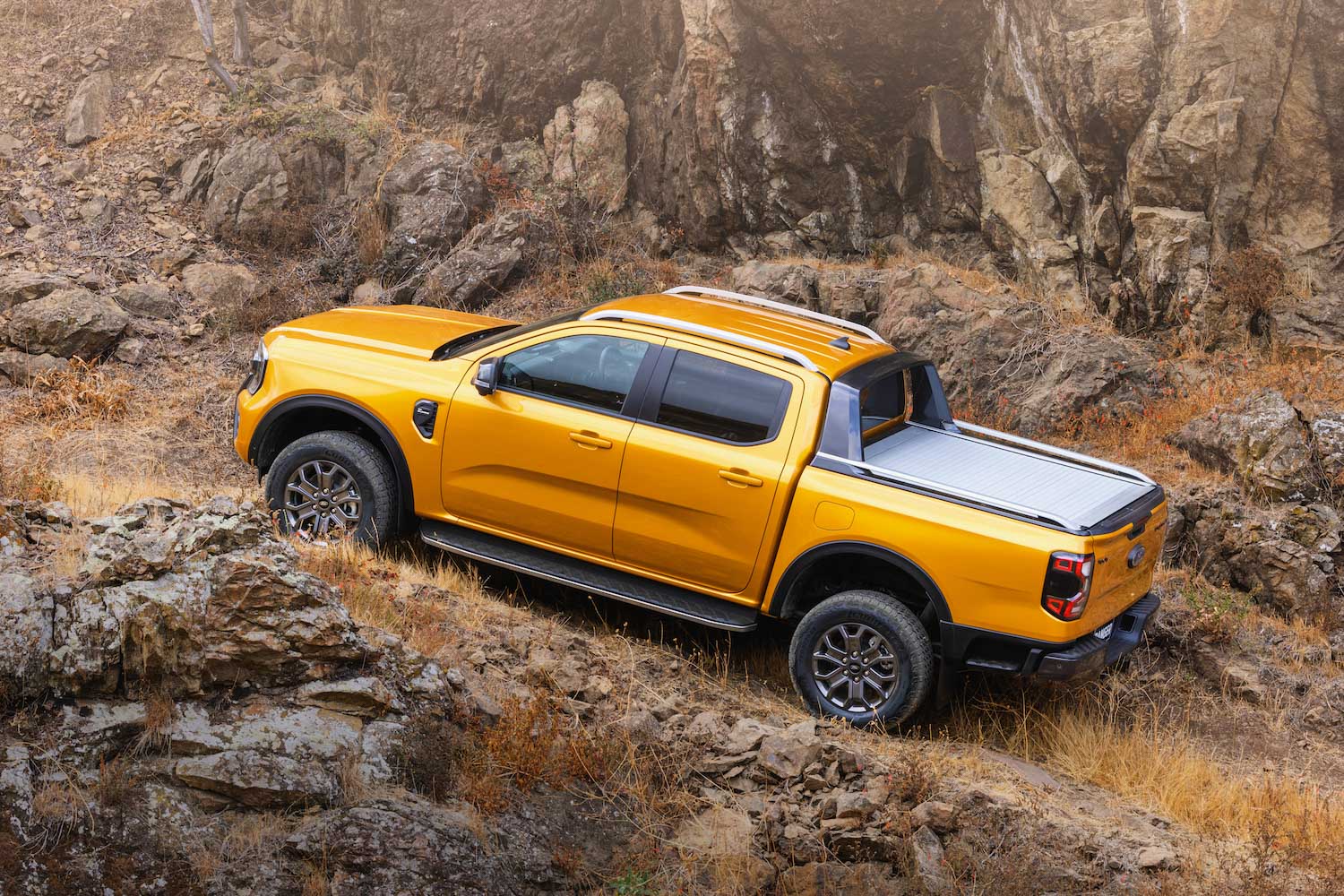 The suspension is also new, with the rear dampers positioned outboard of the frame rails to give drivers and passengers a better ride both on- and off‑road. Ford says it has used its Dakar and Baja rally expertise to help tune the suspension for maximum off-road performance.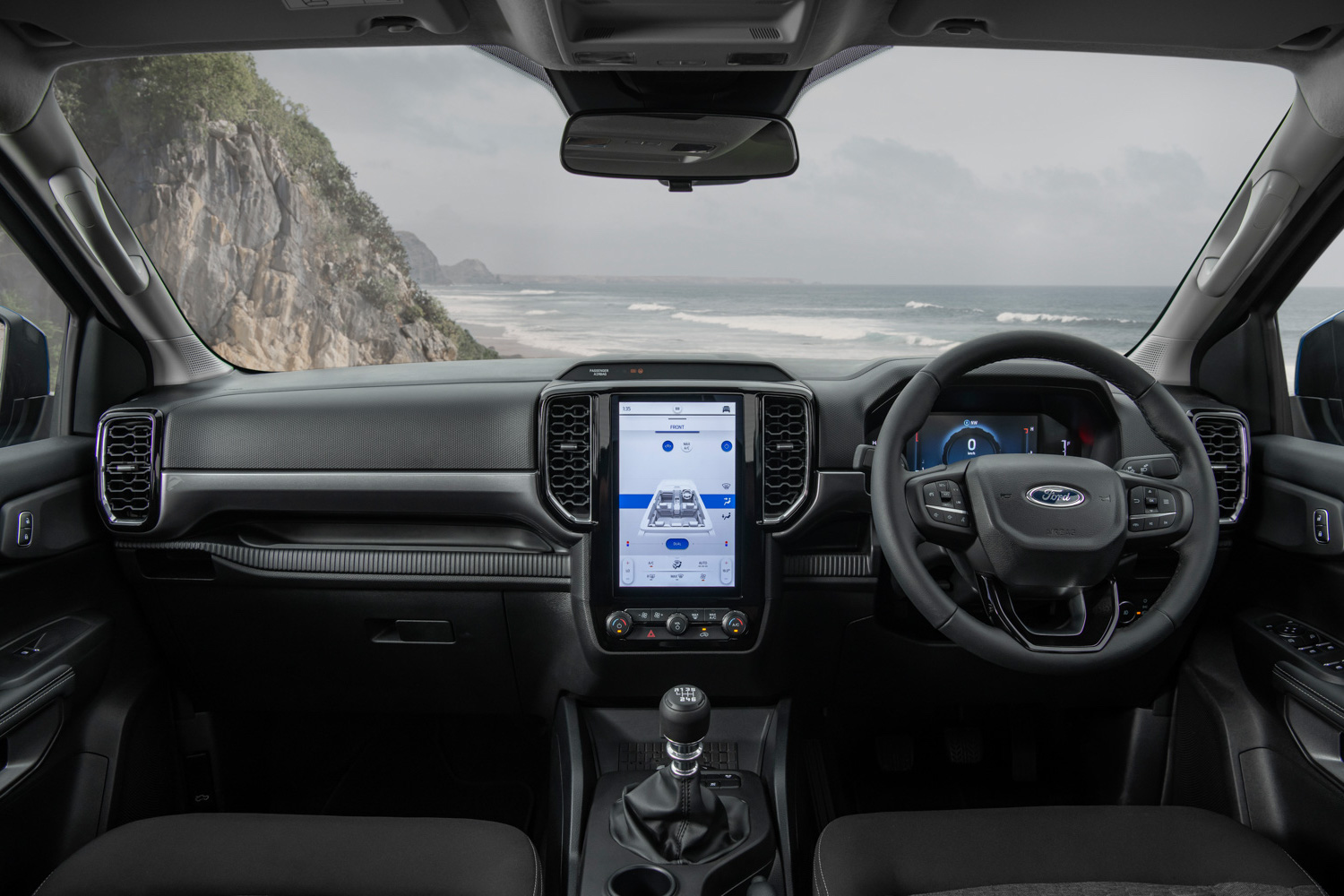 Customers will have a choice of two four-wheel-drive systems; an electronic shift-on-the-fly system or an advanced new full-time four-wheel-drive system with a reassuring set-and-forget mode, designed for capability when and where customers need it. Off-road recovery is made easier with prominent dual recovery hooks in the front bumper.
Mustang-style infotainment
Inside, there's a Mustang Mach-E style upright infotainment screen, in either ten-inch or 12-inch sizes, using the latest SYNC4 software. That gives lots of online connectivity options and the ability to manage vehicle features through the FordPass smartphone app. There's a fully digital instrument panel in front of the driver, too.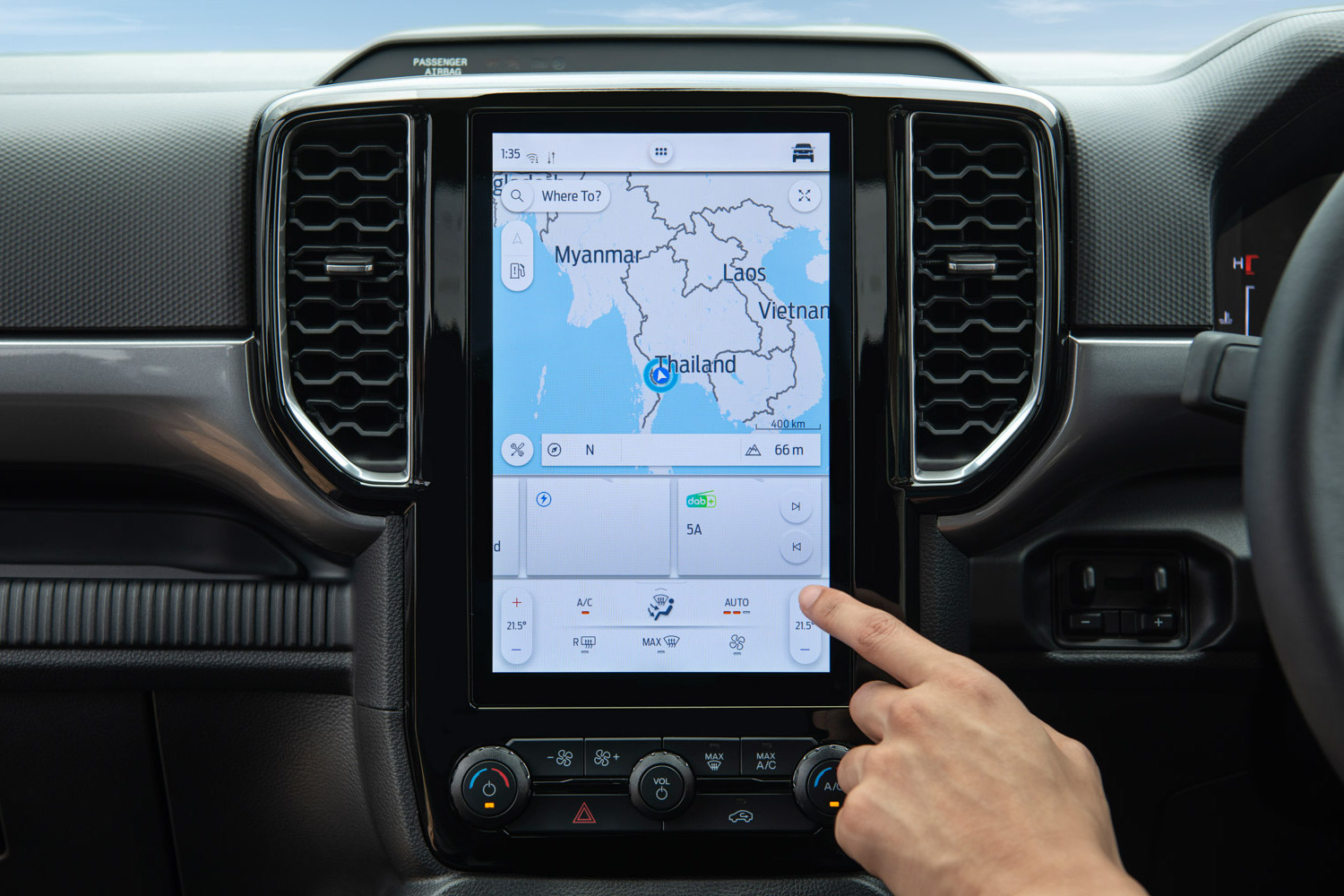 There's a 360-degree parking camera system and exterior lighting that can be activated by the phone app, making life a little easier whether you're working at night or camping out.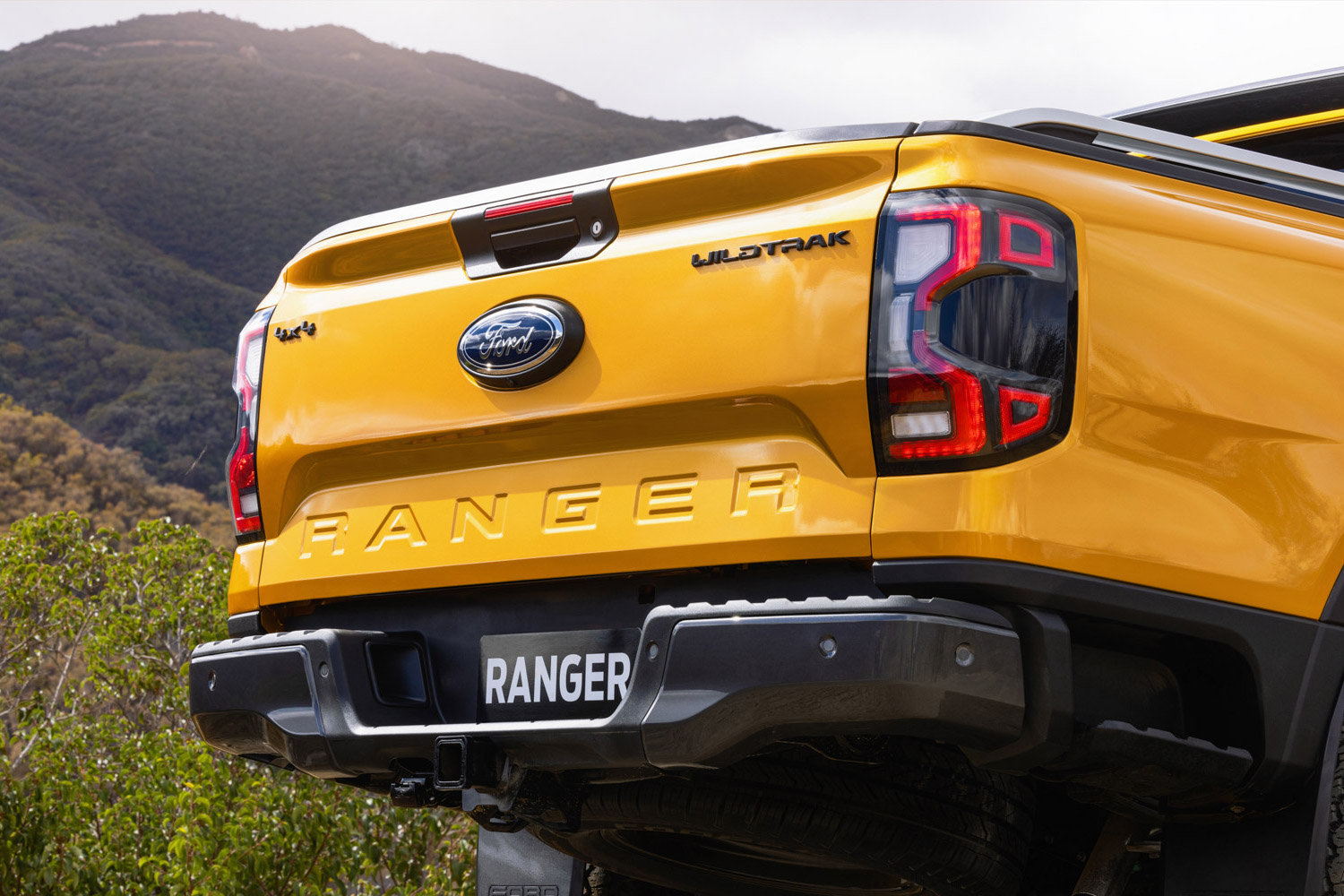 In the loadspace, the extra 50mm width means that it can now carry larger items, such as a sheet of building plywood or a full-size pallet. Additional thoughtful, customer-focused touches include a new, tough plastic-moulded bedliner that helps protect both the truck bed from scratches and owners' knees from kneeling on a steel truck bed.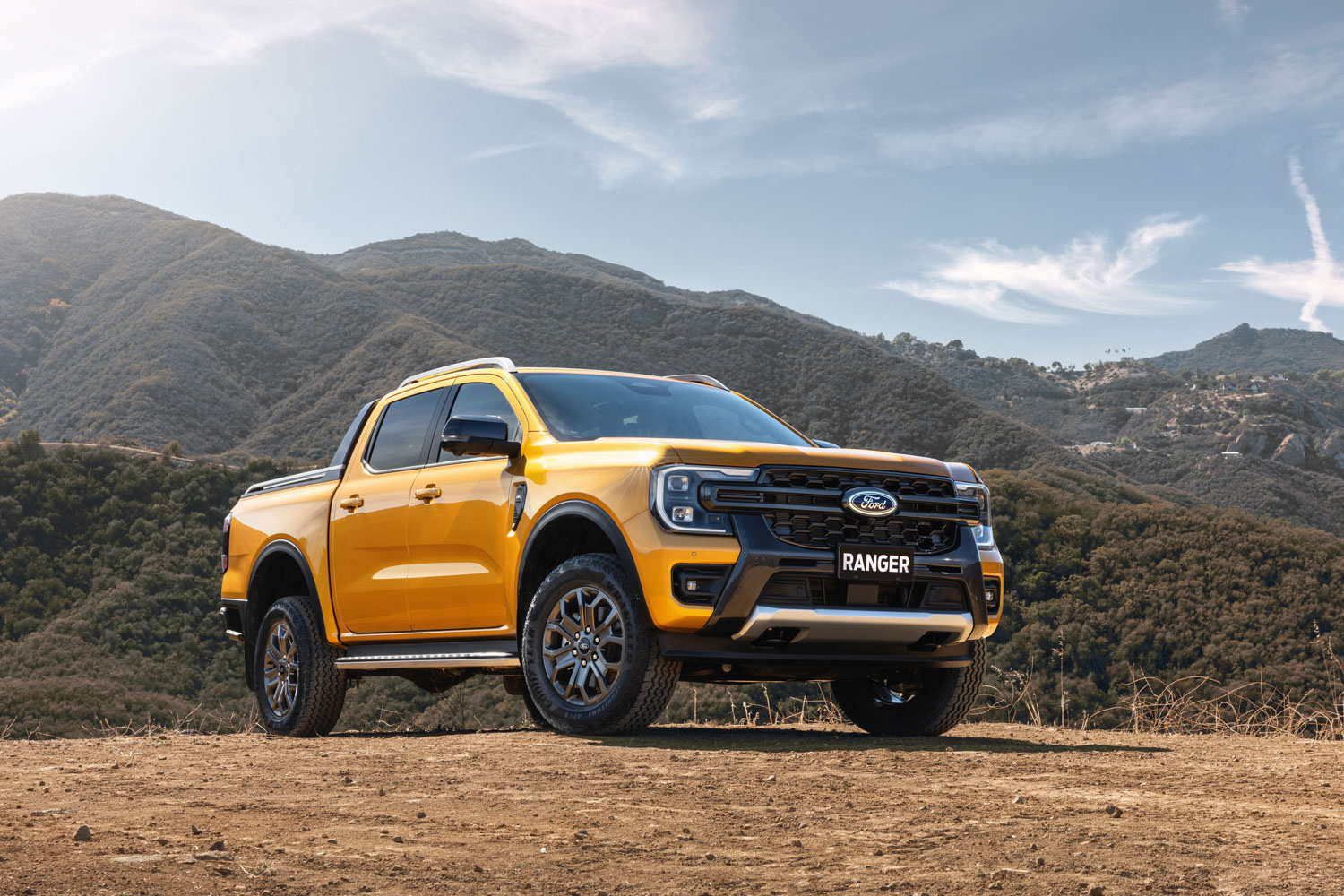 Extra cargo tie-down points – on strong steel tube rails – provide convenient points to secure loads. Durable, flexible load box caps around the sides of the box and across the tailgate conceal structural attachment points for canopies and other aftermarket accessories. Ford hasn't issued any technical data regarding payloads or towing weights.