A clean-sheet design marks the Volkswagen Multivan out as a dedicated people mover with a plug-in hybrid option that could appeal as much to families as corporate buyers and professional drivers. 
Volkswagen Multivan eHybrid overview 
The Volkswagen Multivan name takes on a new meaning from 2022 with the arrival of an all-new model built on a new platform, rather than using the same underpinnings as the Transporter panel van. Designers began with a blank sheet of paper to create a people mover that could be highly versatile and more refined than a van-based vehicle. 
Volkswagen uses a variation of the MQB platform for the Multivan. That architecture is used for a wide variety of passenger cars, from the Volkswagen Polo to the Skoda Kodiaq, but it undergoes significant changes for its use in the Multivan. Using this setup means that Volkswagen can also offer a plug-in hybrid system and it is this that will feature in the Multivan line-up initially, with a diesel set to follow later in 2022. 
Volkswagen Multivan eHybrid range
The Volkswagen Multivan model range is made up of two body lengths (4,973mm or 5,173mm) and three specification grades — Multivan, Style and Life. From launch, the Multivan is available only with a 1.4-litre petrol-electric plug-in hybrid powertrain, but Volkswagen is set to expand the range with a 2.0-litre TDI option.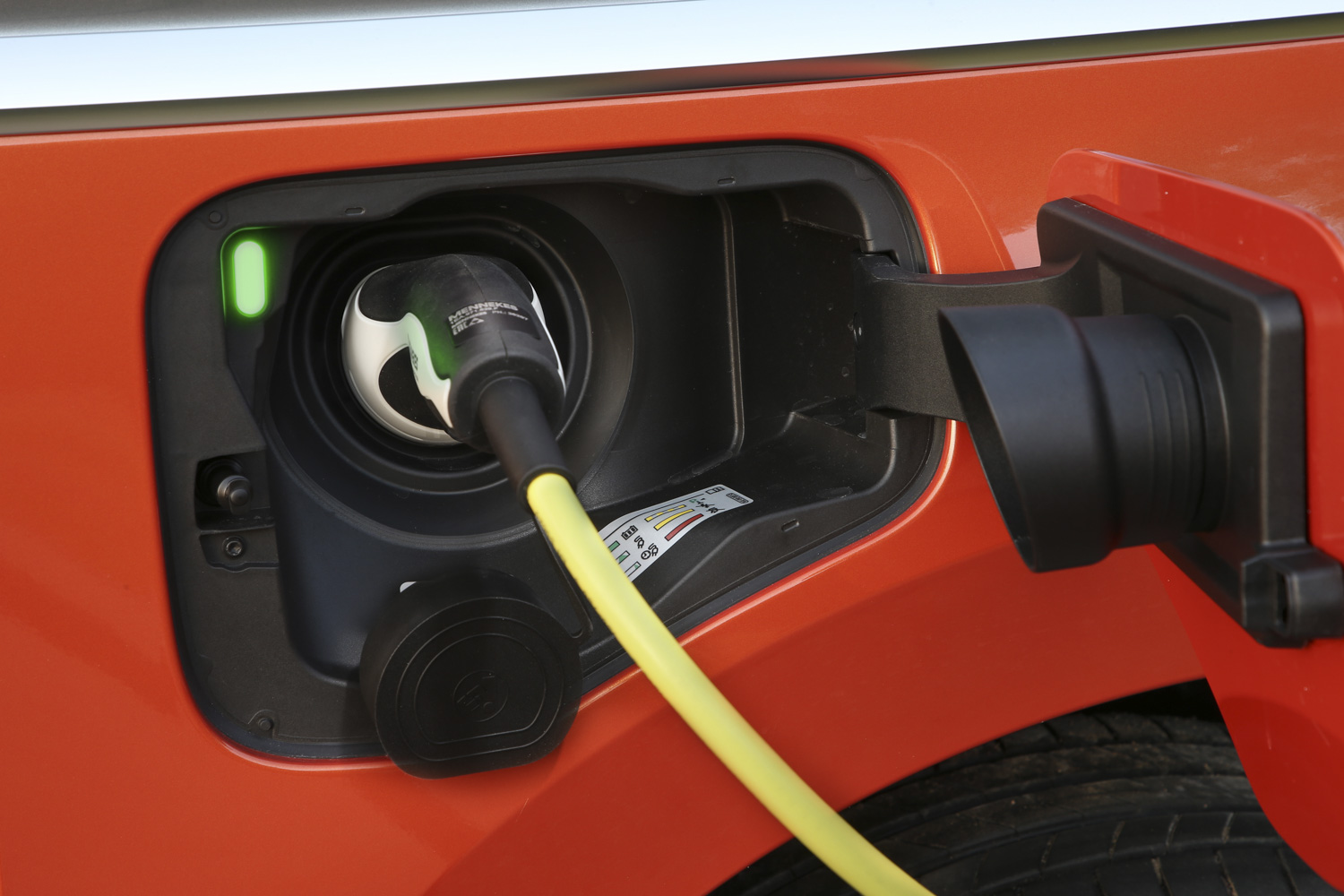 Pricing starts at €42,190 excluding VAT, or €56,435 on the road. This standard Multivan trim uses the shorter length body with a six-seat layout. Pricing for a seven-seat version is €42,875 ex. VAT or €57,335 on the road. Standard equipment includes 17-inch alloy wheels, LED headlights, manual sliding doors and black door mirrors. 
On the interior there is bi-coloured 'Bright Dots' fabric upholstery, armrests for both front seats, leather-covered steering wheel, digital instrument display, 10-inch touchscreen, voice control with Alexa, wireless smartphone mirroring, automatic wipers, 'Front Assist' emergency braking with pedestrian and cyclist monitoring, Lane Assist, road sign recognition, cruise control, front and rear parking sensors, Swerve Support and oncoming vehicle braking when turning.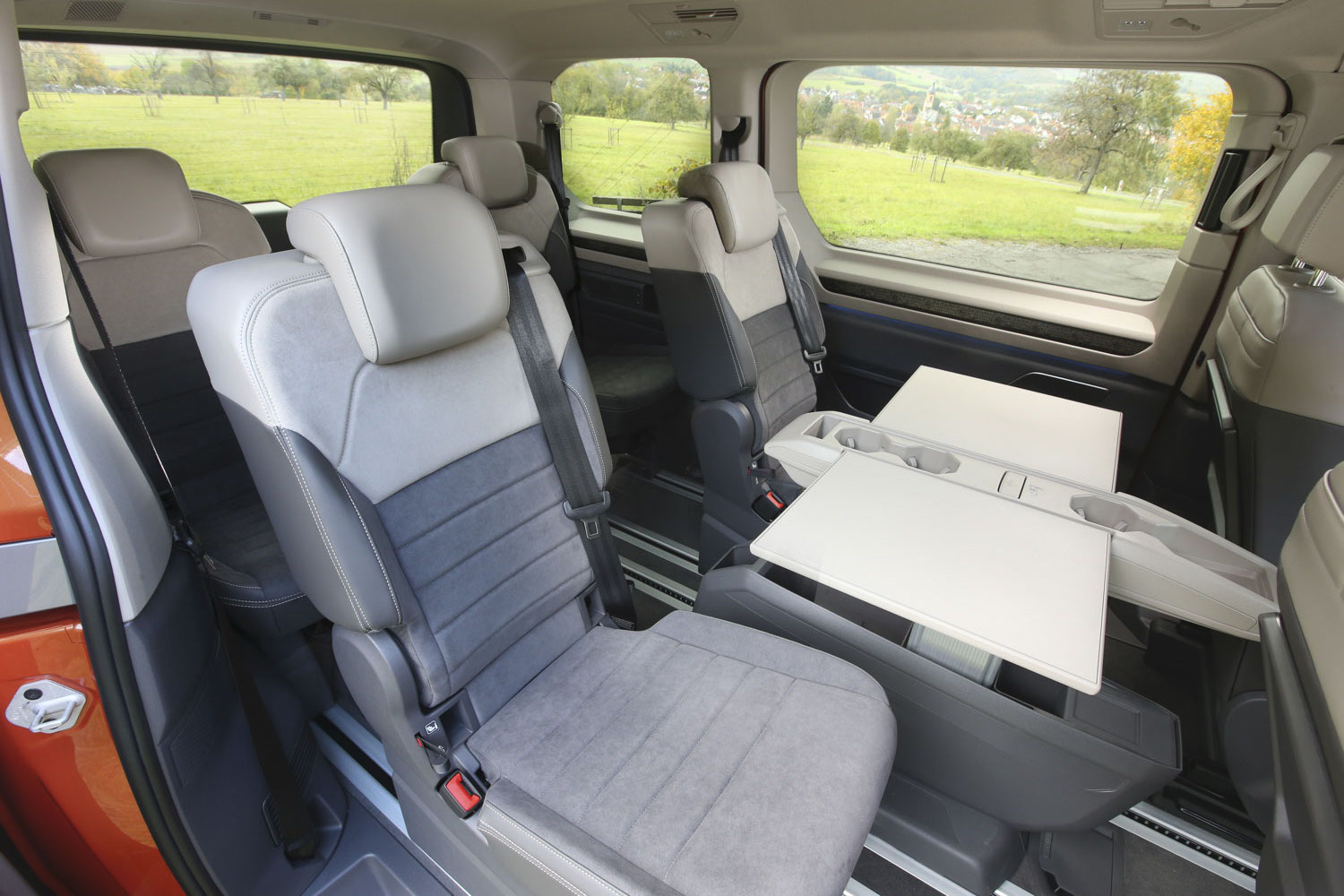 The mid-level Life specification costs €44,935 ex. VAT or €60,040 on the road and enhances the exterior with a gloss black insert between the headlights that has two chrome strips. A powered latching for the sliding doors and tailgate provides a 'soft close' function and inside, this is the first of the Multivan models to feature seven seats. 
A bi-colour upholstery called 'Ribella' covers the seats, while 'Dark Silver Brushed' inserts decorate the cabin, which also benefits from an acoustics package that improves sound insulation. Additional safety equipment includes side, curtain and centre airbags for the front occupants and curtain airbags for the outer seats in the rear. A 'Light Assist' high beam control and 'Poor Weather Lighting' package feature as standard, as does a reversing camera.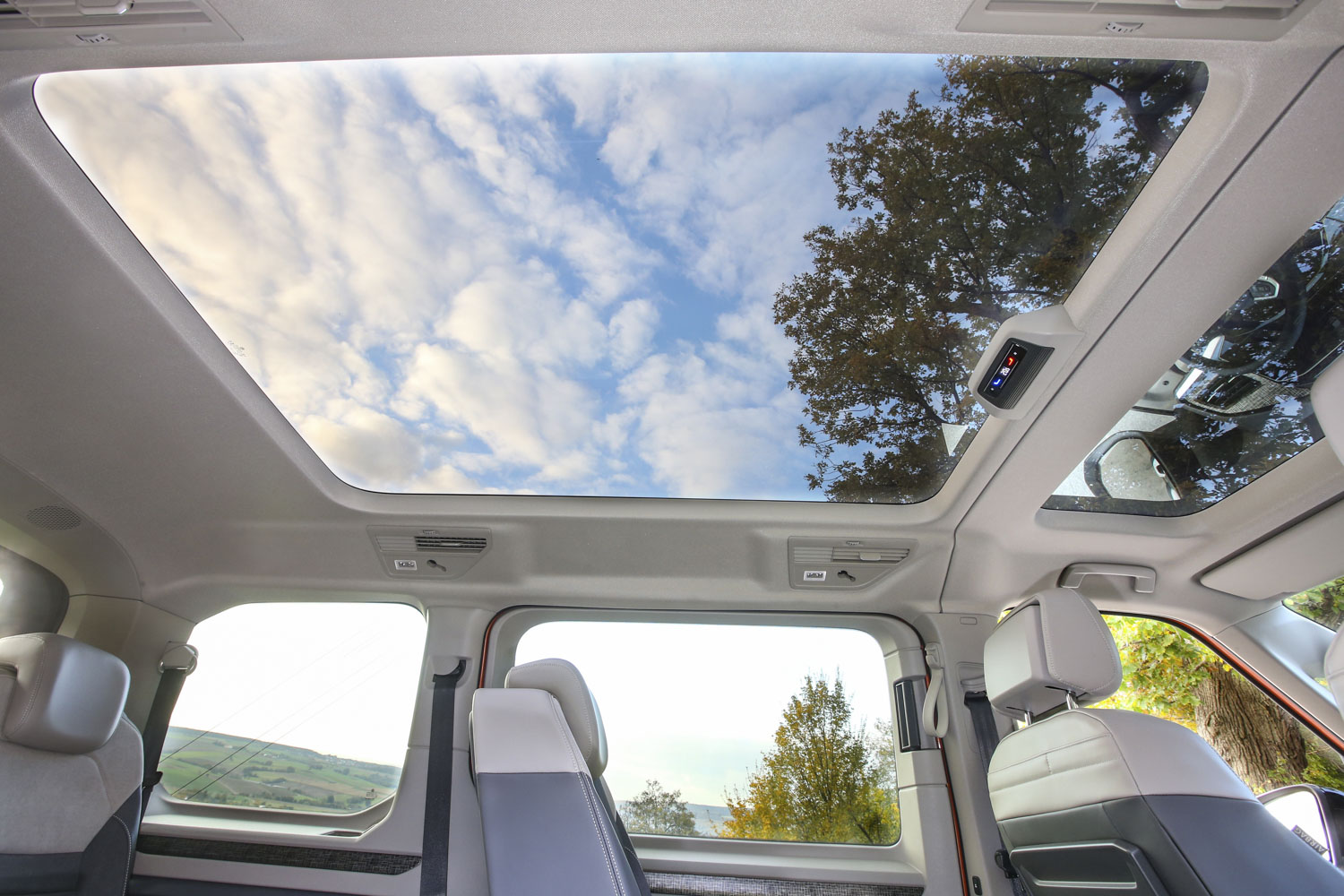 At the top of the Multivan range is the Style model, which costs €53,468 ex. VAT or €71,240 on the road. This version is the most visually appealing one as it gets 18-inch 'Toshima' alloy wheels, rear privacy glass, IQ.Light LED matrix headlights and chrome exterior trim. Added convenience comes in the form of powered sliding doors with an electrically operated tailgate. Interior features include three-zone climate control, increased noise suppression elements above what is found in the Life specification and 'ArtVelours' microfleece seat upholstery. 
Practical elements include a multifunction centre console that can slide into the rear to become a table, wireless charging, two USB-C ports in the front and four in the rear, heated front seats and sliding windows in the rear doors. Keyless entry, Park Assist with front and rear sensors, adaptive cruise control with a stop-and-go function and Side Assist with blind spot monitoring all come as standard on this version as well.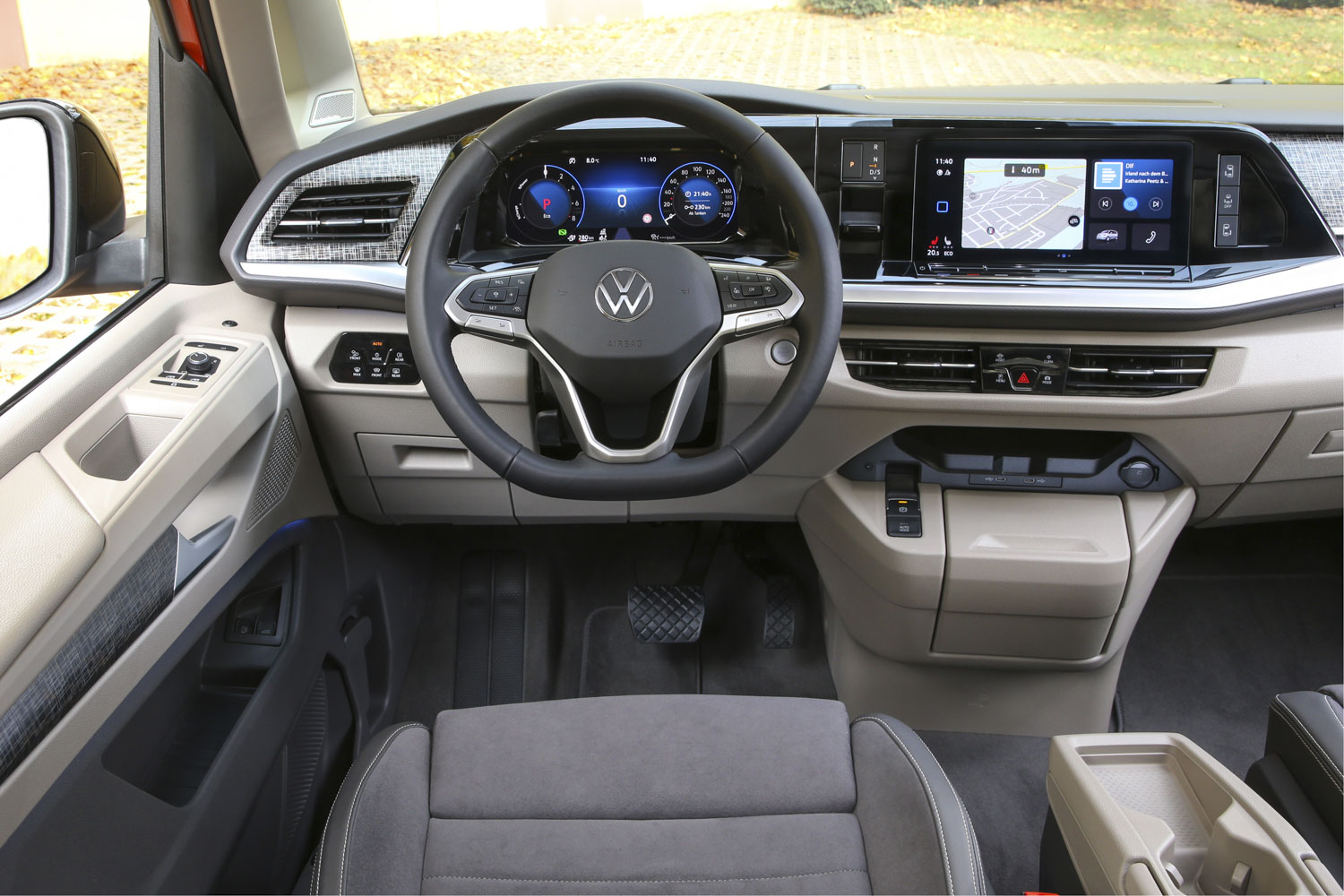 Volkswagen Multivan eHybrid interior
Interior design in Volkswagen Commercial Vehicles continues to improve with the Multivan. A growing amount of component-sharing with the Volkswagen passenger car division has helped to modernise van interiors since the introduction of the Transporter 6.1. Continuing that trend and moving up a gear, the Multivan's interior is both modern in appearance and low on physical button count. A great deal of effort has gone into the layout so that it looks good and is both ergonomic and functional. 
By switching to exclusively using automatic transmissions, there is more interior space around the base of the dashboard. A shift-by-wire system means that there is no traditional gear selector, only a small toggle switch that is far smaller, allowing for integration into the dashboard. It's a similar story with the parking brake, which means there is now an open space across the base of the dashboard and sufficient space to walk through into the rear of the cabin. Volkswagen has designed a sliding centre console system that fits between the front seats, too, which can move rearwards and open up and out to form a table for rear passengers.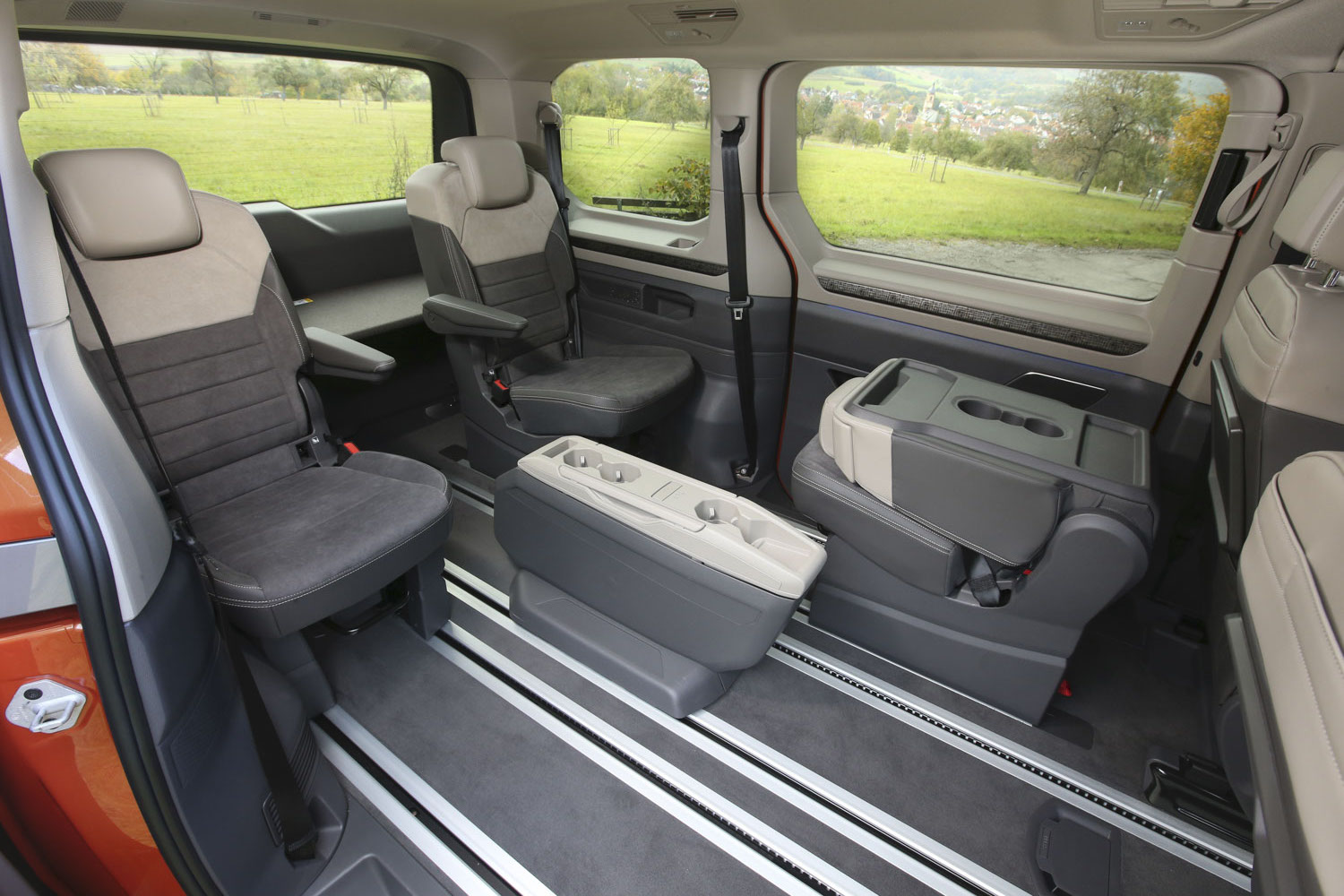 An innovative feature in the rear passenger section is the electrified rail system. It means the rear seats can now be equipped with a heated function without losing any of their versatility with regard to movement. Numerous configurations are possible, such as switching the direction that some face to create a conference setup that includes the sliding console table. Volkswagen has also made the rear seats noticeably lighter, to be easier to remove from the van if required. Individual passenger space in the rear is also helped by the interior cabin height increasing in the Multivan compared to the Transporter variants, even though the overall vehicle height is lower. Although the wheelbase doesn't change, the longer Multivan gains 200mm at the rear, enabling more space for luggage behind the rearmost seats.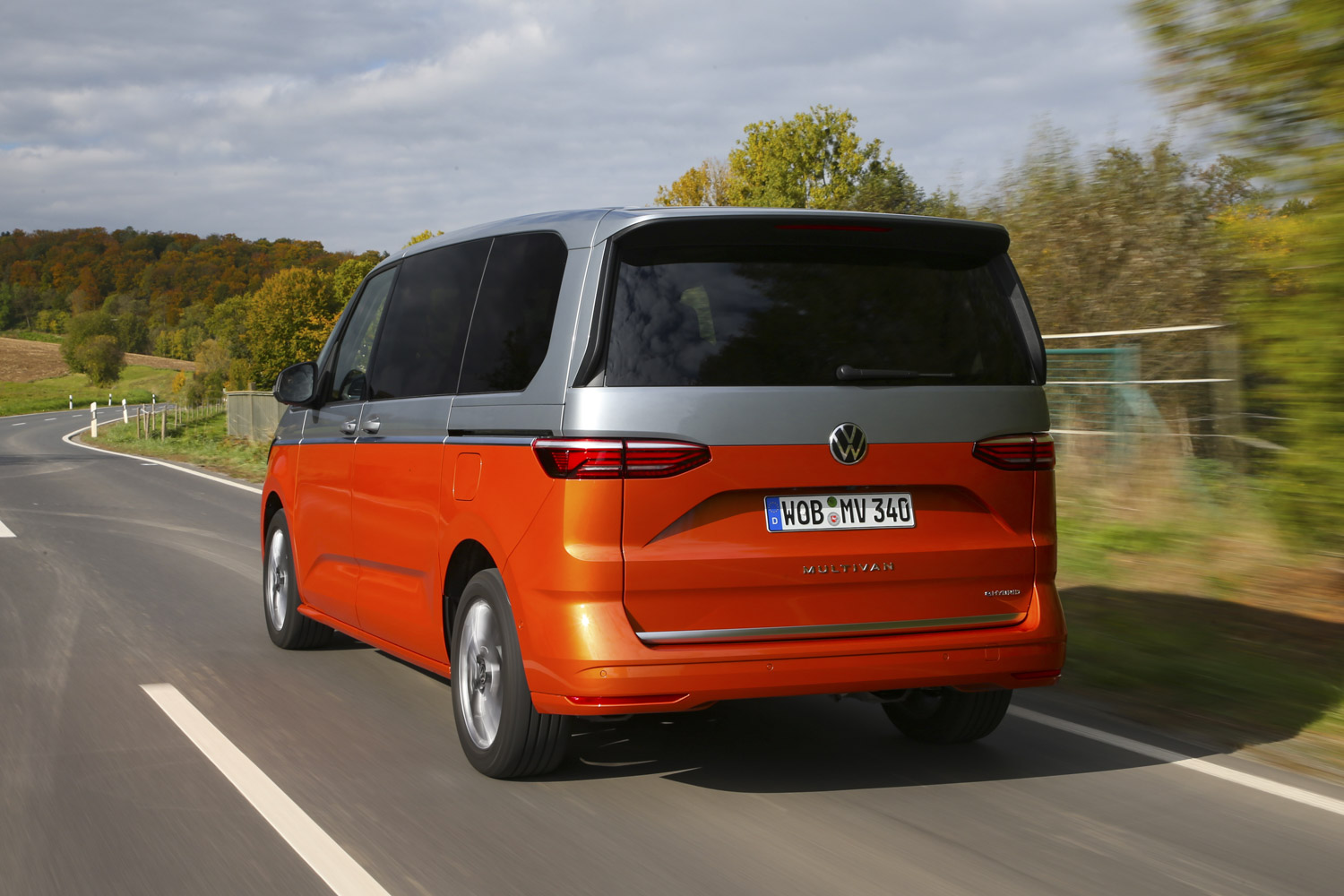 Volkswagen Multivan eHybrid driving experience 
The driving position in the Volkswagen Multivan remains nicely elevated. A large windscreen and low scuttle provide the driver with a good road view. Slender A-pillars feature a split for a quarterlight, decreasing the risk of blind spots when looking out across a junction. Plenty of movement for the driver's seat and a steering column that adjusts for reach and rake makes it easy to get comfortable. The added sense of space due to the lack of a traditional dashboard layout is a further boon. 
Thanks to the modified MQB platform that the Volkswagen Multivan sits on, the driving experience is much more akin to an MPV than a van loaded up with extra seats. Volkswagen did make some effort to ensure that the Multivan drove with a level of refinement to please buyers. Having a plug-in hybrid powertrain enhances that further as it will invariably set out on a journey silently by using power from its battery and electric motor.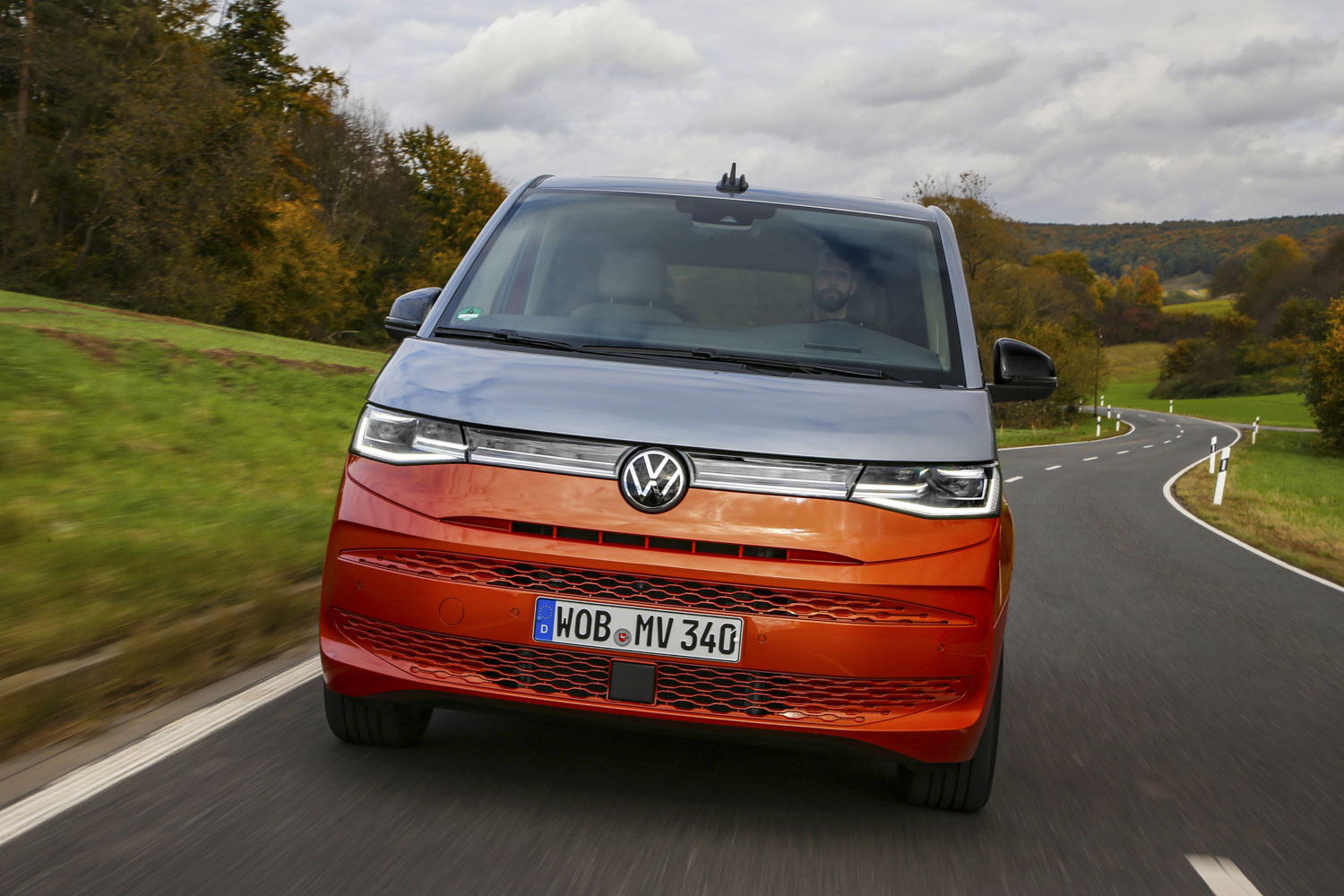 The 116hp motor provides enough pulling power - thanks to its 350Nm of torque - to make light work of city and urban trips. Moving off from a stop is quiet other than a faint electric motor whirr and that torque is always at your disposal. Assuming the Multivan is fully charged at the start of the journey, covering close to the official 50 kilometres using only the battery is feasible. However, this figure will drop if you have a full load of passengers. 
Once the battery charge is depleted, the system switches over to using the petrol engine in a hybrid configuration, meaning it will switch back to using the electric motor where possible as it recovers energy back to the battery through regenerative braking. Drivers can also switch the shift-by-wire system to a setting to increase energy recovery, resulting in a sort of one-pedal driving feel. Drivers can also opt to save a set amount of battery charge for later use. Plugging in to replenish the battery from empty to full will take around 3 hours 40 minutes. 
Working in isolation, the 1.4-litre petrol engine is fine at the slow-speed urban driving but can begin to sound strained out on the motorway, especially if carrying more weight. It moves up and down the six-speed automatic gearbox with relative smoothness, however. So long as you don't put it under excessive load, the Multivan will make progress in a mainly refined manner. There is the option of having both motors run simultaneously and doing so provides the full 218hp output. In this setting the Multivan does lose some of that polished feel as the engine sounds as if it's working hard to produce every bit of power.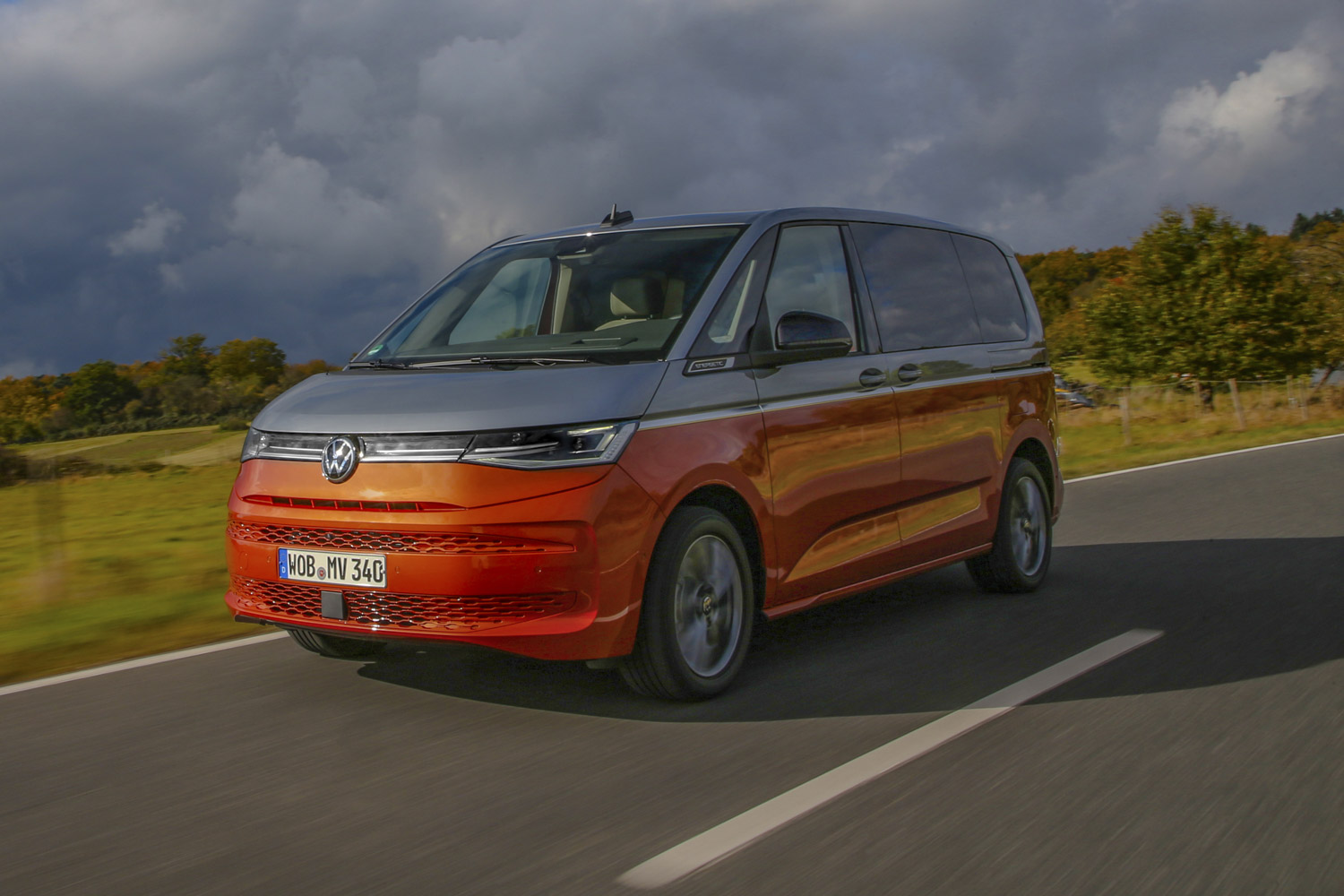 Volkswagen Multivan eHybrid alternatives
The Multivan isn't short of competitors, but almost all of these are van-derived passenger cars rather than Volkswagen's bespoke creation. Mercedes-Benz already offers the fully electric EQV, though that is a more costly option, whereas the e-Vito Tourer is available with a smaller battery to make it more affordable. Citroen sells the e-Spacetourer that is available in two lengths with a versatile interior.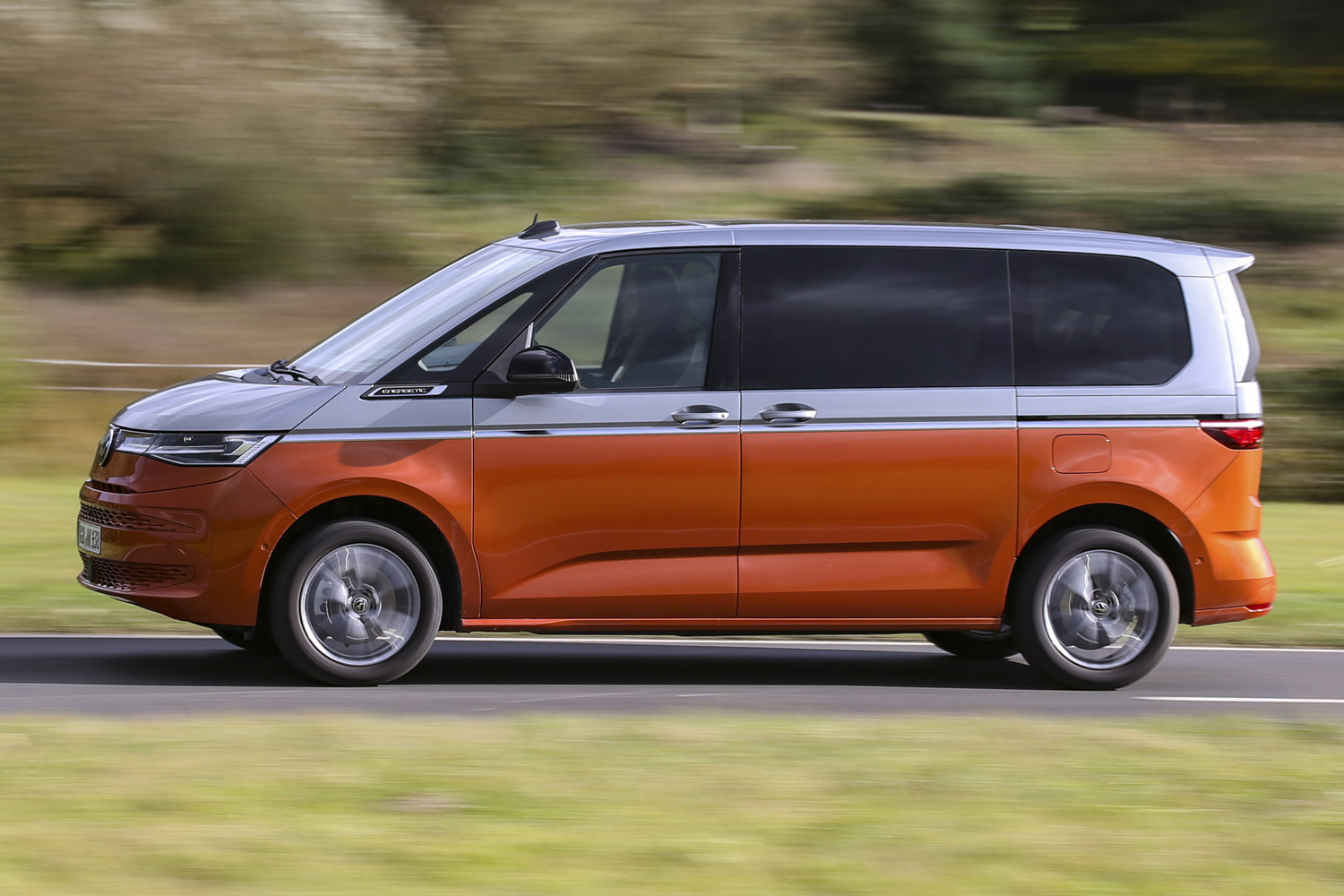 Volkswagen Multivan eHybrid summary
By taking a different approach and designing a purpose-built people carrier, the Volkswagen Multivan provides a great interior package that will appeal to business users and private buyers alike. The plug-in hybrid version could be useful for businesses such as a hotel, where short transfers are common, and it can be recharged between runs. While only one wheelbase length differs from some of its competitor offerings, the Multivan is still a versatile vehicle with a spacious interior finished to the level that is expected from Volkswagen.