If you'll excuse the pun, there's been quite a buzz about the Volkswagen ID. Buzz. VW's retro-inspired electric model has arrived and, as well as the five-seat MPV, the ID. Buzz Cargo van is also available.
It's not VW's first electric van - the larger Crafter has had an electric variant for a while, and the T6 Transporter was electrified for a brief period, too. However, the e-Crafter is only sold in left-hand-drive Europe, while the e-Transporter's drivetrain was sourced from the e-Golf, so it wasn't really up to the job of offering a decent driving range in a van.
That's all changed with the arrival of the ID. Buzz Cargo. The ID. tag links this new van to VW's range of passenger cars, and it shares the same running gear as those models, too, with a dedicated EV platform that shares nothing with the petrol and diesel models that have come before it.
The ID. Buzz Cargo is a similar size to the T6 Transporter (which continues in production for now), but the electric model comes in just one body style, a typical box van with rear access, sliding side doors, a bulkhead and a three-abreast seating layout up front. Where the ID. Buzz Cargo stands out, though, is with its retro-inspired looks.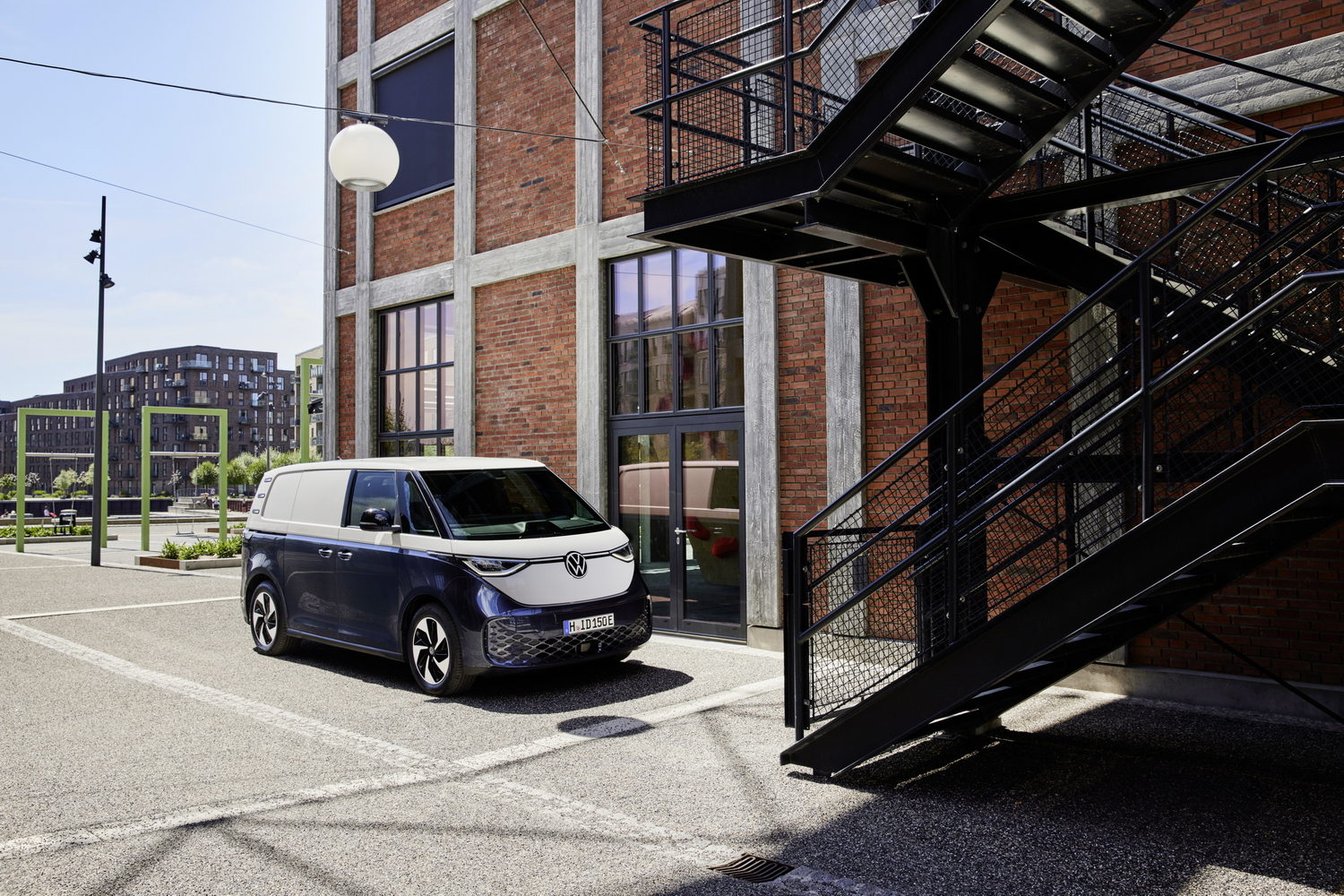 Volkswagen ID. Buzz Cargo range
Prices are still to be confirmed for the Irish market, but if other territories are anything to go by, the ID. Buzz Cargo should offer competitive pricing when compared with rival medium-sized electric vans. As already mentioned, there's just one body style on offer, but VW has a range of options available to personalise the Buzz Cargo as you see fit.
All models at launch come with a 204hp rear-mounted electric motor and 77kWh battery. This offers a range of up to 413km on the WLTP test cycle, which is around 90km more than is claimed for any of the Stellantis group's medium-sized electric vans. VW has fitted fast-charging capability up to 170kW, so the battery can go from 5 to 80 per cent charge in half an hour from a suitably powerful source. Wallbox charging from an 11kW AC source takes the pack from flat to fully charged in seven and a half hours.
There's a 3.9 cubic metre load area in the back of the ID. Buzz Cargo, which is comparable with long-wheelbase small vans, though a little behind what the best medium-sized models have to offer. The reason for the lack of space is the high cargo floor, which is a necessity to make room for the large battery underneath. It does mean there's also room for charging cable storage under the floor in a hidden compartment behind one of the sliding side doors, though, which keeps the cables out of the cargo area.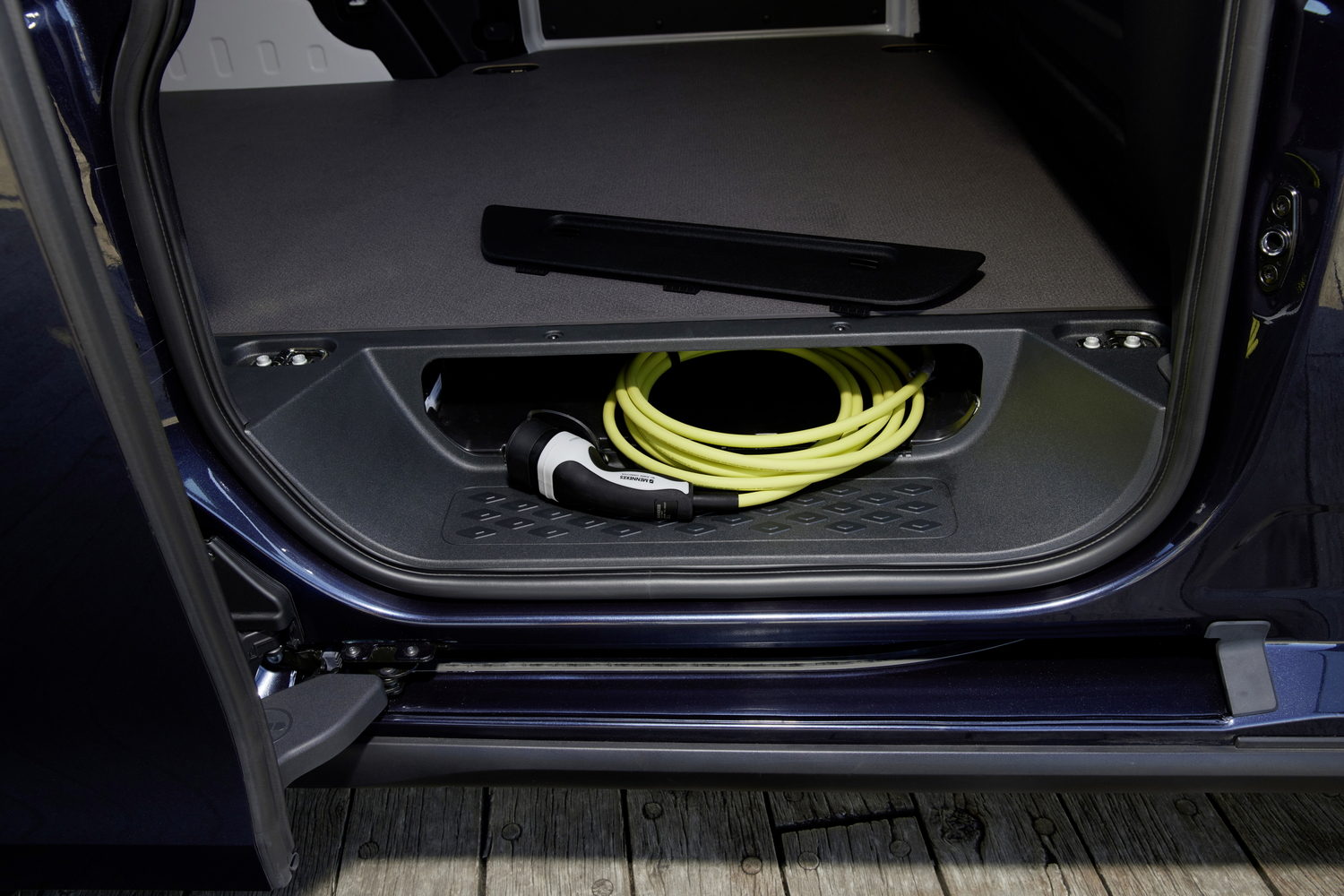 The floor is long and wide, and offers enough room to fit two Europallets inside, with a maximum floor length of 2,232mm when twin rear doors are fitted - choose the rear tailgate (a no-cost option), and the load length is slightly shorter, at 2,208mm.
Payload weights are another slight sticking point with the ID. Buzz Cargo. The van itself weighs around 2.4 tonnes, and VW quotes a payload weight of up to 607kg to get to a gross vehicle weight of three tonnes. This is somewhat short of the one-tonne payloads that are offered by some rivals.
The ID. Buzz Cargo's fixed bulkhead is made of hard plastic rather than metal, but it still feels pretty sturdy, while VW offers options such as a window for the bulkhead and tailgate glass, too. The sliding side doors are a little on the narrow side – access from the rear is wider – with a maximum width of 756mm for the side door openings. At least you get twin sliding doors as standard, which isn't always the case with some rivals.
Volkswagen ID. Buzz Cargo interior
Where the ID. Buzz Cargo really excels is for cabin comfort. The three-abreast seating layout is usefully wide, while the vast windscreen and big mirrors offer a clear view of your surroundings. Cabin quality is top notch, too. It shares much with the ID. Buzz MPV, but while that car features light-coloured fabrics and other materials, the Cargo version benefits from harder-wearing black upholstery and plastics. Like the MPV, VW has sourced materials in the Cargo's construction that are designed to reduce their impact on the environment.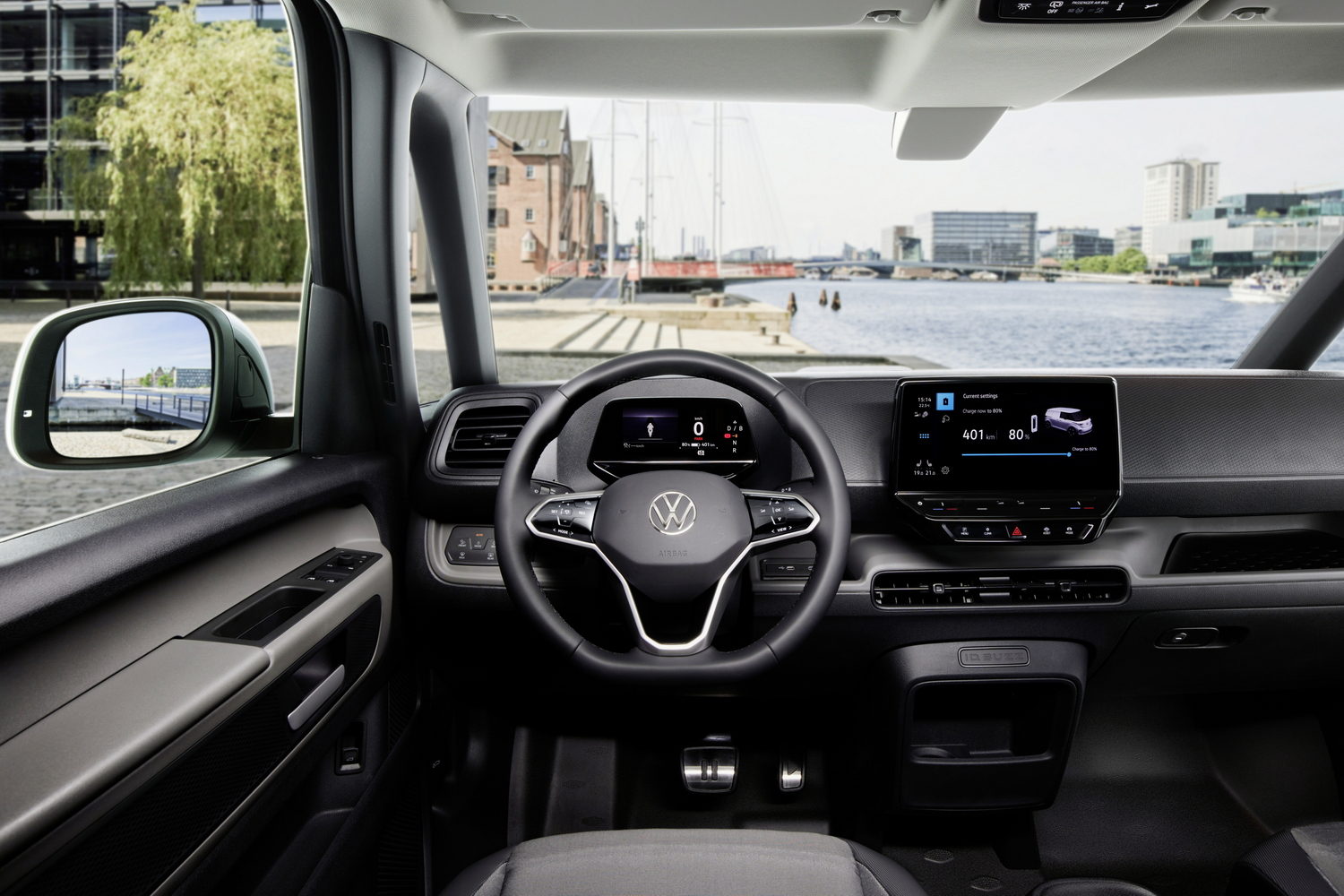 Storage is good, with double door bins, useful centre console storage, a big glovebox and extra cubbies and cup holders across the dashboard. Like the MPV version, the Buzz Cargo has a compact driver's display that adjusts with the steering wheel so it's always visible, while the right-hand column stalk is the drive selector - the left-hand one is like a Mercedes-style stalk, with indicator, lighting and windscreen wiper functions all added to it - it's a bit unusual, but easy enough to get used to.
A central 10-inch touchscreen is standard, and it comes with a range of connectivity options. Unfortunately, it's the same set-up that's found in the ID.3 hatch and ID.4 SUV, so there are quirks to get used to, including climate controls within the touchscreen, plus shortcut temperature and volume controls that aren't illuminated at night. There is a multifunction steering wheel as well, but again, the touch-sensitive controls on the wheel take a little getting used to. At least the displays are crisp and clear, while voice control is also offered, as is wireless Apple CarPlay and Android Auto.
Volkswagen ID. Buzz Cargo driving experience
On the road the VW ID. Buzz Cargo is a well-resolved machine. Since it uses a platform that's designed for passenger cars ahead of use as a commercial vehicle, the ID. Buzz Cargo is a very comfortable van to be in. The suspension irons out bumps well, with only the biggest potholes causing a shudder to go through the cab, while the lack of road or wind noise is great, too.
The ID. Buzz Cargo is a heavy machine - weighing around 2.4 tonnes unladen - but the 204hp electric motor provides surprisingly brisk acceleration. VW quotes a 0-100km/h time of 10.2 seconds, which is rapid for a vehicle of this size, and the instant response from the electric motor means you can hit the speed limit in a very short time.
However, the van's weight does have an impact on the way it drives. It's not much fun in corners, while the dead steering doesn't help, either. At least a low centre of gravity means the ID. Buzz Cargo feels stable in bends.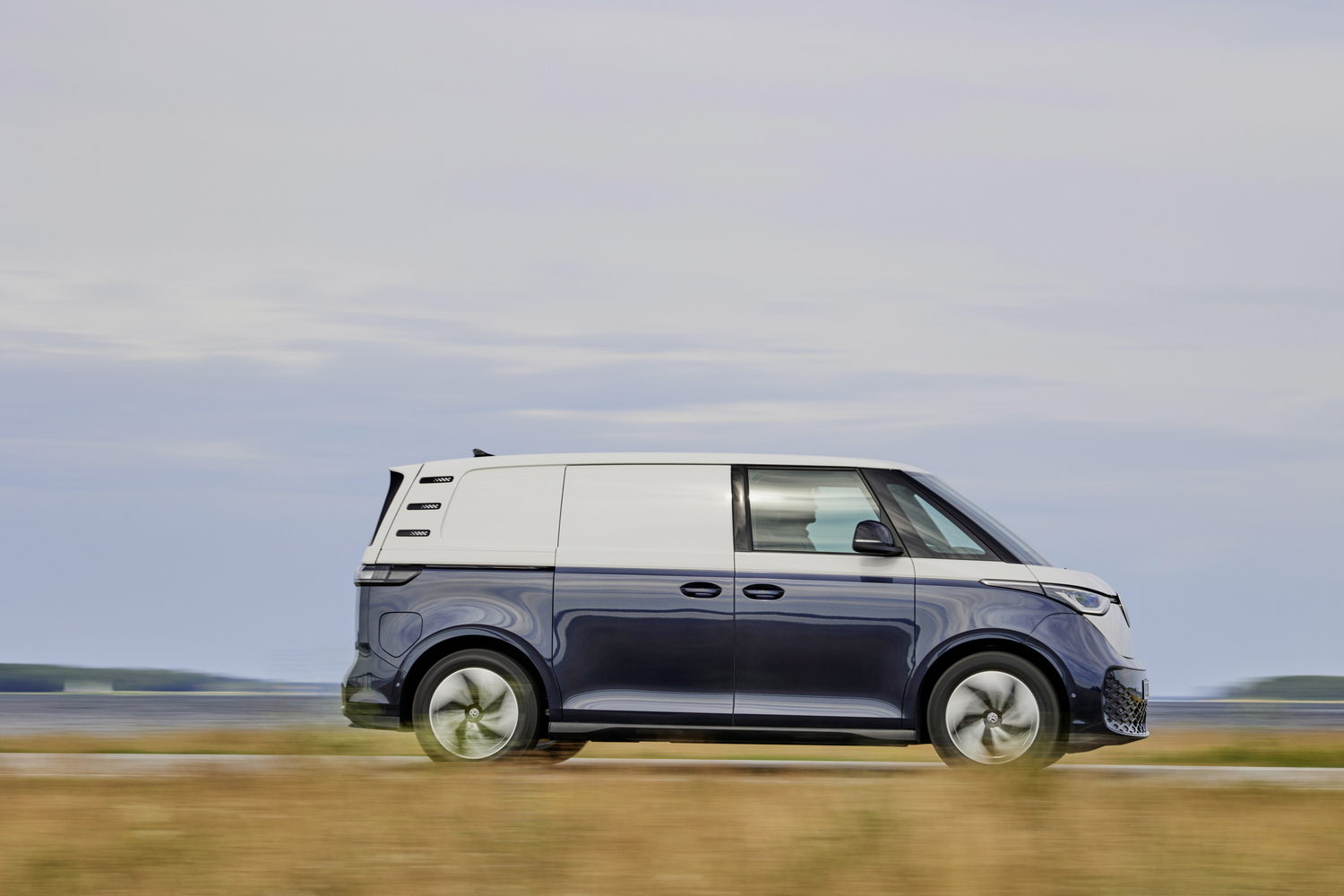 Take things easy, and the ID. Buzz Cargo makes a lot more sense. It's easy to modulate the throttle, and braking is smooth, too. There is a 'B' mode that offers additional energy recuperation when slowing, while the transition from this set-up to the conventional discs and pads is smooth. It's worth noting that the battery range can drop significantly when the climate control is switched on - during our time with the ID. Buzz Cargo, turning the system on saw an instant 40km drop in projected driving range, for example.
Alternatives to the Volkswagen ID. Buzz Cargo
It's arguable that the VW ID. Buzz Cargo is a van in a field of one, because no other model puts stylish looks, a long EV range and reasonable carrying capacity into one package. If you're a van buyer in need of a vehicle to promote your business, no other model will turn as many heads as the ID. Buzz Cargo, especially if you spec it in a bright colour or two-tone scheme.
The main rivals for the ID. Buzz Cargo come from the Stellantis group in the shape of the Citroen e-Dispatch, Opel Vivaro-e, Peugeot e-Expert, Toyota Proace Electric and recently launched Fiat e-Scudo. These vans are available with 50kWh or 75kWh batteries, with the latter providing around 320km of range from a full charge, while the smaller battery models have a payload that's around double that of the ID. Buzz Cargo. There are different body lengths on offer, as well as crew van options, too.
The Mercedes eVito is another electric van rival, but this can't compete in terms of range, while the Renault Trafic E-Tech has recently been revealed, too. But of more significance will be the new Ford E-Transit Custom, due later in 2023. It looks set to offer as much range as the ID. Buzz, but with the prospect of greater cargo-carrying capacity and payload weights.