Land Rover Defender Hardtop overview
Developed from the original 'Series' Land Rovers, which date all the way back to 1948, the original Defender remained in production from 1983 all the way through to 2012. Replacing it, in spite of its myriad faults and failings, became something of a tortured process for Land Rover, but finally, in 2020, the all-new Defender went on sale, complete with an aluminium chassis borrowed from the current Discovery, chunky styling, and the promise of a more refined and premium on-road experience (with an attendant swelling of the price tag).
Land Rover will sell you an ever-growing plethora of passenger Defenders right now, from a plug-in hybrid to a mighty 525hp supercharged V8 model, but the commercial version — badged as the Hardtop — is arguably the most Defender-y of the new Defender line-up. It's designed for hard work, rather than the school run, and aims to leverage the Defender's legendary off-road ability to give you the option of carrying your cargo across some deeply inhospitable terrain, if needed.
Land Rover Defender Hardtop range
For the moment, the Hardtop comes only in the long-wheelbase '110' body style. While 110 used to be the actual distance in inches between the wheel centres, these days it just means it's the longer version. A slightly shorter 90 Hardtop model will be available in due course, as will a pickup, and a longer-wheelbase 130.
You can have the Defender Hardtop with a choice of two engines, starting with the D250 mild-hybrid inline-six diesel (as tested here), which comes with 250hp, CO2 emissions of 251g/km and official fuel consumption of 9.6 litres per 100km. There is the option of a D300 engine, with — surprise, surprise — 300hp, but exactly the same official WLTP fuel economy and emissions figures. The base model is a D250 in plain Hardtop spec, which costs from €61,680 including VAT. You can upgrade to a D250 S for €65,180, a D250 SE for €71,651, or a top-spec D250 HSE for €76,690.
If you want to upgrade to the D300 engine, that'll be €64,870 including VAT for the Hardtop; €67,139 for the S; €76,070 for the SE; and €81,109 for the HSE.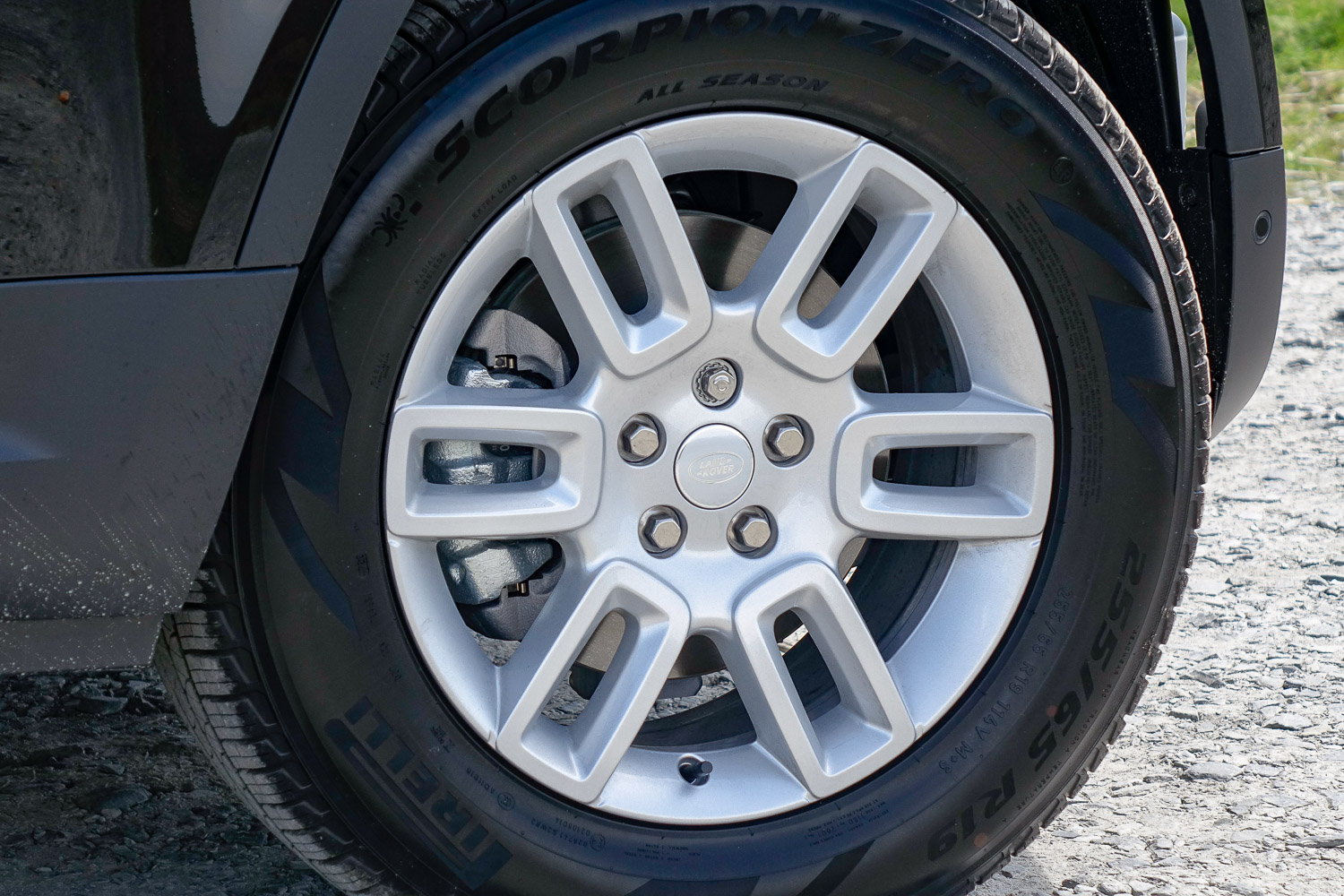 Basic Hardtop models come with LED headlights, auto headlights and rain-sensing wipers, 18-inch steel wheels with all-season tyres, eight-way electric front seats, a 3D surround-view camera, traffic sign recognition, the 'Pivi Pro' infotainment system that includes Apple CarPlay and Android Auto and a 'Trailer Stability Assistant' for when you're towing.
The Defender has a long, and potentially ruinous, options list — including such specification packs as 'Adventure', 'Explorer' and 'Urban', which bring with them items like side-mounted luggage lockers, more exterior brightwork, mudflaps, a portable rinsing system and a raised air intake. Indeed, if you were to maximally spec a HSE model D300 model you'd get perilously close to a €100,000 price tag…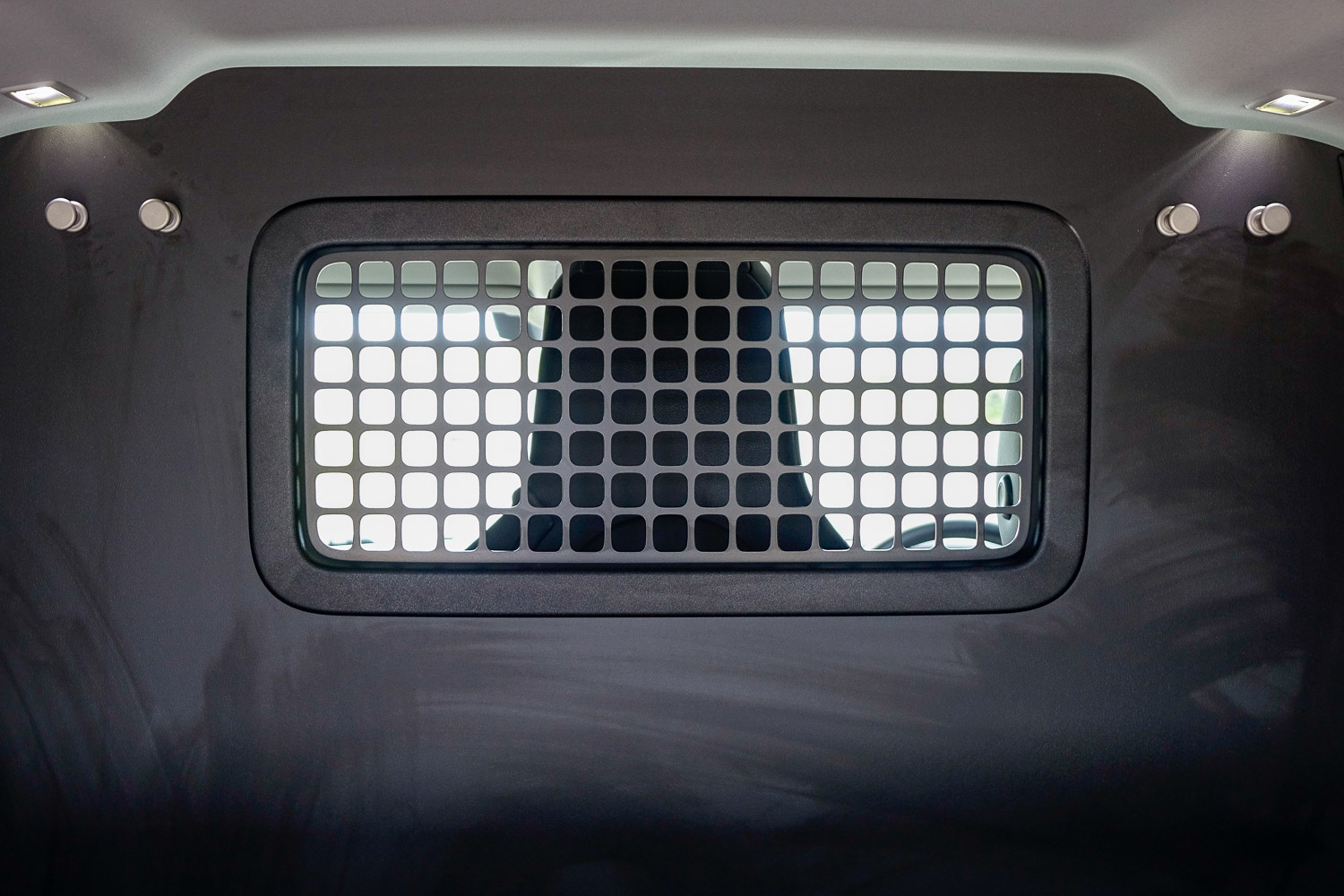 Behind the front seats, there's a sturdy bulkhead with a mesh screen that provides a limited amount of rear visibility through the tailgate (assuming you don't have a load in the way). That cargo space is massive, although the way the bulkhead bulges outwards to accommodate the reclining of the front seats means that extra-long loads won't fit so easily — you're limited to a 1,407mm load length.
Still, with 2,059 litres of load space, and a 700kg payload limit, the Defender is pretty well set up for haulage. Both of the side rear doors from the passenger model are retained, so you can open those to access the front end of the load space, which is immensely helpful. There are also neat little under-floor lockers — 155 litres in the front, and 58 litres at the rear — that allow you to stash valuable or delicate items both out of sight and away from heavy objects in the main load space. The tailgate opening is almost square — 904mm tall and 953mm wide at its widest point. The floor of the load space sits 937mm from the ground, although if you've bought your Defender with the optional air suspension (highly recommended) then you can lower it a bit for easier loading.
Land Rover Defender Hardtop interior
If the Defender Hardtop has a trump card, it's in the cabin, which — being largely lifted from the passenger car version — makes most commercial vehicle cabins look a bit cheap and nasty (then again, they are in general much cheaper to buy than a Defender. Swings and roundabouts…).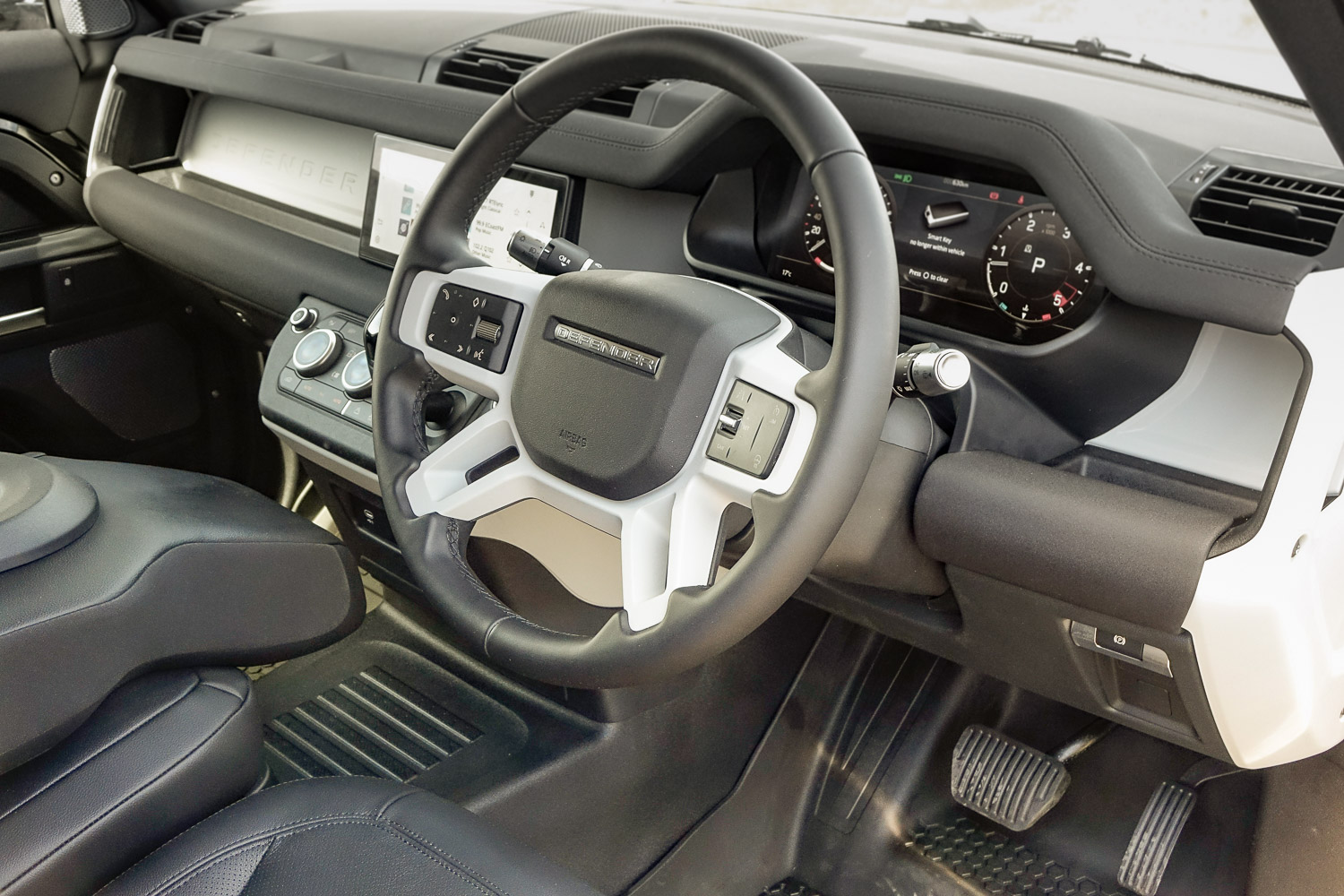 The dashboard is really a large shelf, which holds the steering wheel, instrument panel and infotainment screen, but also leaves lots of open spaces for you to stash items such as phones, maps, tools, anything really. There are plenty of USB sockets, both Type-A and Type-C scattered around, as well as 12-volt connecters and the option of three-pin domestic style sockets, too.
Optional, and fitted to our test car, was the third centre seat — a narrow jump seat, in between the two main seats, which can accommodate one skinny person, or be folded flat to reveal cupholders and power sockets built into the back. It's a versatile addition, and highly recommended.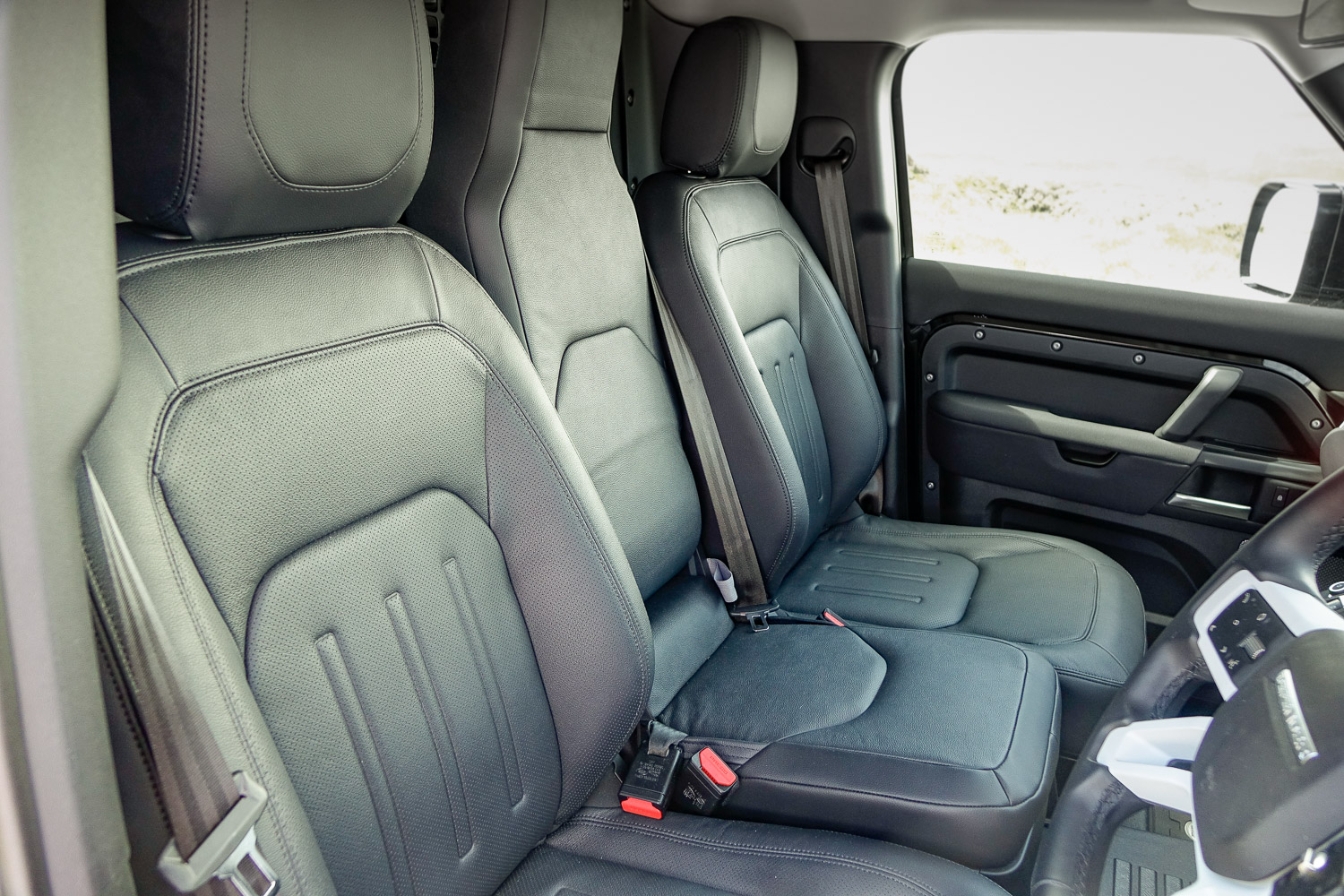 The 10-inch 'Pivi Pro' touchscreen vaults Land Rover, which had for so long lagged behind other car makers in terms of infotainment design, to the front of the pack, with rich graphics and a relatively simple menu layout. It's a connected system, which not only means over-the-air software updates, but also connection to your smartphone — both for in-car entertainment and also for storing useful running data about the car for later analysis. The 3D camera surround view system is also hugely useful in a vehicle with so many over-the-shoulder blind spots.
The seats are wonderfully comfortable — we drove this Defender from Dublin to Waterford to Belfast in one go without a single twinge nor complaint — and space in the front is very good.
Land Rover Defender Hardtop driving experience
On that lengthy journey, it was quickly apparent that the passenger Defender's excellent refinement has carried over to the commercial version. That six-cylinder diesel is buttery-smooth and very quiet, and really the only excess noise comes from the air being battered out of the way by the nose and those big door mirrors. As far as long journeys go, this is the commercial vehicle to have.
It's also very well-deported on the road. The adjustable air suspension automatically lowers the Defender at high motorway speeds, to the benefit of both stability and aerodynamic performance, and while you'd never describe it as a sports car — nor even a sports van — the Defender feels rock-solid stable, and very surefooted even when the road turns twisty. Just remember that it's a big old thing — just over the five-metre mark in length, and needs time to turn and manoeuvre.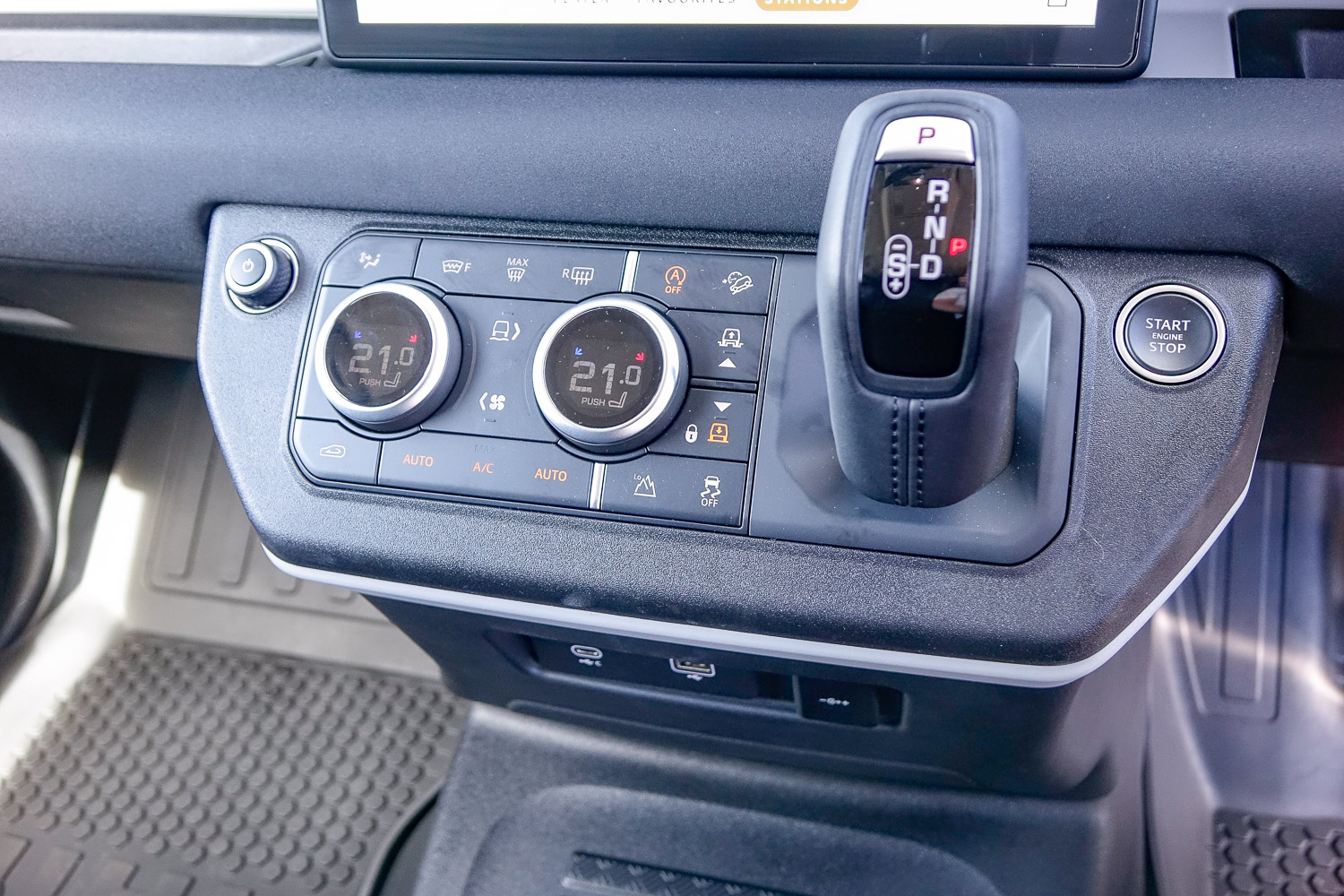 Of course, where the Defender really puts in a star performance is when you take it off-road. With the air suspension jacked up to its full height, approach and departure angles are 38 and 40 degrees, with a maximum ground clearance of 292mm. It can wade through water that's as much as 900mm deep and there's even an ultra-sonic wading sensor system, which repurposes the front parking sensors, to tell you when the water's getting too high. Actually, Land Rover reckons that it will go through deeper water even than that, but at 900mm the rear wheels start to float…
We took the Defender on a particularly tricky off-road course, with plenty of steep ascents and descents, and some tricky, slippery mud patches and to be honest, it felt like cruising down the high street. This car is so ridiculously over-capable that you'll run out of bravery before it runs out of ability.
The only downside really is thirst. With a WLTP rating of 9.7 litres per 100km (which we replicated in mixed driving conditions) the Defender Hardtop likes its drink of diesel, in spite of the standard-fit mild-hybrid assistance that helps to eke out a bit more economy around town. While that's not out of line with direct 4x4 competitors, it's much thirstier than a conventional van would be, albeit as we said, far more capable in difficult conditions.
Land Rover Defender Hardtop alternatives
The closest direct rival is the Toyota Land Cruiser, which is cheaper to buy (starting from €46,915 including VAT for the short-wheelbase version) and which will likely be more reliable in the long run than the Defender. That goes ditto for the Toyota Hilux pickup (which starts from as little as €36,915 including VAT for the double-cab version), which can also carry a little more weight in the back.
However, neither car would be as refined on the move as the Defender, although both should be able to match its off-road abilities. That goes equally for the Ford Ranger, which can be bought for as little as €31,380 including VAT for the XL Double-Cab version. Indeed, for the price of the Defender, you could just about get yourself into the high-performance Ranger Raptor, which isn't as practical from a load-carrying perspective, but if you're looking for as stylish and fun way to get around building sites or farmland is pretty hard to beat.
Land Rover Defender Hardtop Summary
Too expensive and rather thirsty the Defender might be, and there is — as ever — a question mark over long-term reliability, but it's very hard indeed not to be charmed by the Defender Hardtop. It's without question one of the most stylish and desirable of commercial vehicles, and there's the intangible benefit of having your firm's logo in signwriting down the side of such a visible vehicle. Add to that its exceptionally refined on-road performance and its undoubted abilities on trickier terrain, and you've got yourself a very compelling package, indeed.