Ford Transit Custom PHEV overview
While the Ford Transit Custom is not an unusual machine in the commercial vehicles class in which it operates, this particular model is something out of the ordinary. It's the PHEV, or plug-in hybrid electric version, and it offers all of the Ford CV's usual practicality with the promise of much-reduced CO2 emissions.
The PHEV is a series hybrid, in that the onboard 1.0-litre EcoBoost three-cylinder petrol engine never directly turns the Transit's front wheels; instead, it functions as a 'range extender' for the 13.6kWh lithium-ion battery pack, which in turn powers a 93kW (126hp) electric motor for propulsion.
Not much gives the PHEV's game away, as it's only a discreet badge on the back doors and the charging socket underneath the nearside headlight that marks out the electrical capabilities of the van.
Speaking of which, plugging the Ford in will see the battery fully replenished in four hours 20 minutes on a 240-volt domestic mains supply, or two hours 45 minutes on an 11kW, 16-amp AC Type 2 charger.
On its battery power alone, Ford claims the Transit Custom PHEV will go 50km in zero-emissions silence – and, once the battery charge has gone, owners can use the petrol engine for a total driving range of 500km.
Ford Transit Custom PHEV range
Ford only sells the PHEV as an L1 H1 (that's standard wheelbase, standard roof height) format here in Ireland, although in other markets you can get the Transit Custom as a Double-Cab in Van or even a Tourneo Custom PHEV minibus guise.
You can finish it in basic Leader guise, from €47,260, as a mid-ranking Trend, from €49,771 or as a plusher Limited, from €53,248. These prices should be set against the fact that a basic Transit Custom L1 H1 in Leader trim and powered by a turbodiesel engine starts from €27,143, so the PHEV is expensive compared to its stablemates.
Ford Transit Custom PHEV interior
Aside from a PHEV-specific instrument cluster, only two pedals in the footwell, an automatic transmission lever on the dashboard and the tiny screen to the right of the wheel that controls the van's EV geofencing set-up, the part-electric Transit Custom looks much like any other Transit Custom inside.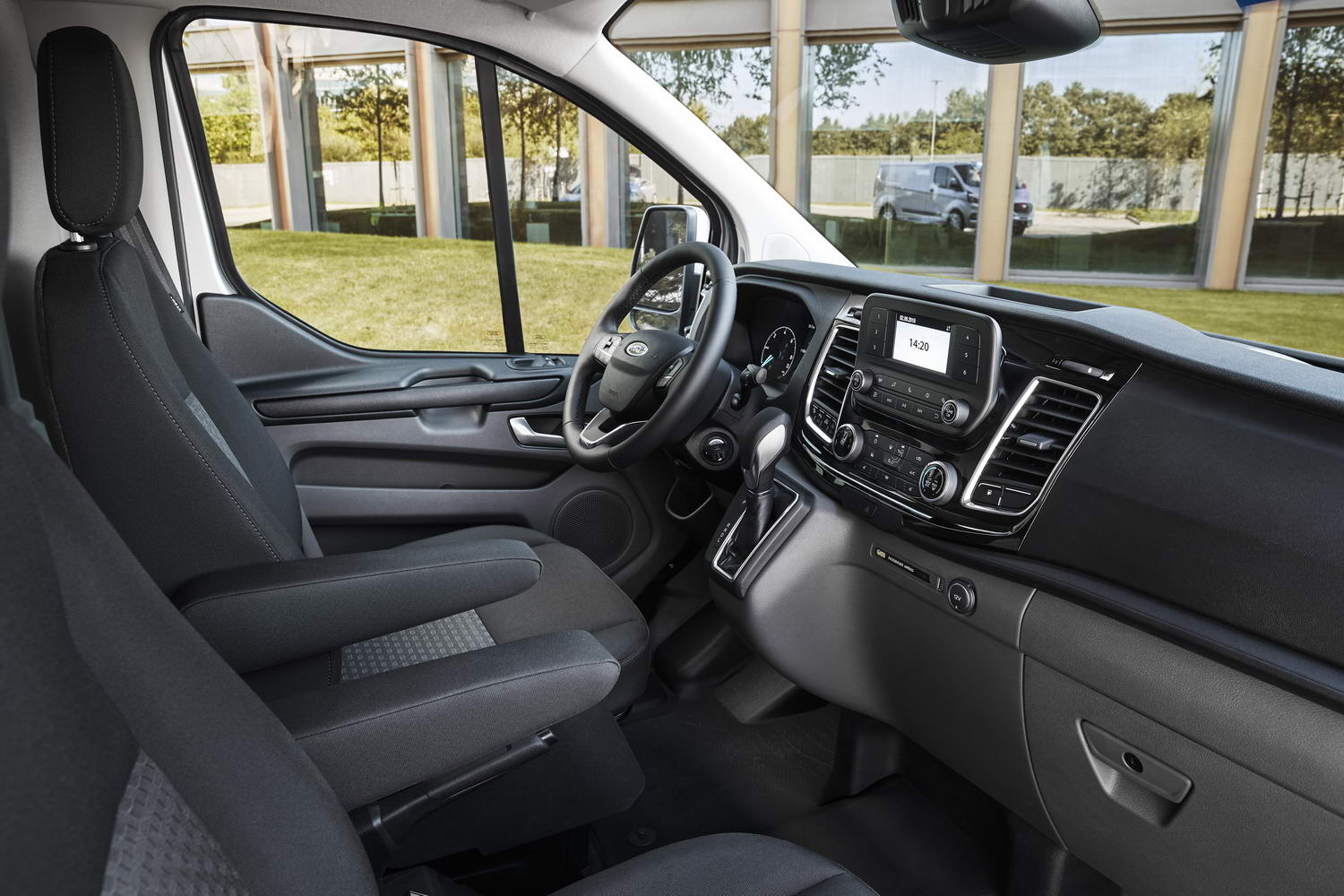 There's still the three seats arrayed across the cab, a very car-like set of major controls and switchgear, a Ford SYNC infotainment screen perched on the fascia, and then all the useful cupholders, cubbies and dash-top storage trays you'd expect in a van like this.
Also, with the petrol-electric running gear in the engine bay and underneath the centre of the van, the Transit Custom PHEV has the same twin rear barn doors and sliding side door as a diesel-powered model.
Ford Transit Custom PHEV driving experience
Owners can 'geofence' the Transit Custom PHEV to certain areas, be they city centres or even a home depot or yard, so that it will always run in electric mode once it recognises it is in the right coordinates. Even cleverer than that, it works out when it is approaching these geofenced areas and can switch automatically into EV Charge mode some kilometres out from its 'home' zone to prepare the battery for zero-emissions running when required.
It's very smart technology and the integration is decent too. Because, to drive, the Transit Custom PHEV is incredibly conventional, only it's a little keener to steer than a regular Ford van. It's also markedly quieter and more comfortable than a turbodiesel Transit, the sensation of driving a commercial vehicle in pure electric silence being an unusual but most pleasant one. Even when you wake the three-cylinder petrol engine, it's not exactly loud, although the Transit PHEV is not exactly fast, either – joining a motorway takes a lot of throttle to get the Custom up to the speed of traffic flow.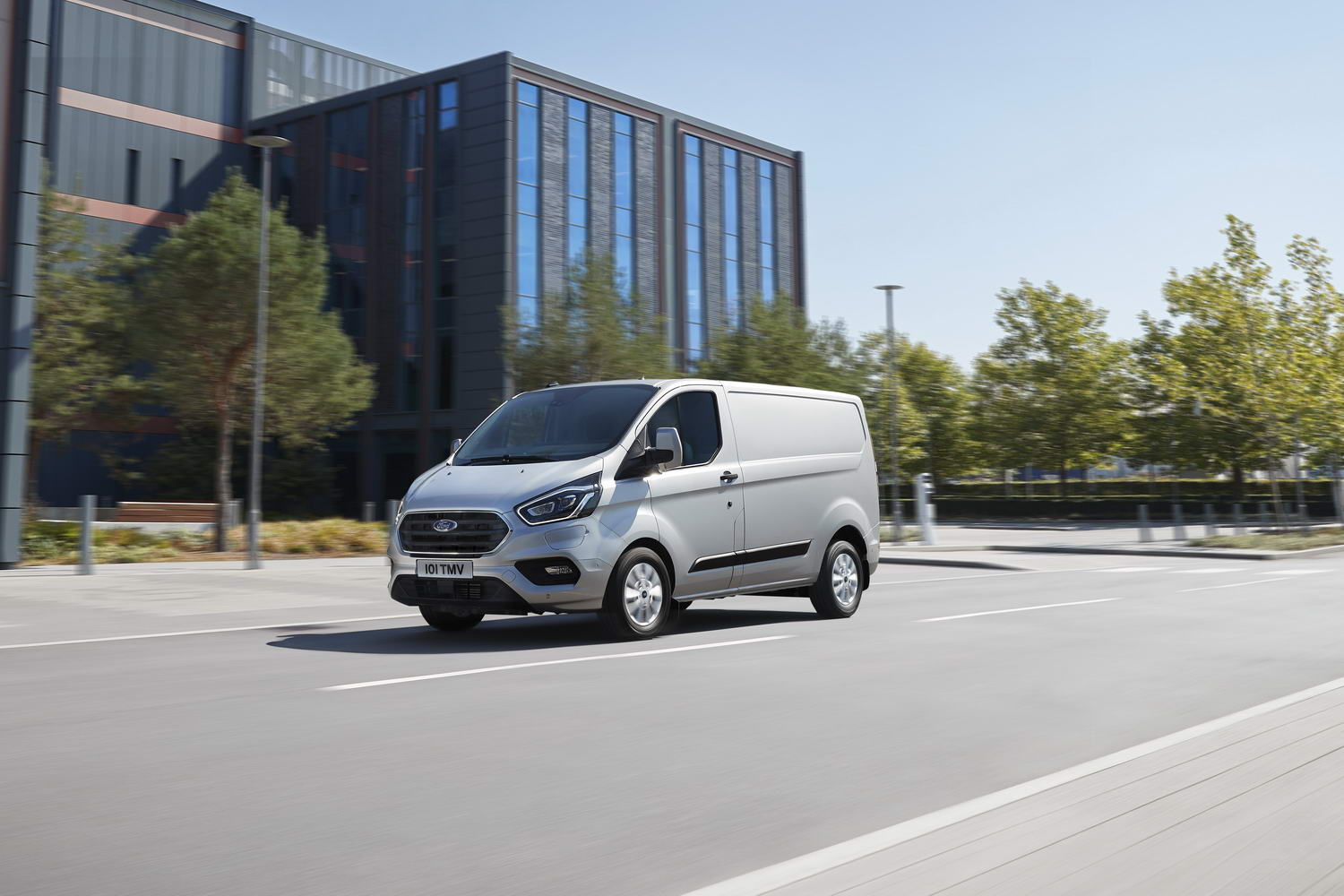 That said, with its 'L' regenerative setting on the gearbox, it can even be driven in a one-pedal manner and the way it marshals its petrol-electric resources is superb. It feels torquey enough and insistent enough lower down its operating revs that it should cope easily with considerable loads in the uncompromised cargo area, but with the full 1.1 tonnes of stuff aboard operators might find forward progress a touch more leisurely.
Finally, fuel consumption as impressive at 3.1 litres/100km (91.1mpg), but the example we were testing had not had its trip computer reset for a long time and across 5,000km at an average 55km/h, it was showing 9.7 litres/100km (29.1mpg). Not bad for a commercial vehicle, but not as brilliant as it could be, and a stark reminder that these plug-ins are dependent on regular charging cycles to get the best economy possible from them; and also, with a full battery at the start of the test, our entirely unladen, one-up van was showing 34km of EV range, not 50km, and it quickly reduced that showing to just 14km across a 20km route.
Therefore, it looks unlikely that the Ford would achieve 50km in normal usage by businesses, and if you use the Transit Custom PHEV on its petrol power more often than not, you might wonder why you didn't just bother with a turbodiesel model in the first place.
Ford Transit Custom PHEV alternatives
You'll mainly be looking at pure electric vans such as the Nissan eNV200, Mercedes eVito and Toyota Proace Electric instead of the Transit Custom PHEV, all of which have no tailpipe emissions whatsoever but all of which clearly have much shorter one-charge driving ranges than the Ford can manage when using its petrol engine.
The PHEV offers a compromise for fleets that have lots of urban work and then the occasional long-distance commercial journey, whereas electric vans are designed for city use in the main.
Ford Transit Custom PHEV Summary
An intriguing and technologically clever vehicle, the Ford Transit Custom PHEV is not without its merits. It has the ability to drive in pure electric mode for significant distance and then it can run for longer on its petrol range extender without costing too much in fuel bills.
However, it's expensive compared to the normal Transit Custom models, and it also feels like it's trapped between two stools – it's not as cheap to buy as a regular turbodiesel van and not as good for taxation as one of the pure electric alternatives that are offered these days. Thus, the Transit Custom PHEV is good, but it's not the greatest solution to low-emission cargo transportation.