If the Transit Custom needs an introduction, then you really haven't been paying attention. It is the absolute acme of panel vans and arguably the one that people think of the most when they think of the word 'van.' While the competition has its merits, the likes of the Opel Vivaro and Peugeot Expert have never managed to break through the public consciousness in quite the same manner. Arguably, only the Volkswagen Transporter and Toyota HiAce come close.
Speaking of the Transporter, this new Transit Custom is now the Transporter's brother. A tie-up between VW and Ford means the two vans will now share a common platform, engines, and an EV electric version. Both will be built in the same factory, Ford's vast Otosan facility in Turkey. Given that both vans inspire more than a bit of passion in their respective fans, it will be interesting to see how widely differentiated the two are, but we'll have to wait for the launch of the new Transporter to find out.
In the meantime, the platform used by the Transit Custom is said to be 100kg lighter than that used by the outgoing model and some 30 per cent stiffer, too. It has allowed Ford to fit a multiplicity of powertrain options, a slightly longer standard wheelbase, several improvements to loadspace and practicality, and forging ahead into the digital Transit world. So, what is this new, cutting-edge Transit Custom actually like?
The Ford Transit Custom model range
The standard L1H1 version of the new Transit Custom (longer and taller variants will arrive in due course) is available in four basic body styles. There's a standard panel van, a crew-cab in-van, a Kombi with up to 14 seats, and a Kombi van with reduced seating but more luggage and load space. There are also some interesting additions. The Nugget camper gets a second generation, again with its interior designed and created by the experts from Westphalia, and with an intriguingly different layout (the kitchen is at the back, and the pop-top roof faces backwards, too) compared to its great rival, the Volkswagen California.
There's also a new Multivan layout, which gives you four seats (two in the front and two in the back) but leaves load-through space for longer and bulkier items, theoretically allowing for more versatility when trying to carry cargo and people. At the top of the range is the nine-seat Tourneo, with its six rear seats mounted on sliding rails and able to swivel through 180 degrees to give you a vast array of seating and luggage choices.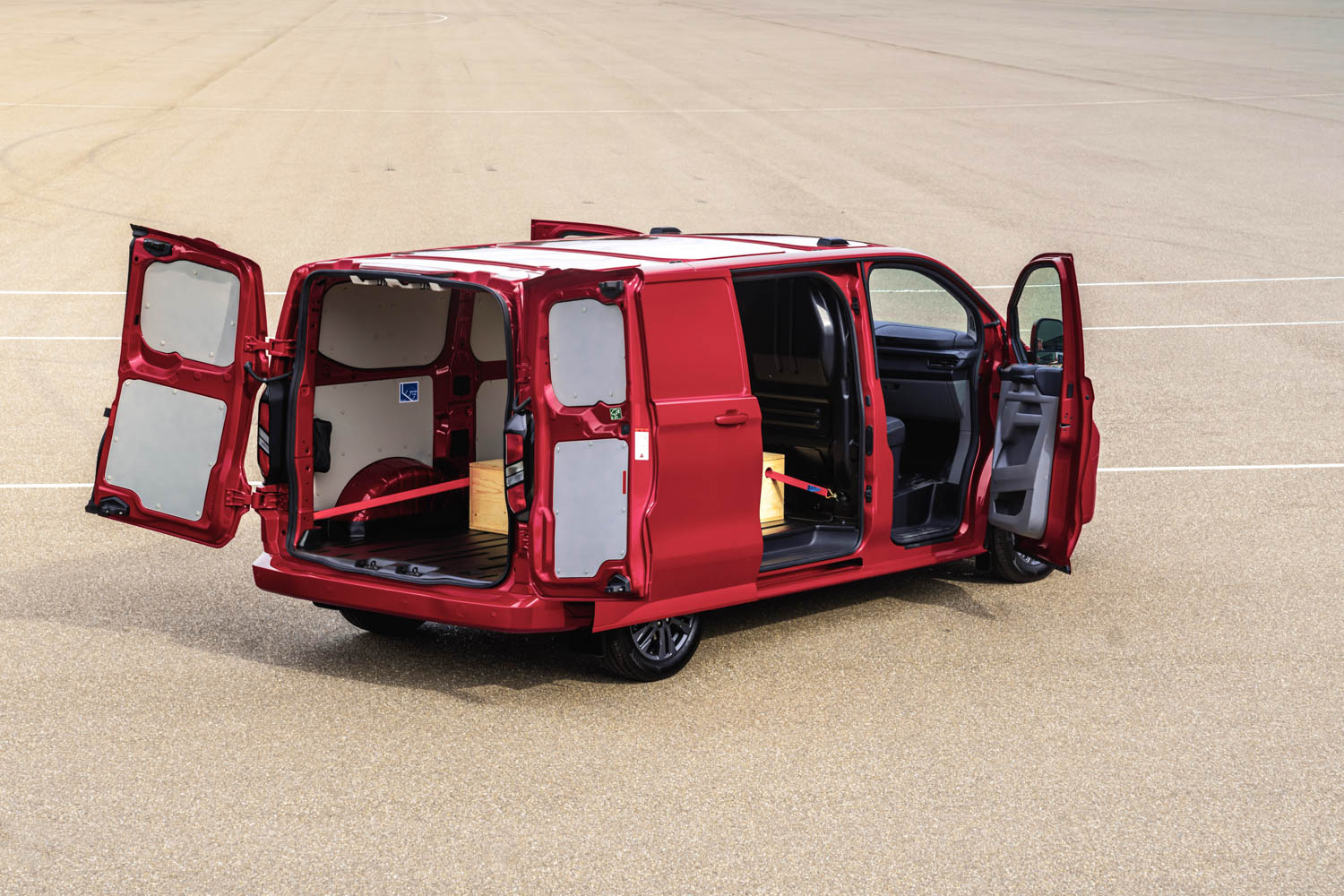 Ford will fit the new Transit Custom with a huge variety of powertrains. At the basic end, and launching first, are the 2.0-litre diesel models, using Ford's 1,996cc EcoBlue turbo diesel engine. That comes in a choice of 110, 136, and 150hp variants, all front-wheel drive and all fitted with a six-speed manual gearbox. There are also 150hp and 170hp versions with an eight-speed automatic, which can also optionally be equipped with four-wheel drive. Torque outputs vary from 310Nm for the base model, 360Nm for the 146 and 150hp versions, and 390Nm for the 170hp.
Early next year, we'll see the new plug-in hybrid Transit Custom PHEV launch, which will use the 2.5-litre petrol engine and 11kWh battery from the Ford Kuga crossover. This setup will give it a potential one-charge range of up to 56km. EV and PHEV models also come with an external power hookup, which delivers 2.3kW of power to tools or other electric devices.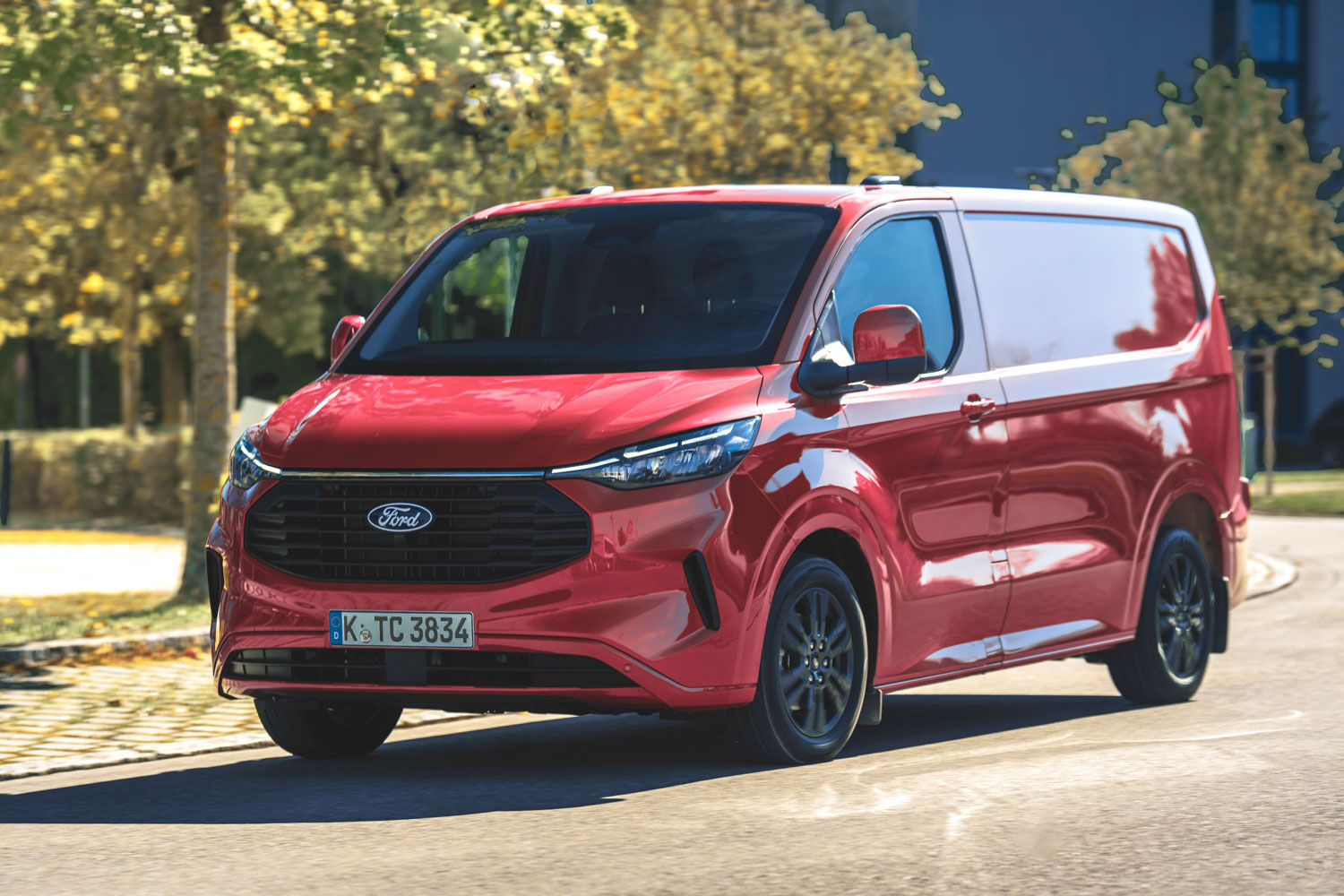 Finally, in the summer of 2024, customers will be able to take the first deliveries of the all-electric Transit EV. This version is the only rear-wheel drive and uses a 64kWh battery pack with a claimed maximum range of up to 337km. It will DC charge at up to 125kW (allowing an extra 81km of range to be added in as little as ten minutes) and will have a choice of 100kW (136hp) or 160kW (217hp) motors.
Trim levels will include Sport, Active, Titanium, and Titanium X versions, and they will be joined next year by an off-road focused Trail version with four-wheel drive and a raised ride height.
The Ford Transit Custom interior
Our test Transit Custom was a 150hp diesel in Limited trim, and as soon as you step into the cab, you can feel the extra levels of sophistication. Tweaks to the door aperture and step height make it easier to get in and out, while the driver's seat adjusts for height as well as rake and reach. It's a comfortable seat, but the unadjustable high-set seatbelt anchor might be uncomfortable for some. To the side is a two-seat layout, but these seats are fixed in place and leave you sitting a bit bolt-upright, so your co-drivers might not be too impressed. There's plentiful headroom and legroom, though.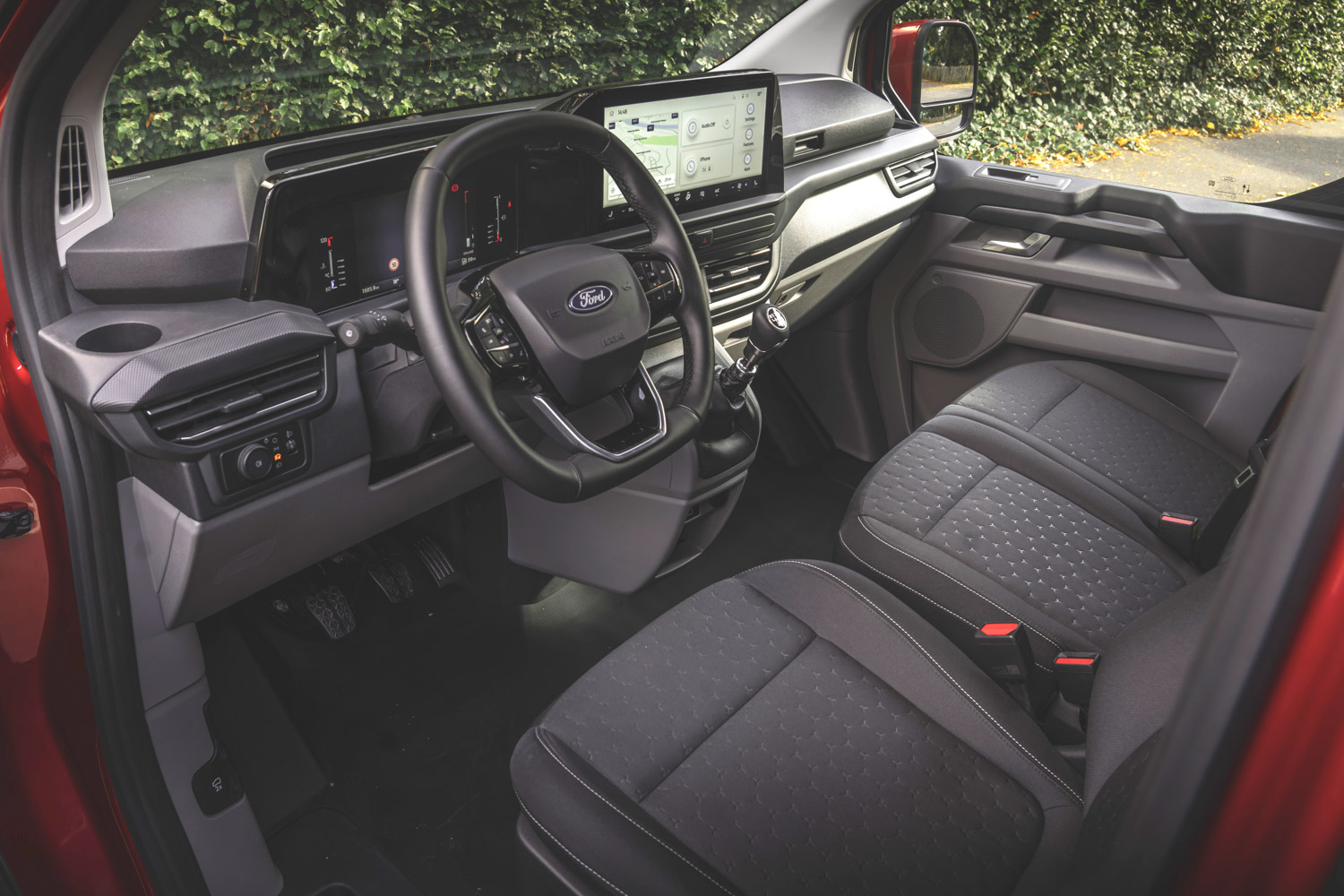 There's also plentiful storage space, with large door bins, cupholders at each end of the dash, and another pop-out one next to the gear lever. Disappointingly, there is no overhead space for docket or clipboard storage. Still, there is space behind the instrument panel and a large 30-litre storage box on top of the passenger side dash — Ford has made space for this by moving the passenger airbag to the roof.
There are some very neat touches, which Ford says have been added after lengthy consultations with customers. The most interesting is the optional folding steering wheel, which can flip up to hold a laptop or tablet or, with the addition of an extra panel, make a proper table for your lunch. You can add a pop-out bin for the door pocket, too. Overall, cabin quality is very good, although we did notice a rough-edged finish to the cab's roof lining.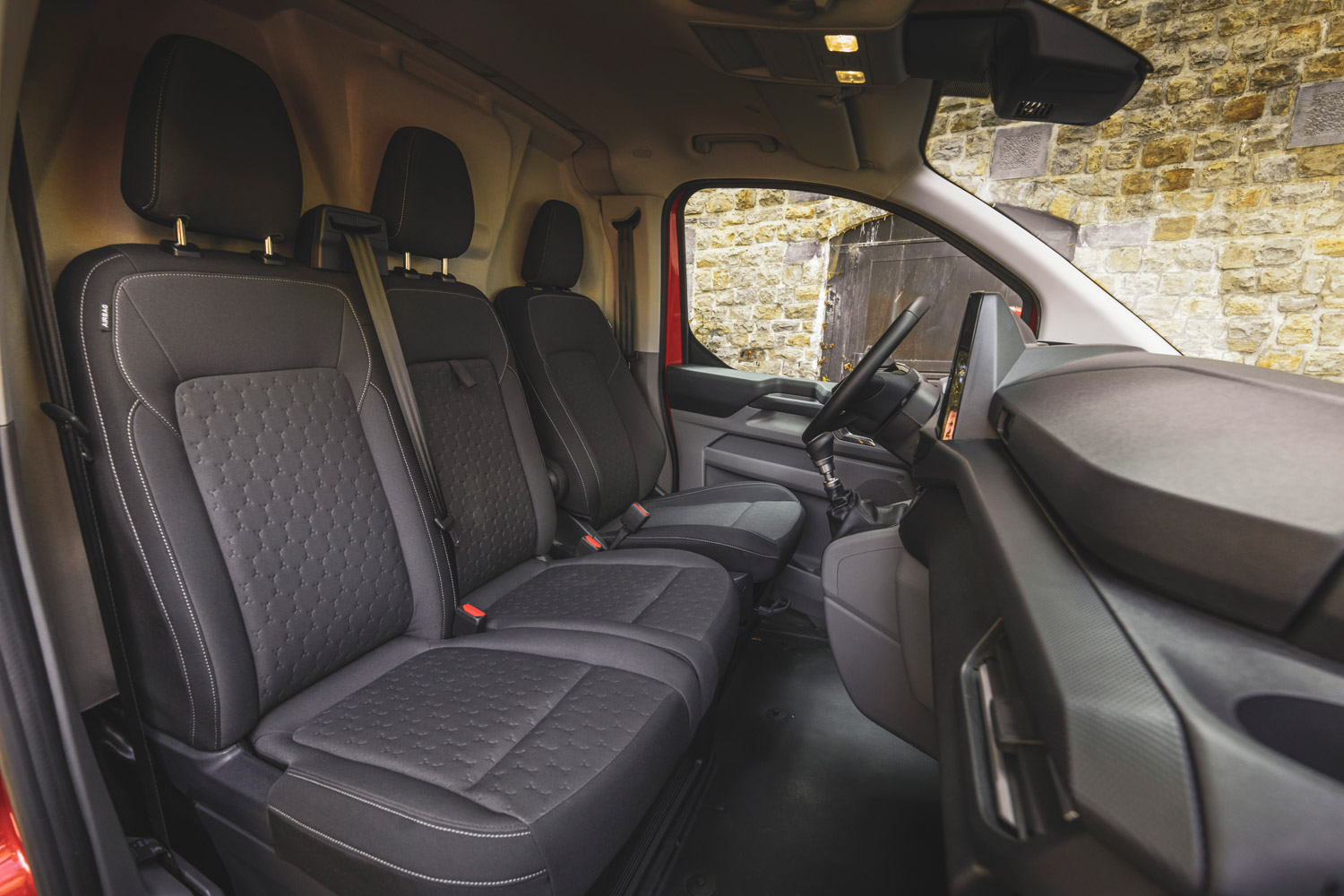 There's also a flat, unobstructed floor in the cab, which is helpful if you need to shimmy across to the passenger door. That's even easier if you go for the automatic option, as the gear selector moves to the steering column, freeing up even more space. If you flip the seat bases up, there's more storage space under the two passenger seats.
In front of the driver, there's a standard eight-inch digital instrument panel, which uses crisp, clear, and simple graphics that you can customise up to a point to display the information you're looking for. Next to it is a large and standard 13-inch touchscreen running Ford's impressive SYNC4 software. This aspect is where the digital Transit idea comes into its own. It's set up for smartphone connectivity, including wireless Apple CarPlay and Android Auto, and there's a standard wireless phone charger, too. The connectivity goes the other way, too, with free Ford Pass Pro and Ford Telematics apps available to download. A paid version of the Telematics app also gives fleet operators live vehicle location, fuel consumption, electrical use, and even driver behaviour reports. Built into the screen is also extra software that allows for any aftermarket accessories — additional work lights, flashing beacons, emergency service equipment — to be controlled through the screen, meaning that you don't need to drill holes in the cab for extra physical buttons.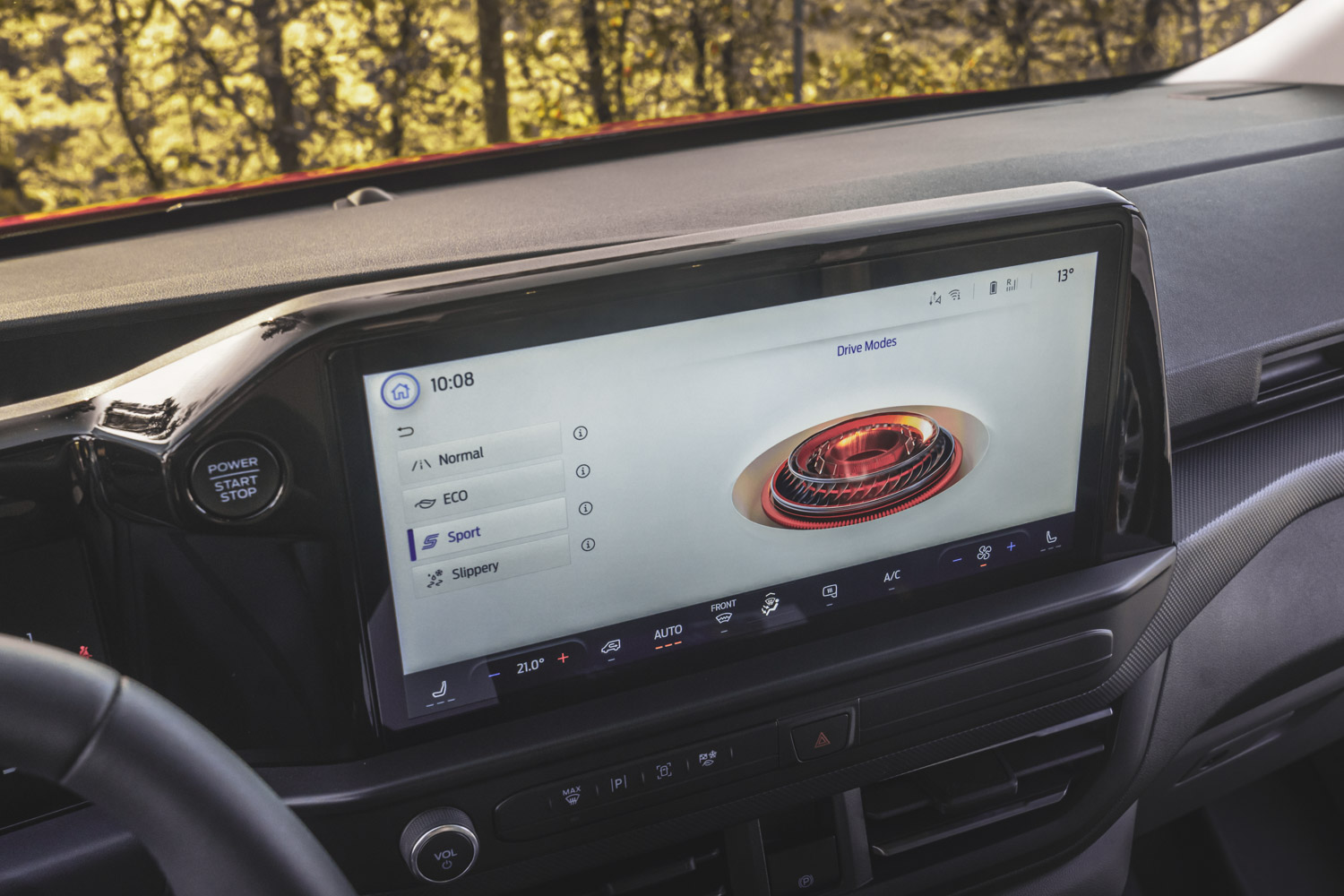 Ford is also working with extra electronic aids for delivery drivers. Aimed at the likes of Amazon, DHL and the like. The new Delivery Assist can be set up so when the driver comes to a stop, automatically shift the Transit Custom to P, apply the electronic handbrake, activate the hazard lights, and lock all the doors when the driver walks away. The process is then automatically reversed when the driver returns, and Ford reckons that a delivery driver can save up to 20 seconds per drop-off with this system. Given that many busy delivery services can rack up 200 drops a day, that's a full hour bought back, which can mean better driver rest patterns or — let's face it, more likely — an extra hour of deliveries.
In the loadspace of this L1H1 Transit Custom panel van, there are 5.8 cubic metres of load space and a maximum load capacity of 1,350kg. The sliding side door (optionally powered) has a 1,030mm aperture, and Ford says that the cab's bulkhead doesn't eat into that opening. At the back, the rear doors have had their hinges redesigned to clean up the load aperture, which now measures 1,400mm. The maximum load length is 2,394mm, but a load-through option opens a shallow flap under the passenger seat, allowing for a maximum of 3,450mm load lengths for the upcoming long-wheelbase version.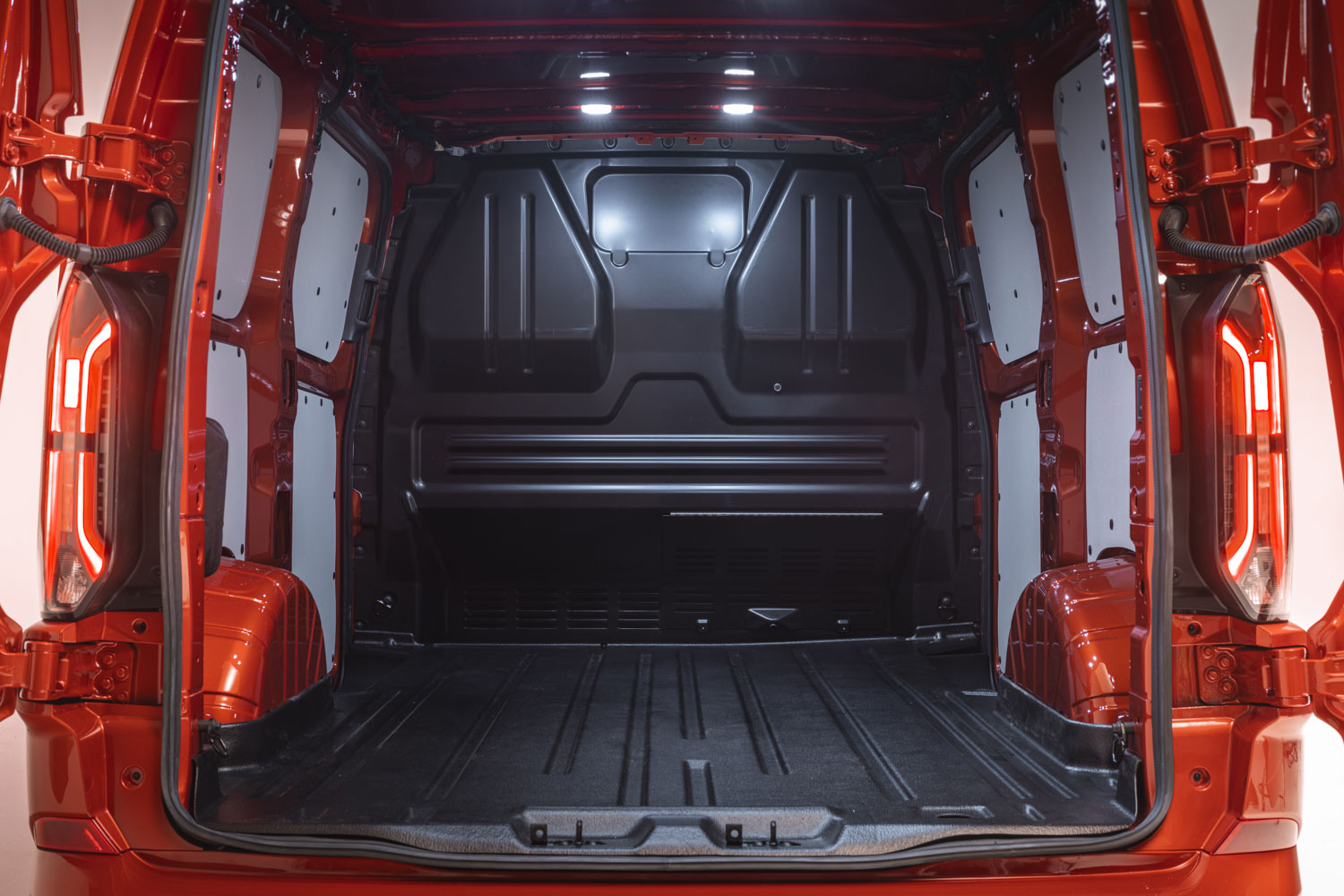 The Ford Transit Custom 150hp diesel driving experience
The squared-off 'squircle' steering wheel is the first clue that this Transit Custom is slightly different. It's not that previous Transits haven't been good to drive, but this one does deliver on Ford's claim of a genuinely car-like driving experience. The wheel feels good and expensive to the touch, and the view out is spectacularly good, although it was a disappointment that our car wasn't fitted with a digital rearview mirror. Still, the two-element door mirrors give you a comprehensive view aft, and being as this is the standard-wheelbase, low-roof (1,968mm high) Transit Custom, we experienced no troubles manoeuvring.
The 2.0-litre 150hp diesel engine has 360Nm of torque, delivered at 1,500rpm, so it pulls strongly from low revs and quickly picks up to medium cruising speeds. Motorway speeds need a much more determined prod, though, as the engine starts to run out of puff a little above 100km/h. Refinement is very good, though, with very little diesel rattle coming back to you. Tourneo versions suffer from a little too much road roar at speed, but that's less of an issue in this bulkhead-equipped panel van.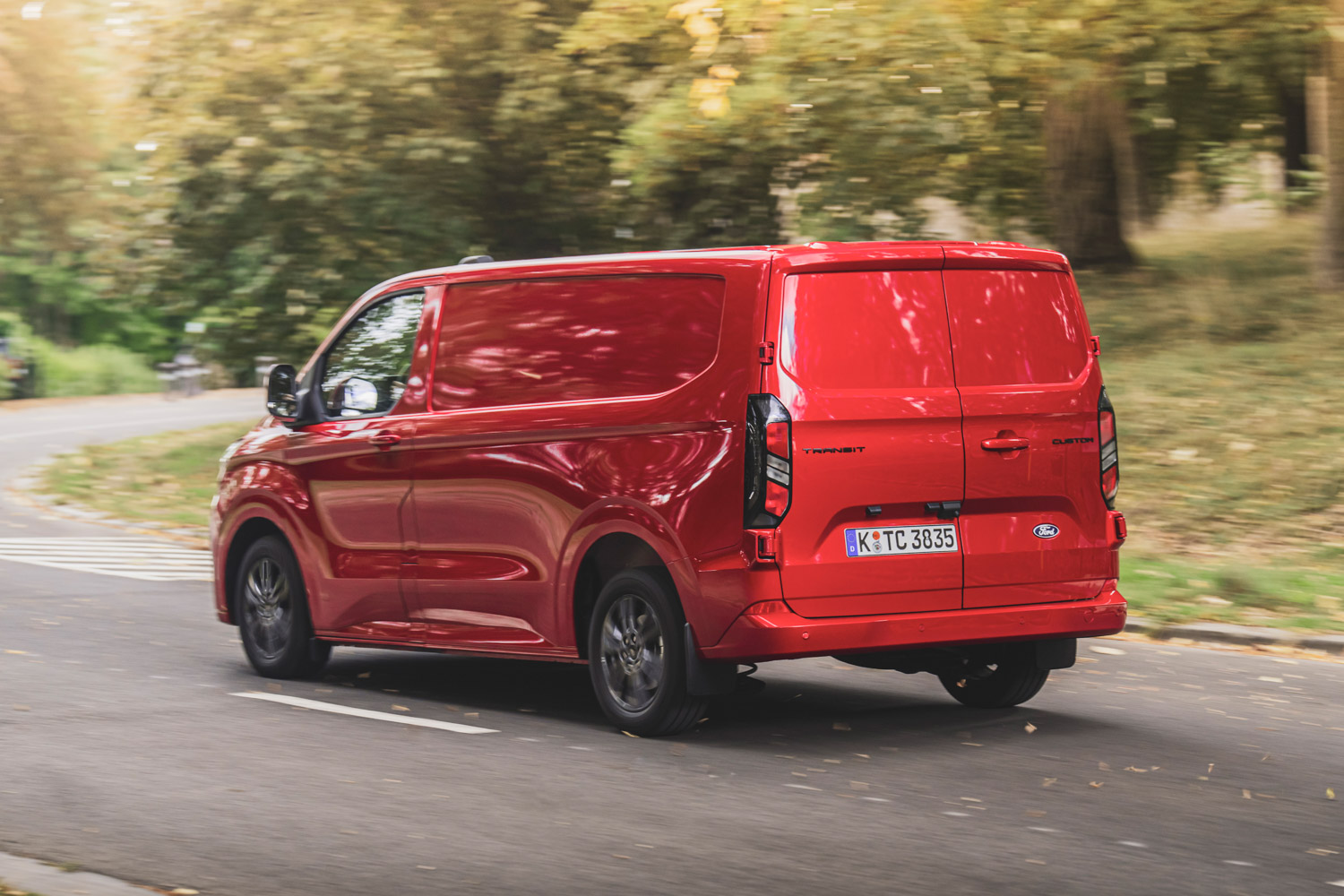 The engine is very efficient. Our van had been fitted with a one-tonne weight in the load bay, and even with that on board and some fast motorway miles in the driving route, we averaged 7.5 litres per 100km compared to Ford's claim of 7.2 litres per 100km. The action of the six-speed manual gear shift — which uses what looks like a mid-nineties Ford Mondeo gear shifter, which feels great to hold — is exemplary; smooth and accurate.
Which is a pretty good way of describing how the Transit drives. New rear suspension — independent semi-trailing arms with gas dampers — gives the Transit Custom a new-found level of driving maturity. The ultra-smooth roads around Munich on which we were driving don't give us a great idea of the overall ride quality. Still, the way this Transit Custom scythes through corners is not merely impressive for its stability and precision; it's even downright fun thanks to sharp, accurate steering and well-judged responses.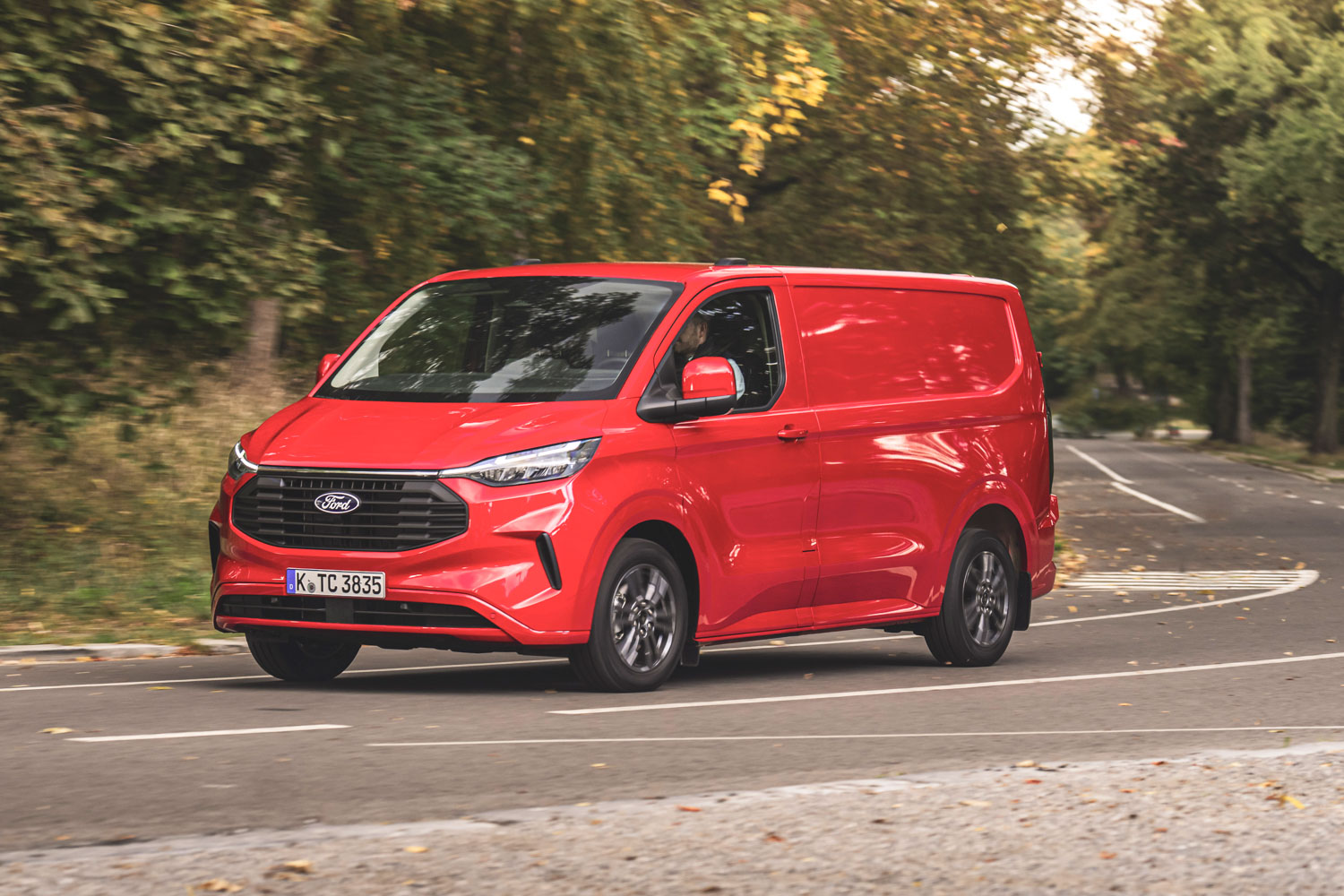 Alternatives to the Ford Transit Custom
Obviously, and despite the new-found relationship between the two companies, the Volkswagen Transporter is the Transit Custom's closest rival and possibly the only other mid-size panel van that has styling as sharp. Inside, it looks slightly more dated than the Transit, though — which is hardly surprising as the Transporter is due for replacement soon.
There's a bundle of vans from Stellantis Group, all based around a common set of architecture and powertrains, including the Peugeot Expert, the Opel Vivaro, and the Citroen Relay, and they have a further cousin in the shape of the Toyota ProAce. These have electric versions, too, and can pretty well match the Transit EV's 337km range.
There's also the Nissan Primastar, and it's also worth considering the Hyundai Staria, which looks great but is currently only available on rental rather than outright purchase.
Our verdict on the Ford Transit
The Transit, and latterly the Transit Custom, has been the reference van for decades, the one against which all others are judged. Based on this experience, that will not change as the Transit's traditional strengths have been wrapped up in an impressively slick and well-considered design and package. It's even fun to drive.