The Ford F-150 is something of an institution in the USA, as is the oil industry. So when the Ford sold out and went electric, things kicked off in the States. Nevertheless, Ford held firm and produced the F-150 Lightning – a vehicle that mixed the usual F-150 bulk and brawn with eco-friendly power and lots of it.
Although the F-150 Lightning is unlikely to reach these shores, we took one for a spin on famously narrow and uncompromising European roads to find out whether the electric pick-up has legs, or whether Ford's bright idea was actually a bit dim.
Ford F-150 Lighting range
Ford isn't selling the F-150 over here, and given its enormous bulk, the company has no plans to unleash it officially on Irish roads. However, you can import one yourself from the USA, and over there you can choose from a selection of different versions.
For a kick-off, the Lightning is available with a choice of two different battery systems, with the enormous 'Standard Range' version joined by an Extended Range option that's even bigger. Both must contain outrageous amounts of lithium, but they give the vehicle respectable endurance between trips to the plug.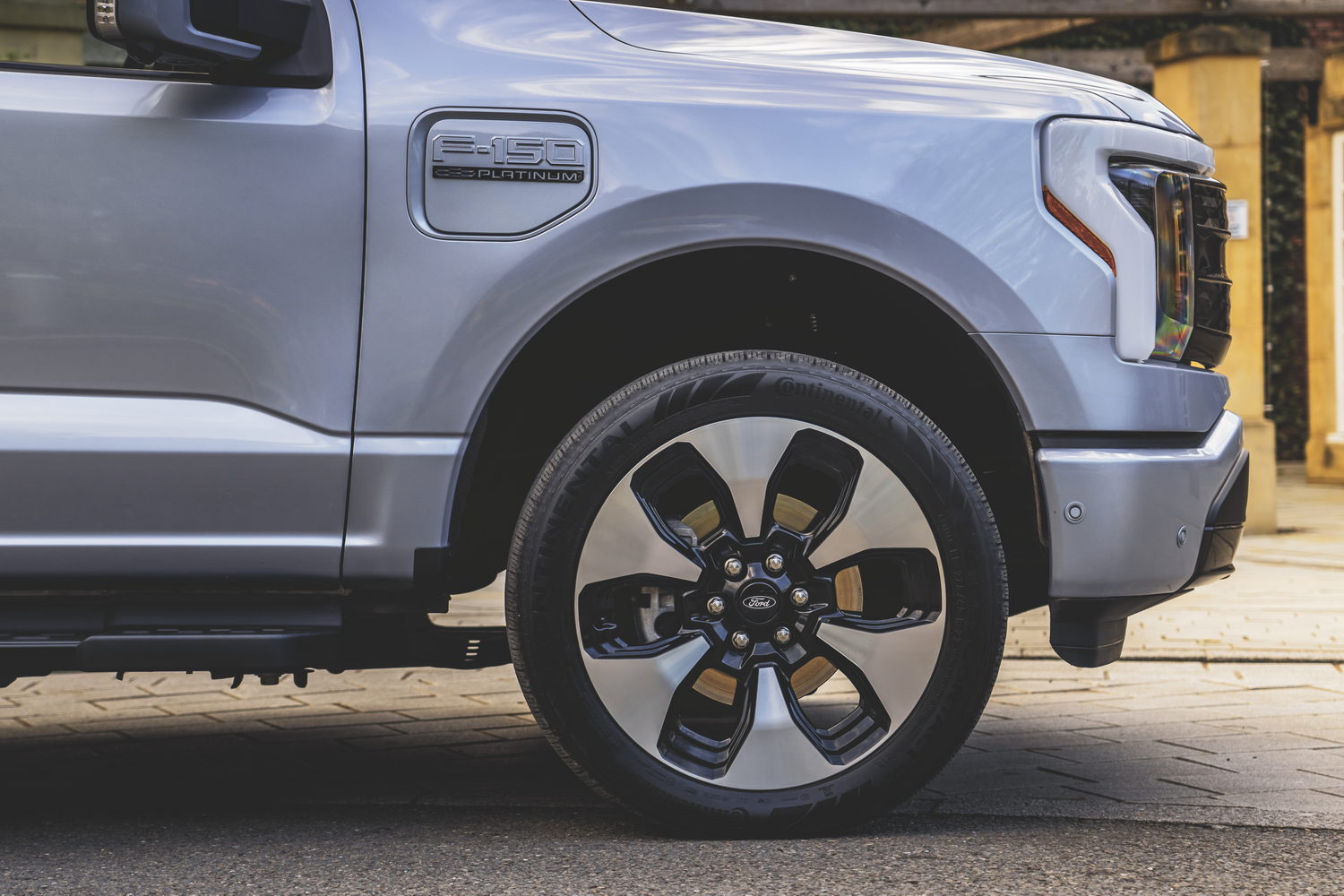 Once you've chosen a battery, you also have to pick a trim level. Ford offers numerous different versions, with the Platinum model tested here representing the most expensive option. At the opposite end of the scale is the Pro model, while customers can also choose from XLT, XLT High and Lariat trims.
Ford F-150 Lighting interior
Given the  F-150 Lightning's ample dimensions, it's no surprise to find the interior is cavernous. Acres of space separate driver and passenger, while rear leg- and headroom is plentiful. You can't just fit four adults in an F-150 – they can sit there in perfect comfort.
But that comfort isn't just down to the size of the F-150's cabin. It's luxurious, too, particularly in the Platinum guise we tested. Even the most upmarket pick-up trucks often have numerous cabin quality issues, but the F-150 conforms to very few of the commercial vehicle tropes. The plastics are generally pretty good, if a little American in places, and the leather upholstery is impressively soft and supple. If your new mass-market SUV was trimmed like this, you'd be delighted.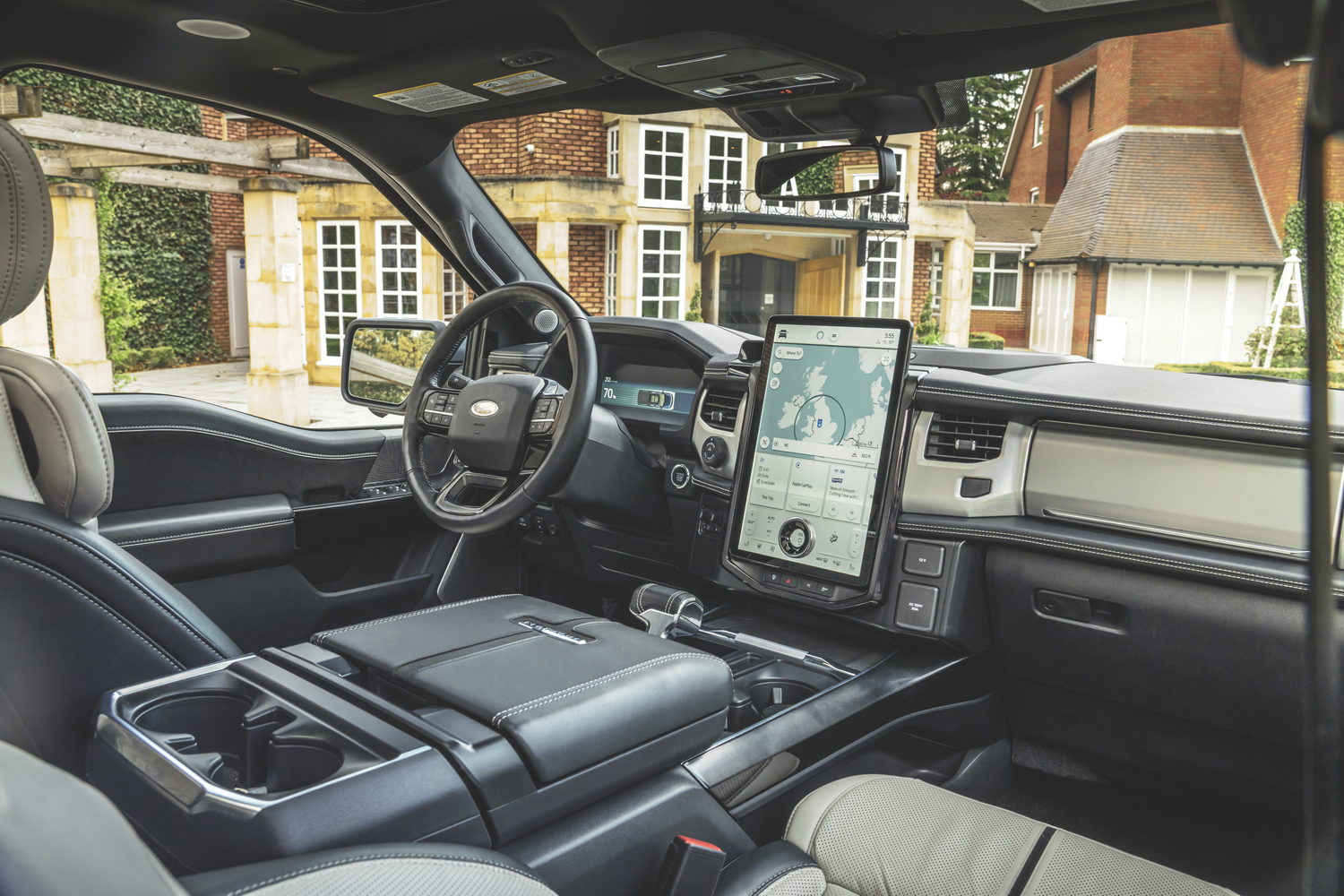 You'd be pleased to see this much equipment in a passenger car, too. Our inner four-year-old is a big fan of the collapsible gear lever, which rises from the centre console at the touch of a button. It's a total gimmick, of course, but it adds a sense of occasion and it means you can stow the lever away when you're parked. Why you'd want to, we have no idea, but it's cool.
As is the F-150's massive central touchscreen, which is much the same as that fitted to the Mustang Mach-E electric SUV. Portrait-orientated and incorporating a volume control near the foot of the display, the system uses Ford's latest-generation Sync 4 technology to good effect. Admittedly, it sometimes feels as though the screen would be better if it were landscape, but by and large the display is clean and intuitive, even if it isn't the most visually attractive system on the market.
That touchscreen is joined by a digital instrument display, which is significantly better than the one fitted to the Ranger pick-up truck. If nothing else, it's massive, and it comes with some natty graphics, but it's also minimalist and easy to read, as well as being easily configurable.
As well as being more high-tech than most pick-ups, the Lightning is also more practical, if only by dint of having a boot. Because the powertrain is more compact than a conventional petrol or diesel engine, there's space for a 400-litre 'frunk' under the bonnet. By way of a comparison, the space is about 20 litres larger than the load bay in the back of a standard Volkswagen Golf, and it adds some extra family-friendliness to the big truck.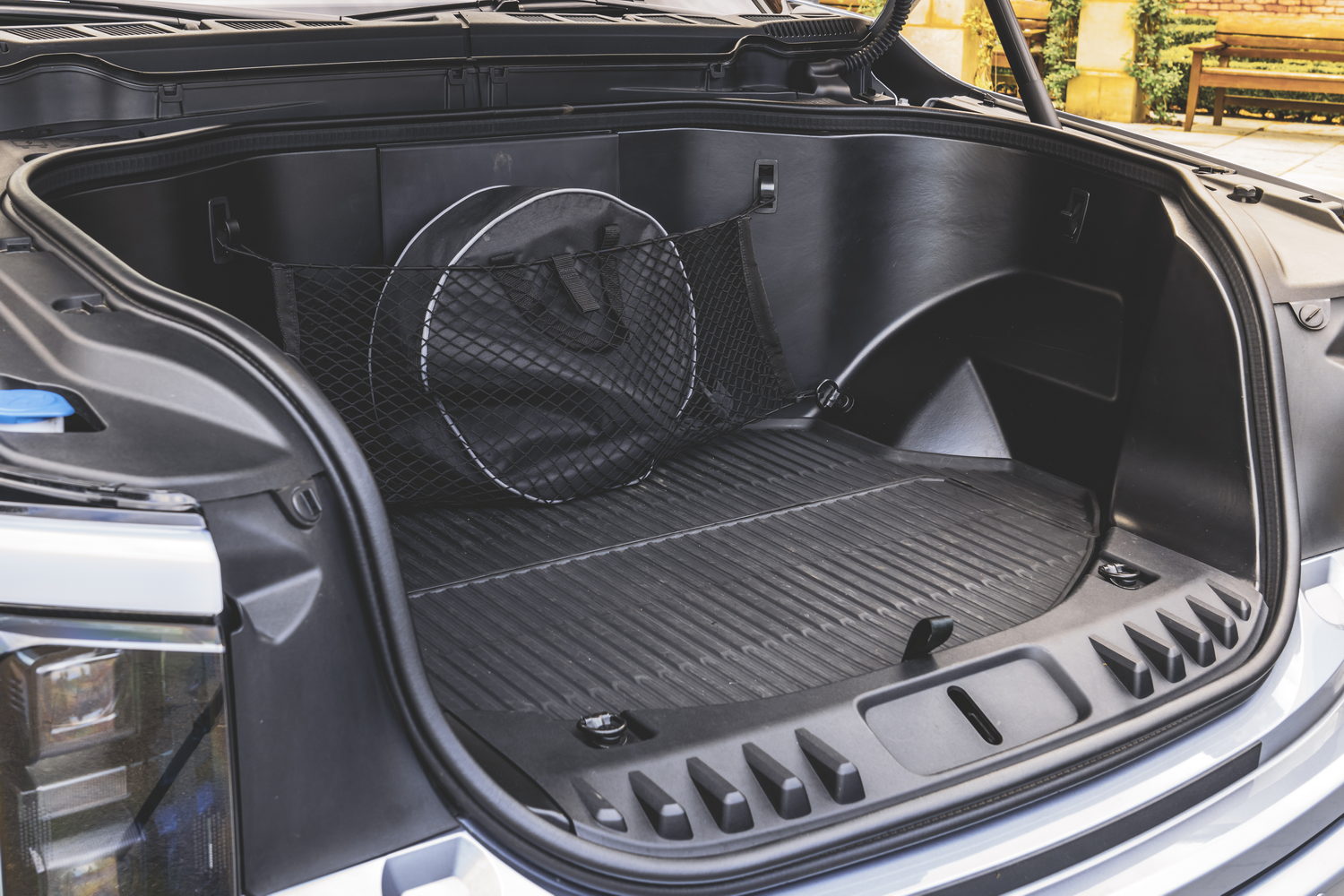 Driving the Ford F-150 Lighting
As you might expect, the F-150's enormous size overrides most other impressions of driving the car, particularly on European roads. The fact it comes with the steering wheel on the left-hand side doesn't help, either. As a result, country roads get exciting in all the wrong ways, as you try to squeeze the 2.4-metre-wide, six-metre-long truck through yet another narrow gap.
But if you stick with main roads, the F-150 becomes much more enjoyable to drive, and you might even call it relaxing. Not only is it immensely comfortable, both in terms of seating and suspension, but it's whisper quiet. Where pick-up tricks would normally grumble and groan their way around, failing to isolate you from the world outside, the F-150 Lightning not only comes with silky smooth electric motors, but it has really effective sound-deadening, which keeps the wind and road noise out. It's more like a luxury 4x4 than a pick-up truck.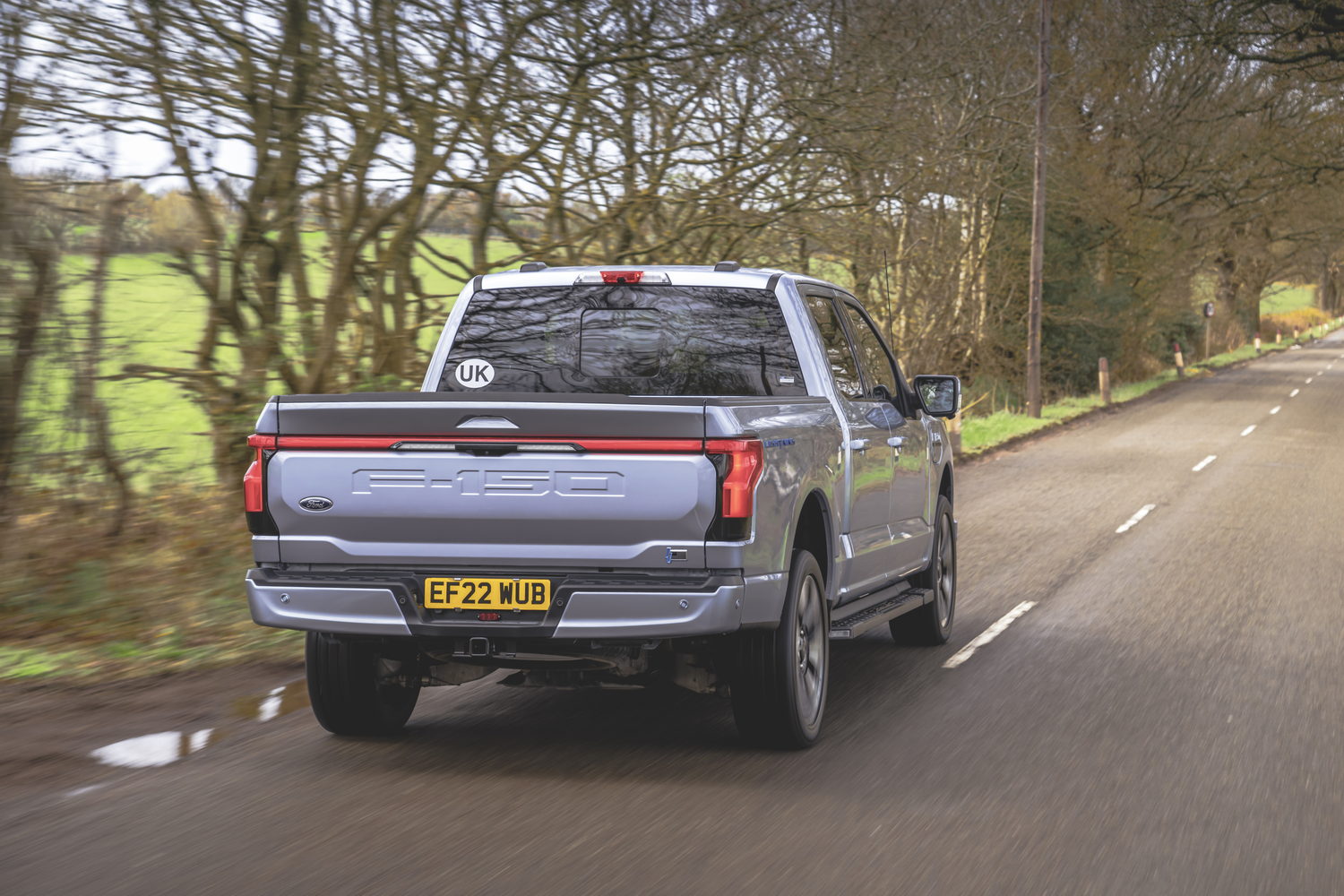 Except, of course, an ordinary 4x4 would be smaller and lighter. To overcome that, the F-150 Lightning has two electric motors that combine to provide all-wheel drive and 571hp – more than you get from a Porsche 911 GT3. Naturally, the Lightning can't match the Porsche for pace, but it gets remarkably close, hammering its way from 0-100km/h in about 4.5 seconds and almost complete silence.
That's quite alarming for such a large vehicle, but there's more to the Lightning than just straight-line speed, because if you ease off the accelerator a bit, it'll cover plenty of miles on a charge. That's primarily down to the Extended Range model's enormous battery, which is almost twice the size of the battery in a Skoda Enyaq SUV. That's enough for a range of almost 500km on the American economy test, which is a bit different from the one used in Europe, but our test drive suggested something in that region should be achievable as long as you don't get too enthusiastic with the accelerator.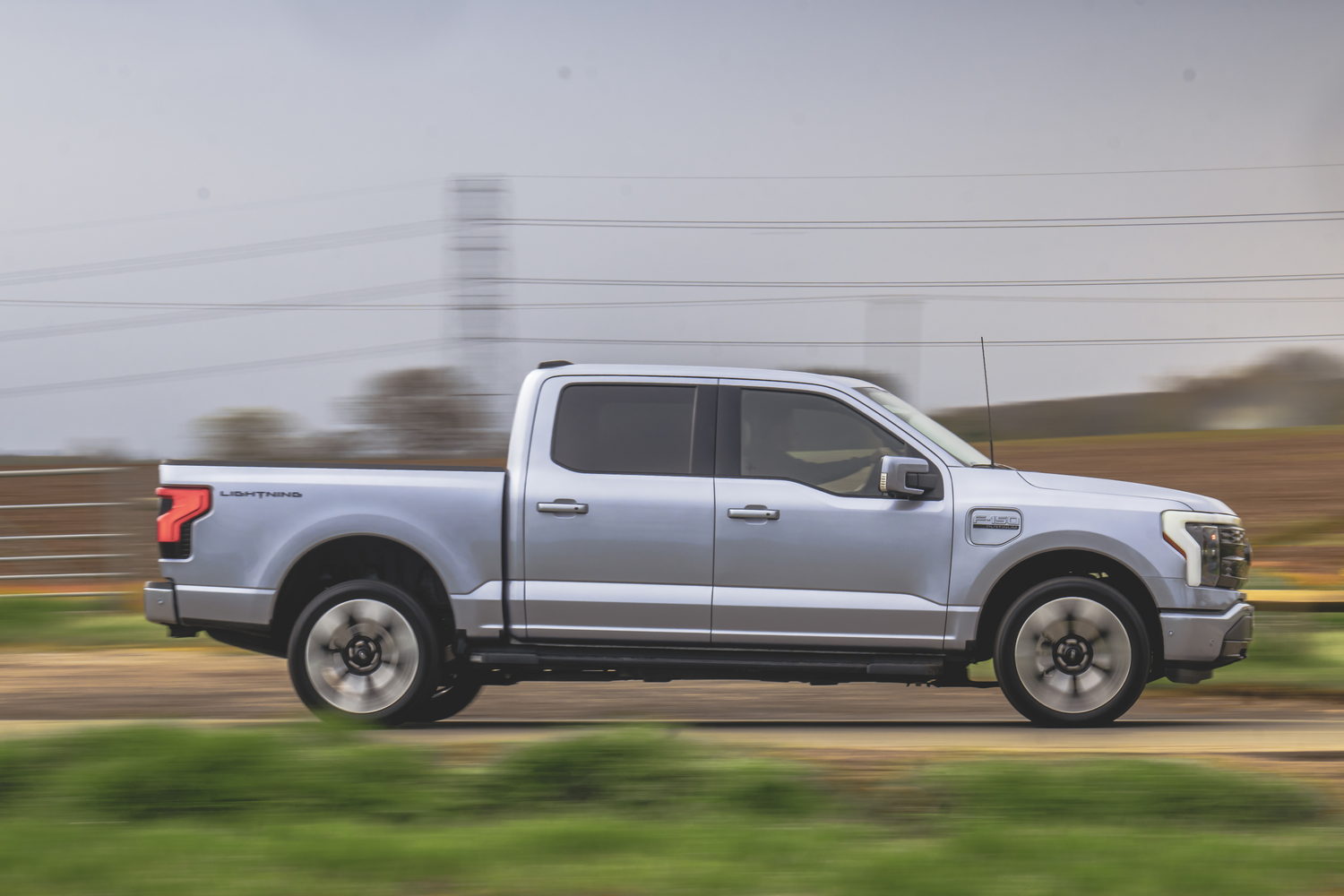 Naturally, the real test of the Lightning is its commercial capabilities, and there the stats bode well. Obviously, there's a pretty sizeable rear load bed, but the weight of the batteries means the Lightning's payload is marginally lower than that of the much smaller Ranger Wildtrak. Nevertheless, just under a tonne of carrying capacity is not to be sniffed at, and the F-150 can still tow a trailer weighing 3,500kg. In fact, where it's legal to do so, it'll go up to 4,500kg.
As an exercise in efficiency, then, the Lightning is somewhat flawed, but the fact remains that Ford has taken a utilitarian(-ish) pick-up truck and turned it into a usable electric vehicle. Admittedly, the payload isn't as good as that of the Ranger, but just under a tonne is still useful, and (where it's legal to do so) the Lightning can tow a trailer weighing up to 4.5 tonnes.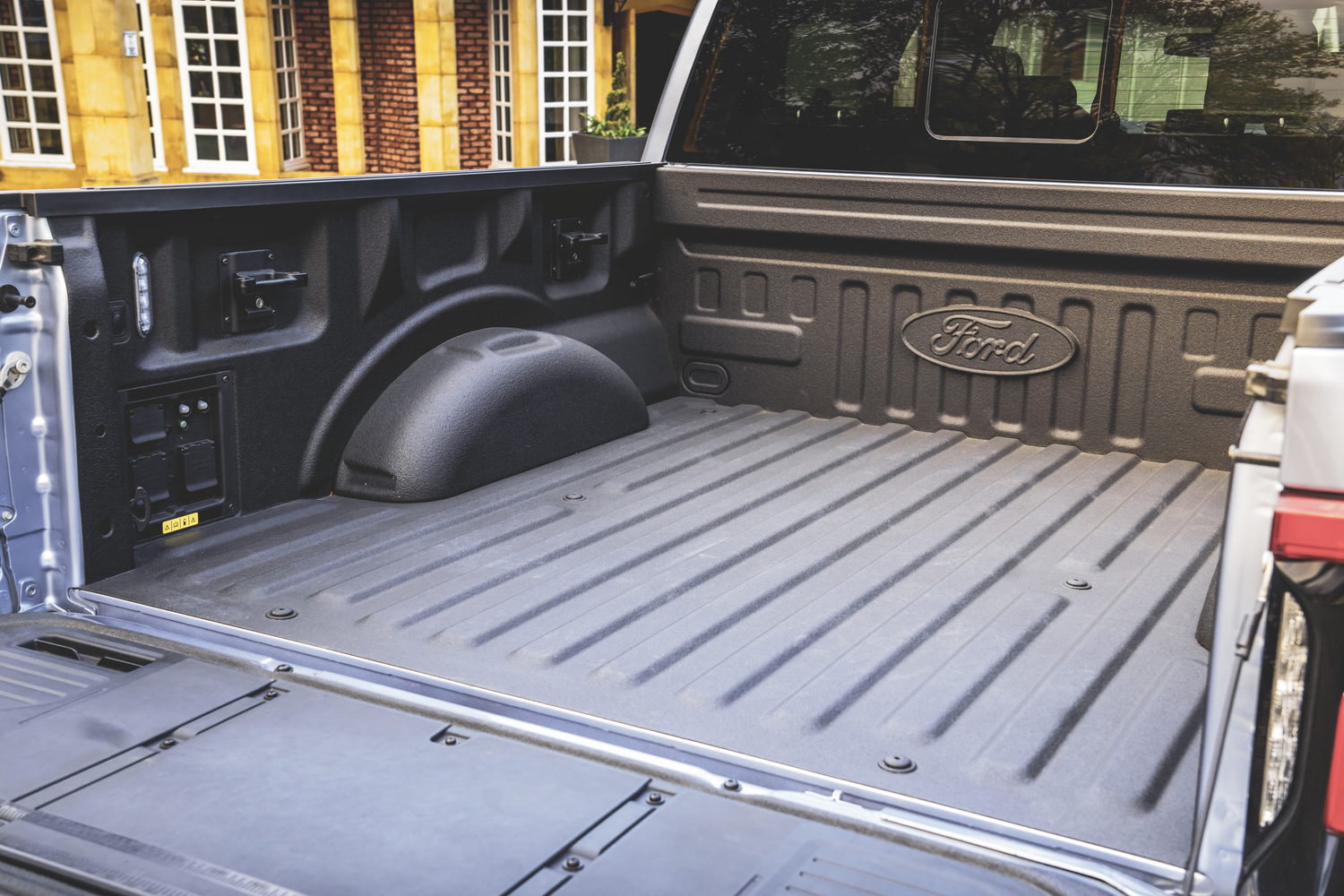 Ford F-150 Lighting alternatives
Alternatives are few and far between, but then that isn't entirely surprising when the F-150 itself isn't officially available in Ireland. Instead, the closest comparable rival is the Maxus T90 EV, which was the first electric pick-up truck to go on sale in Ireland. It's limited by its towing and off-road capabilities, though, and that's one thing you can't say about the F-150.
Summary
The F-150 Lightning won't be coming to Ireland, and though part of us says that's a shame, it's probably for the best. In any form, and with any engine, the F-150 is simply too big to cope with the towns and villages of Europe – many of which predate western explorers' discovery of North America. It is just a bit unnecessary.
Yet the technology on display here is much more important than the vehicle itself. Because while the F-150 might be big and cumbersome, this Lightning version possesses an ungodly turn of pace and a plentiful range, as well as a vaguely useful payload. In many ways – even in most ways – it's quite a remarkable thing.
So if this technology exists and can one day be moved onto something smaller – maybe a Ranger, for example – it has huge potential. Watch this space.