A new development in last-mile deliveries has been revealed in the shape of the Polestar Re:Move, a three-wheeled e-scooter concept designed by the Swedish electric car maker. 'Last-mile' refers to the kind of deliveries that take place from a central hub to a final delivery destination, such as to home addresses or individual shops in built-up areas. In the Re:Move, Polestar has created a vehicle that could be a substitute for a panel van that will take up less space and deliver a lower environmental impact.
The Polestar Re:Move was revealed at the IAA Mobility show in Munich, Germany, and has been created by Polestar in conjunction with industrial designer Konstantin Grcic, aluminium specialist Hydro and electric motorcycle manufacturer Cake. It features a three-wheel layout - two at the front, one at the rear, and is 737mm wide, so it's narrow enough to fit in cycle lanes. The rider stands at the back of the scooter, while the flat platform ahead can accept a payload of up to 181kg.
Electric propulsion
Drive is sent to the rear wheel and power comes from a 2.2kWh battery. Top speed is limited to 24km/h (the same as other e-scooters), while the aluminium frame has an electric tilting mechanism to improve its turning circle. A rear swingarm delivers rider comfort, while disc brakes provide strong stopping power, even with a full load on board. LED lighting, brake lights and a horn help the Re:Move to be visible to other road users.
Sustainable production
As well as delivering less environmental impact than a van locally, the Re:Move is constructed using sustainable materials. The bodywork is made from composites, rather than the usual moulded plastics, for example. The scooter was designed during the pandemic lockdown, so not only is it an environmentally conscious vehicle, but it also demonstrates that designers and engineers can collaborate remotely to create new concepts.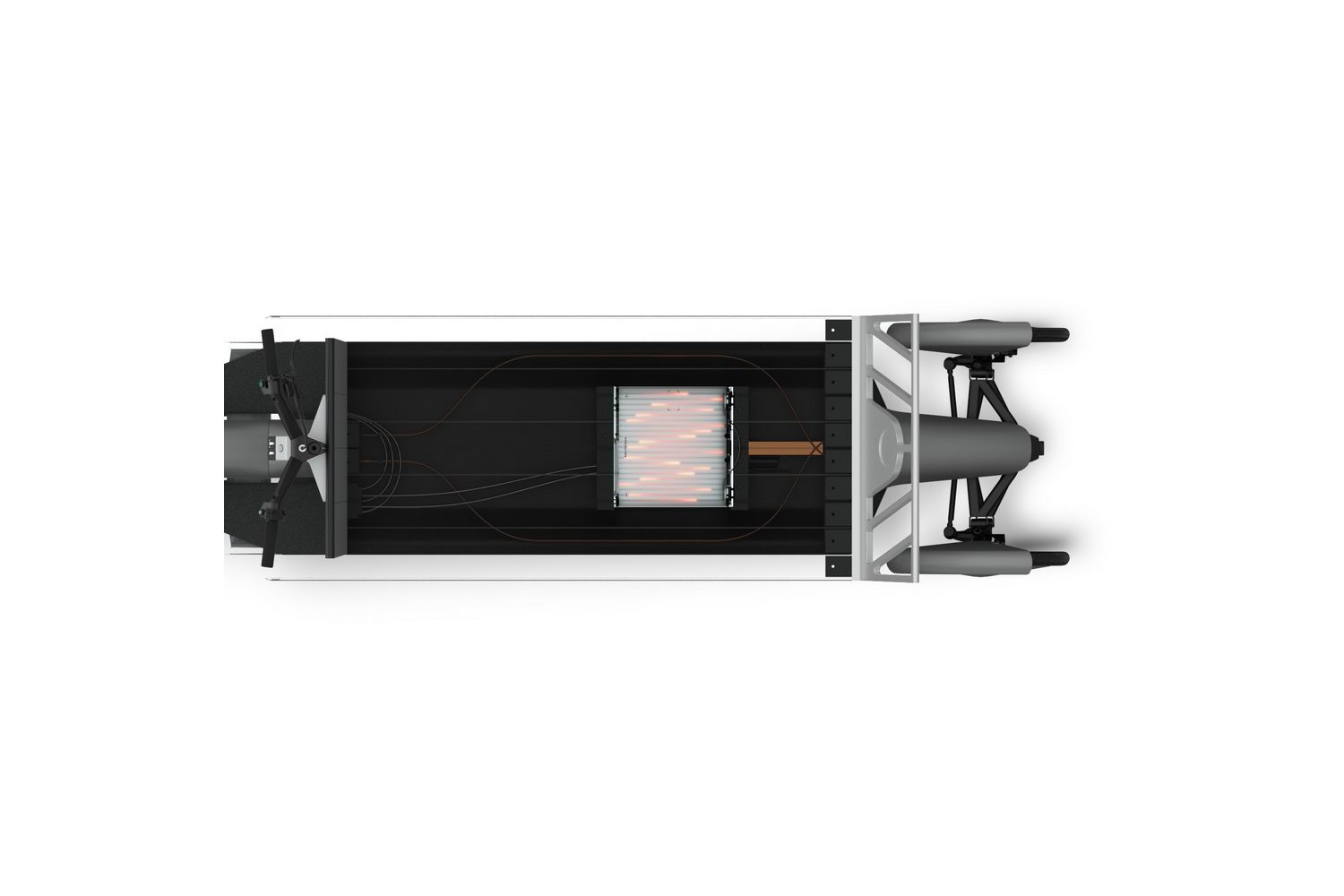 Speaking about the project, Re:Move designer Konstantin Grcic said:
"Good design is inherently sustainable design. Everyone involved in this distinctive project shares the belief that purity can be a driver for sustainability. Over the last year we have worked together, engineers and designers, to create a versatile solution that has never lost sight of its purpose. Ultimately, its design is all the better for it."
Bjørn Kjetil Mauritzen, Head of Sustainability at Hydro, commented:
"To stay within the 1.5-degree Paris Agreement target, we need fewer fossil-fuel vehicles on the streets, but we should also be striving to reduce emissions and harmful particulates in the air. Re:Move is not only a low-maintenance vehicle with an electric powertrain, but it's also fully recyclable and uses low-carbon aluminium that is made with renewable energy."