The Renault Kangoo has always been a popular small van and the new, more fashionable styling is likely to continue that. It gets more chrome and the signature c-shaped LED daytime running lights of other Renault models. Overall it looks smarter, more premium and ready to take on rivals which have also moved just a little more upmarket in recent years. 
It has wider side mirrors, increased by 22mm, which may or may not be a good thing depending on how narrow the width between parked cars is. The option of a digital rear view mirror should make reversing easier and it has more practicality, with some interesting innovations.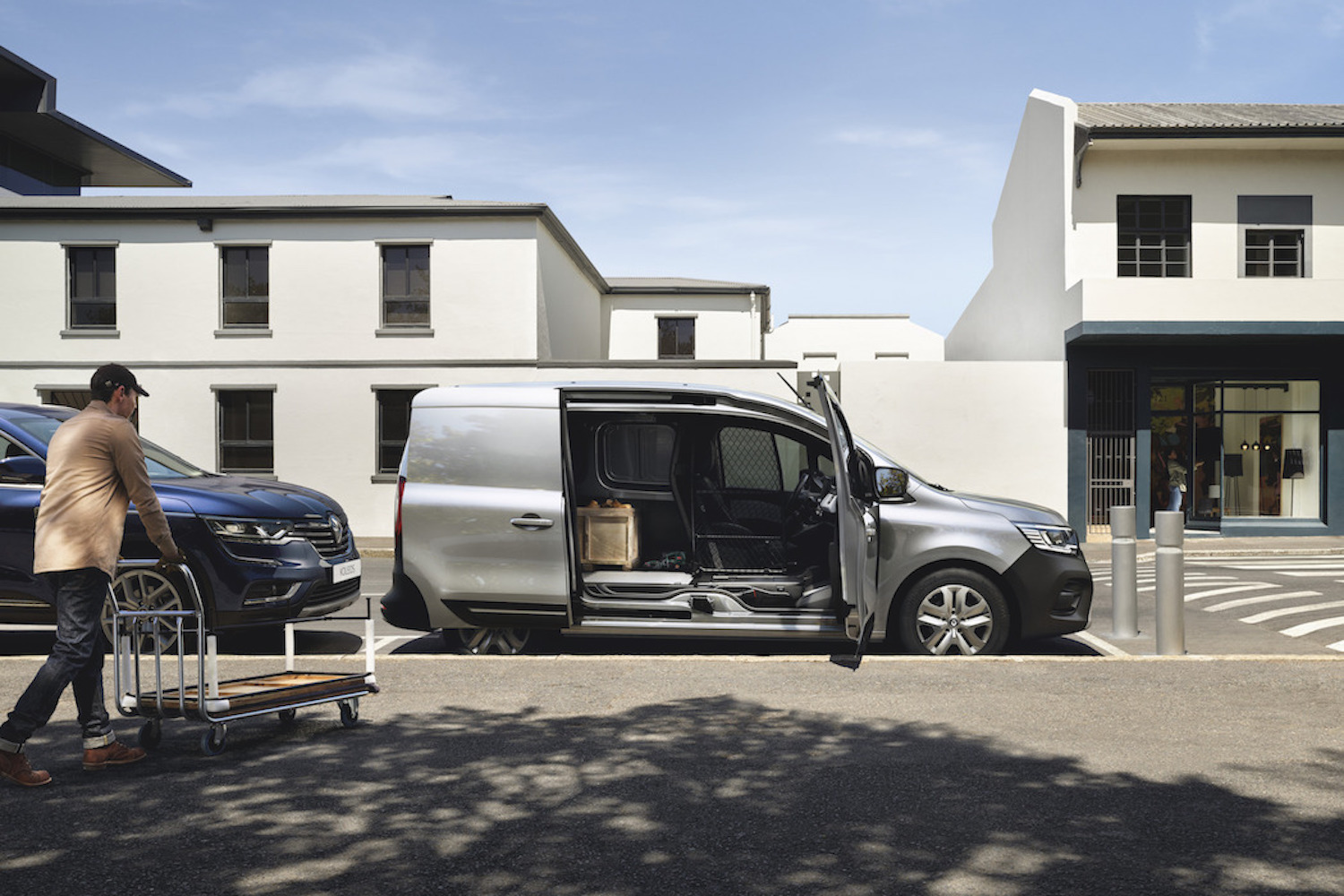 Loads of load space
When we first read that it has something called "open sesame", we thought it would be some clever voice recognition thing that would open the cargo door for you. It isn't; instead, it means that it has the widest side door in the segment, at an impressive 1,446mm. That's achieved by removing the central pillar. It means you can put wider items in, useful when you have a full 3.9m³ of load space available to fill. Renault also says it means more versatility for racking and other forms of interior fittings with the ability to have a Kangoo fitted out as a mobile shop, for example.
It also has something called an Easy Inside Rack, which is a high-mounted rack that extends above the cabin for transporting longer objects up to 2.5 metres. The total payload is between 600-800 kg and there's the choice of two body lengths and a multitude of interior storage options, including various bulkhead choices.
Renault Kangoo Engine choices
The engine choices for Ireland have not yet been confirmed but across Europe it features familiar motors. These include the 1.3 TCE available with 100 or 130hp and three 1.5 Blue dCi (75, 95, and 115hp) diesel options offering 75, 95 or 115hp. 
The Kangoo ZE has also been Europe's best-selling electric van for many years. The new electric model will arrive later, probably at the end of 2021 or early in 2022 and when it does, it will have a new name, Kangoo Van E-Tech Electric. Like the last generation it will be available in two lengths and will have a 44kWh battery and a 75kW electric motor. Six driving modes enable a range up to 265km, presumably from normal to sporty and 'oh my gosh we're not going to make it' super eco-driving mode. It can handle a 75kW rapid charger which will give it 150km of range in 30 minutes. 
Driver assistance and safety
New Kangoo has up to 12 driver assistance systems on the options list. These range from adaptive cruise control to the EasyPark Assist Hands-Free Parking system, although we're almost certain that your typical delivery driver will be able to park faster than the system. It will also be available with active systems such as blind-spot protection, lane-keeping assist and emergency braking.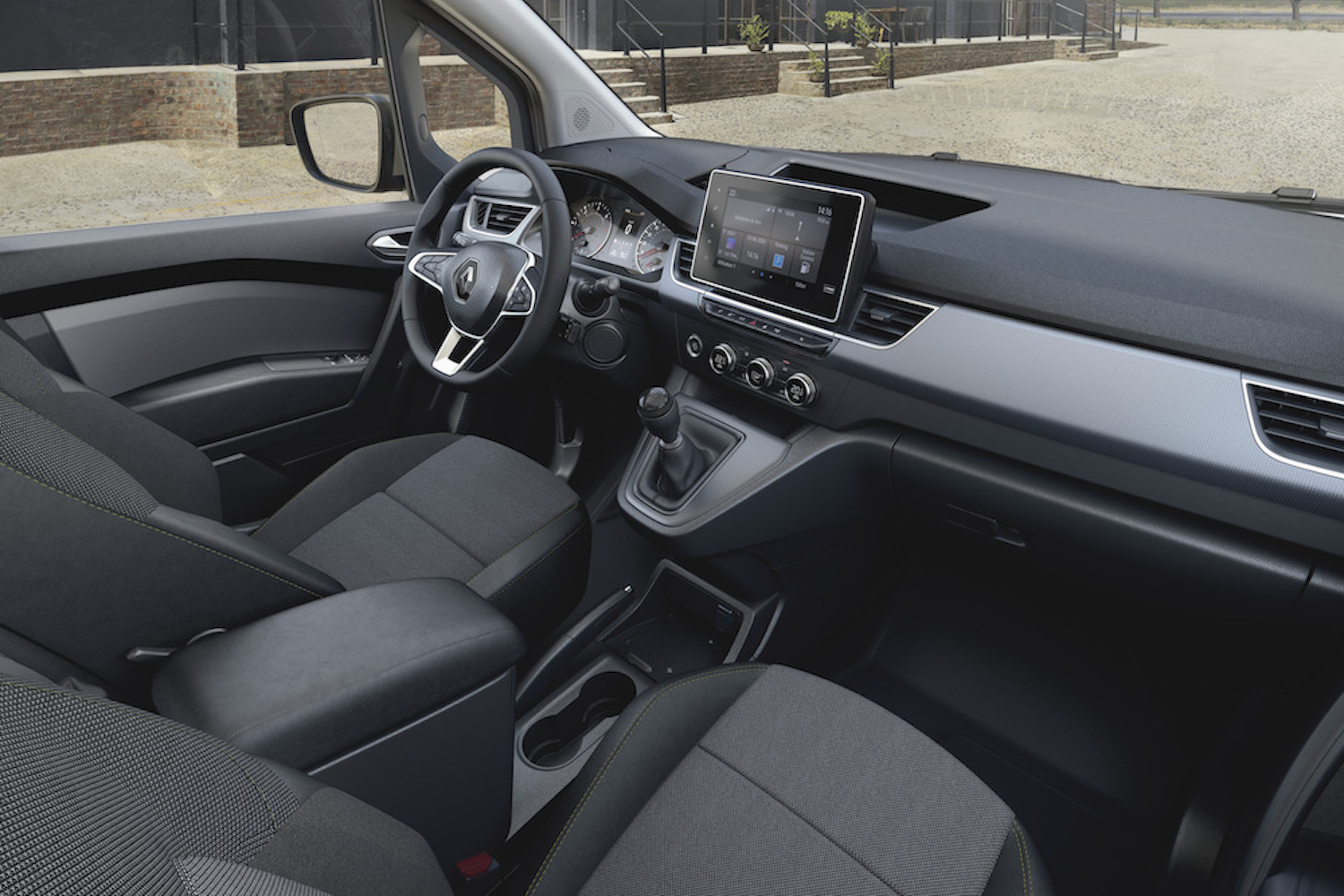 What's the Renault Kangoo cabin like?
There's a new more horizontal dash that looks both more simple and at the same time more stylish than the previous generation. We're trying not to say more car-like because it's not a car, but you get the idea. There's an eight-inch multimedia touchscreen above the centre console and dual-zone climate control, which means driver and passenger can set a temperature to suit them. It also has several USB ports and 12V sockets.
It will be available with the choice of two or three seats and plenty of creature comforts. The driver's seat has lots of adjustability and the passenger seat can fold flat to extend the loading space. Up to 60 litres of storage space dotted around the interior will also prove useful. There's the option of a folding centre backrest which functions as a sort of office desk with a removable shelf, A4-document clip and cup holder.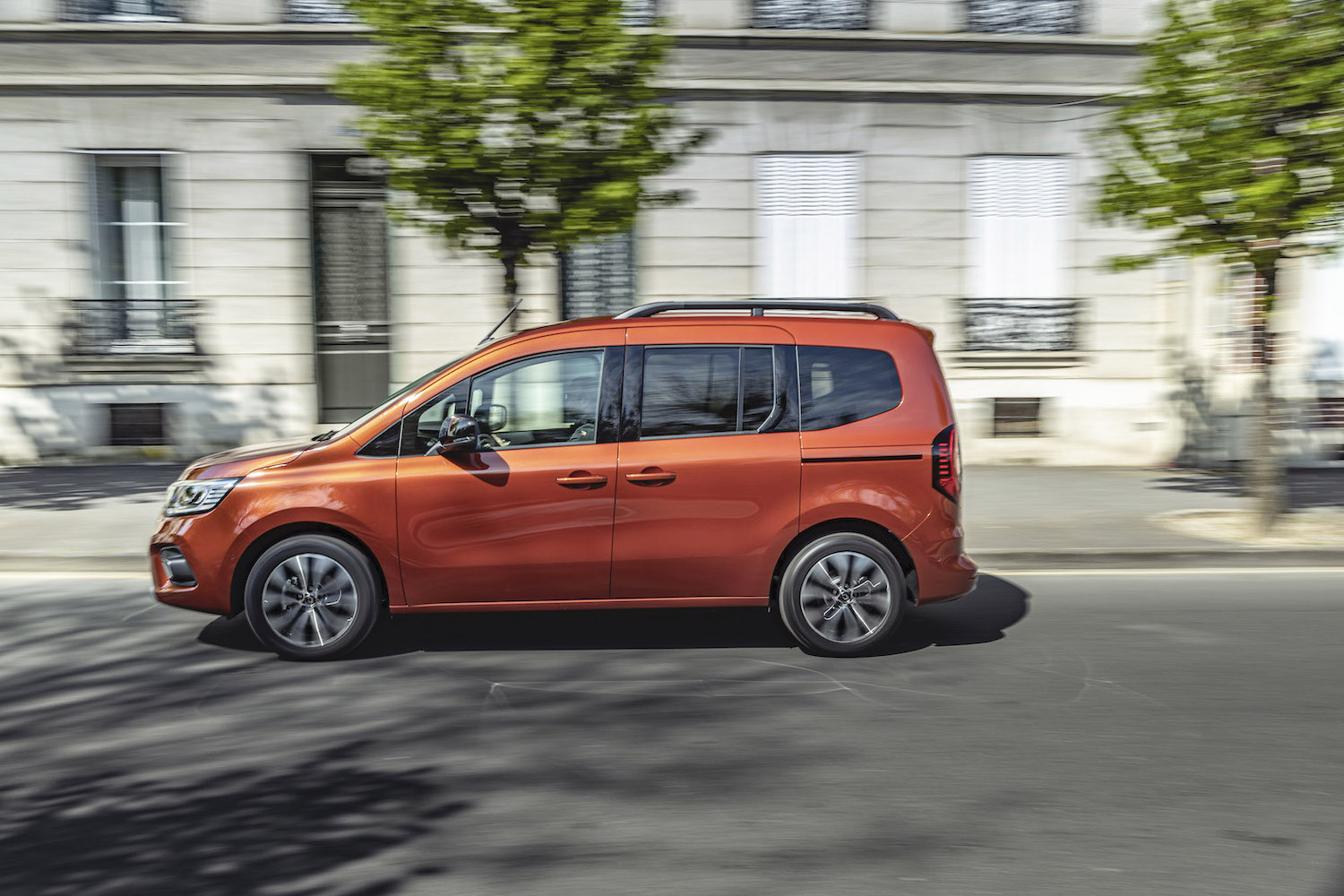 One for the family
Like previous generations, the Kangoo will also be available as an MPV and here Renault really is promising that things are less utility and more car. It has five good size seats plus 775 litres of boot space, which expands to a massive 3,500 litres if you fold the seats down. There are plenty of storage spaces and excellent visibility all round, so the kids can see the scenery whizzing by. If you feel like using it as a bit of a utility vehicle, then it has a very practical flat floor for loading larger objects in when the seats are down.