Volkswagen is continuing to drip-feed details of the new Amarok pick-up truck, which still strikes us as somewhat odd, considering that the mechanically identical Ford Ranger has been out and about in the open for almost a year now…
Touchscreen and tailgate
Here are some more details about the Amarok, specifically its touchscreen and tailgate.
The touchscreen will measure either 10- or 12-inches, depending on the spec of the truck you're buying. Volkswagen says that the fact that it "levitates, almost vertically" above the console opens "many new possibilities in the segment." Some physical buttons beneath the screen are helpful, but most functions will be digitally controlled. Incidentally, it's pretty obvious that the screen is the same as the Ranger's — even the graphics look relatively similar.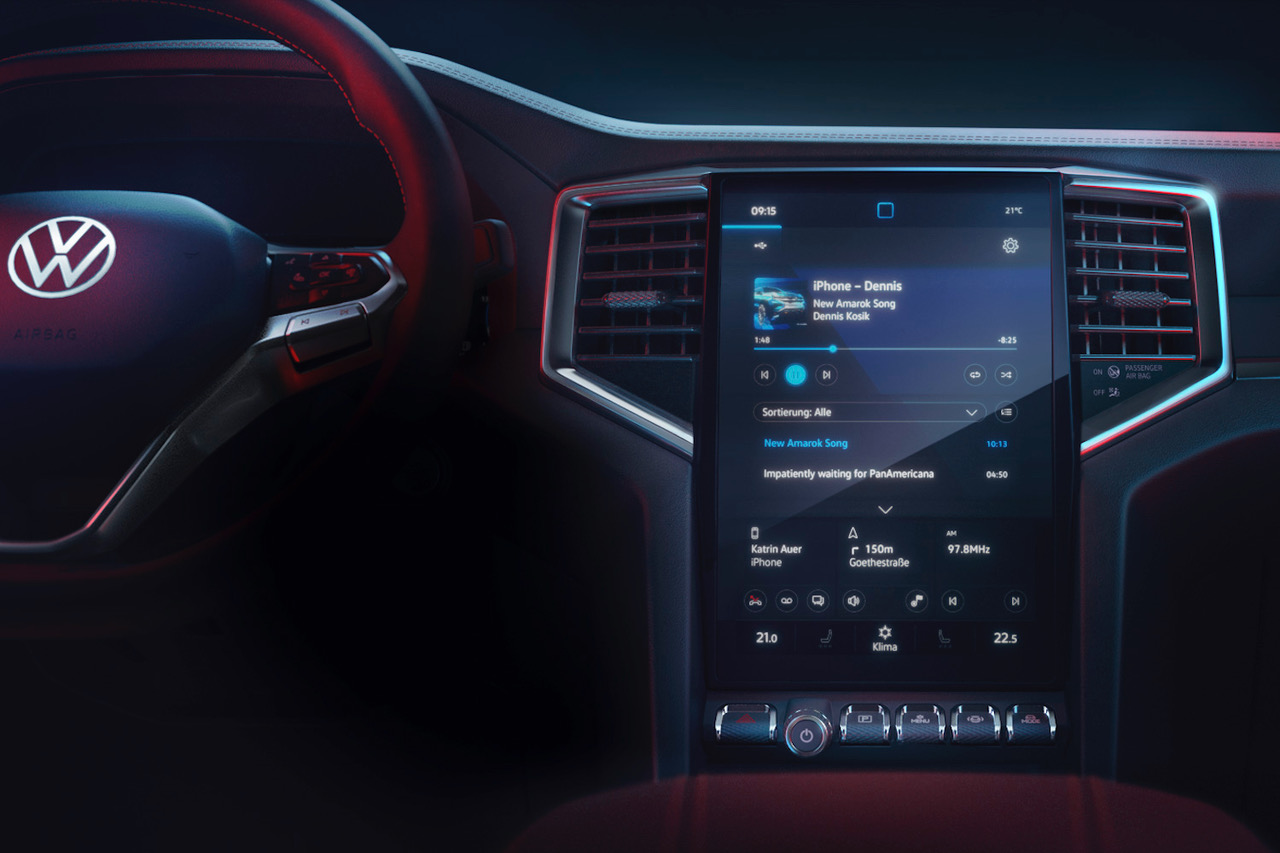 30 new driver assistance systems
There are more than 30 driver assistance systems that drivers can manage through the screen, and 20 of those are new to the Amarok. They include lane-keeping and lane-changing assistants, lighting and speed assistants, a surrounding view camera, and road sign recognition. Through their mobile phone, owners also access online services such as 'We Connect Navigation' and the operation of air conditioning, infotainment, navigation, parking assistants and the exclusive premium sound system — assuming you've ticked that options box.
Embossed tailgate
We can now have a glimpse at the Amarok's tailgate, which now has the name Amarok embossed into the metal, just in case you'd forgotten which pick-up you'd bought or something. VW puts it a little more poetically than that: "Pick-ups are true transportation marvels, which is why in many regions of the world it is unimaginable not to have them around as load carriers – be that in the commercial sector or for people with big hobbies. So that everyone knows that this is a vehicle that can carry relatively large loads off-road too, the model name appears in future as an additional design element embossed in large, clear letters on the tailgate."
Beyond the tailgate, the Amarok can accommodate up to 1,200kg of load weight in the cargo box, while the maximum towing weight will be 3,500kg — matching the best in class.