Mercedes-Benz has been working on battery-electric solutions for its vans and trucks for years. It already has its eCitaro bus in operation in some European cities and its fellow Daimler company, Fuso, has been selling the eCanter since 2017.
Now it has put its battery-electric expertise into its popular Actros model with the highly anticipated launch of the eActros, which Andreas von Wallfeld, head of marketing, sales and services at Mercedes-Benz Trucks describes as the first big milestone on the way to achieving carbon neutrality. The first models will come off the production line in Germany in the last quarter of 2021.
Technology for the city
The eActros has undergone 500,000km of testing with major fleet customers for the past two years. Its main role is for urban deliveries where its near-silent running will be especially useful for companies operating night-time deliveries.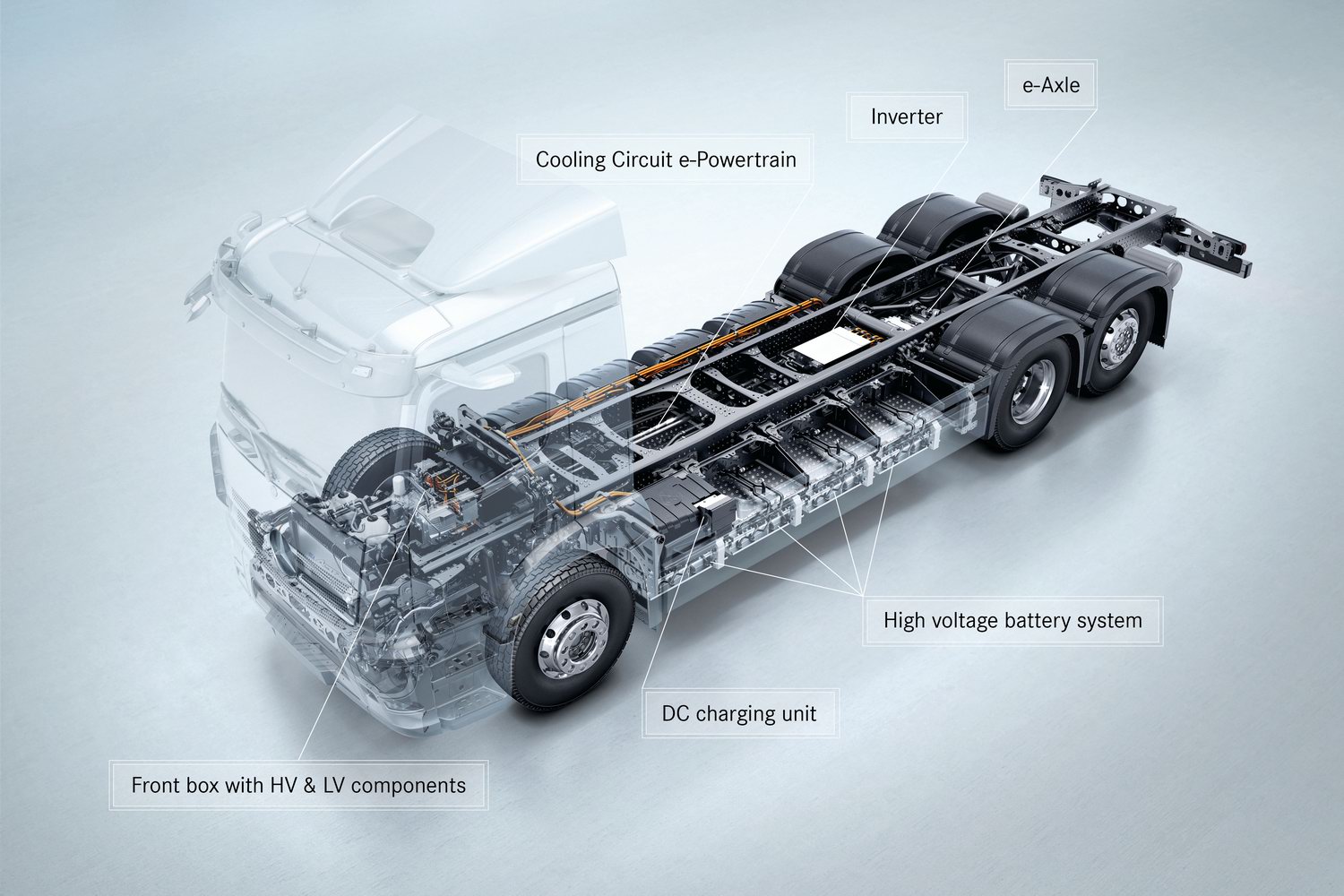 The electric powertrain is a tailor-made solution says Von Wallfeld. It uses two electric motors that create peak power of 400kW (equivalent to 544hp) but more importantly, continuous power of 330kW (449hp). The motors are fed by three or four battery packs with a total capacity of 315-420kWh. The combination allows for a driving range of up to 400km with a payload of up to 40 tonnes.
The eActros can use chargers providing up to 160kW, which means that, when its Combined Charging System (CCS) connector is plugged in to a 400A DC charger, it can go from 20 per cent to 80 per cent capacity in one hour.
What if it runs out of charge?
When an electric car runs out of charge, generally it can just coast to the side of the road and wait for roadside assistance. If a truck runs out of charge things are not so simple because what happens to components such as the air suspension and even the brakes? For this Mercedes has included two 12-volt batteries that are constantly topped up by the high-voltage batteries so that in the event that they do run out, there will still be power for lights, brakes and electronics in the cab.
Any other technology?
The standard Multimedia Cockpit Interactive system keeps the driver informed as to the level of charge in the batteries. It also shows how much energy recuperation is taking place through things like braking. All of this information can also be made available to fleet operators through telematics systems such as Mercedes' own Fleetboard package.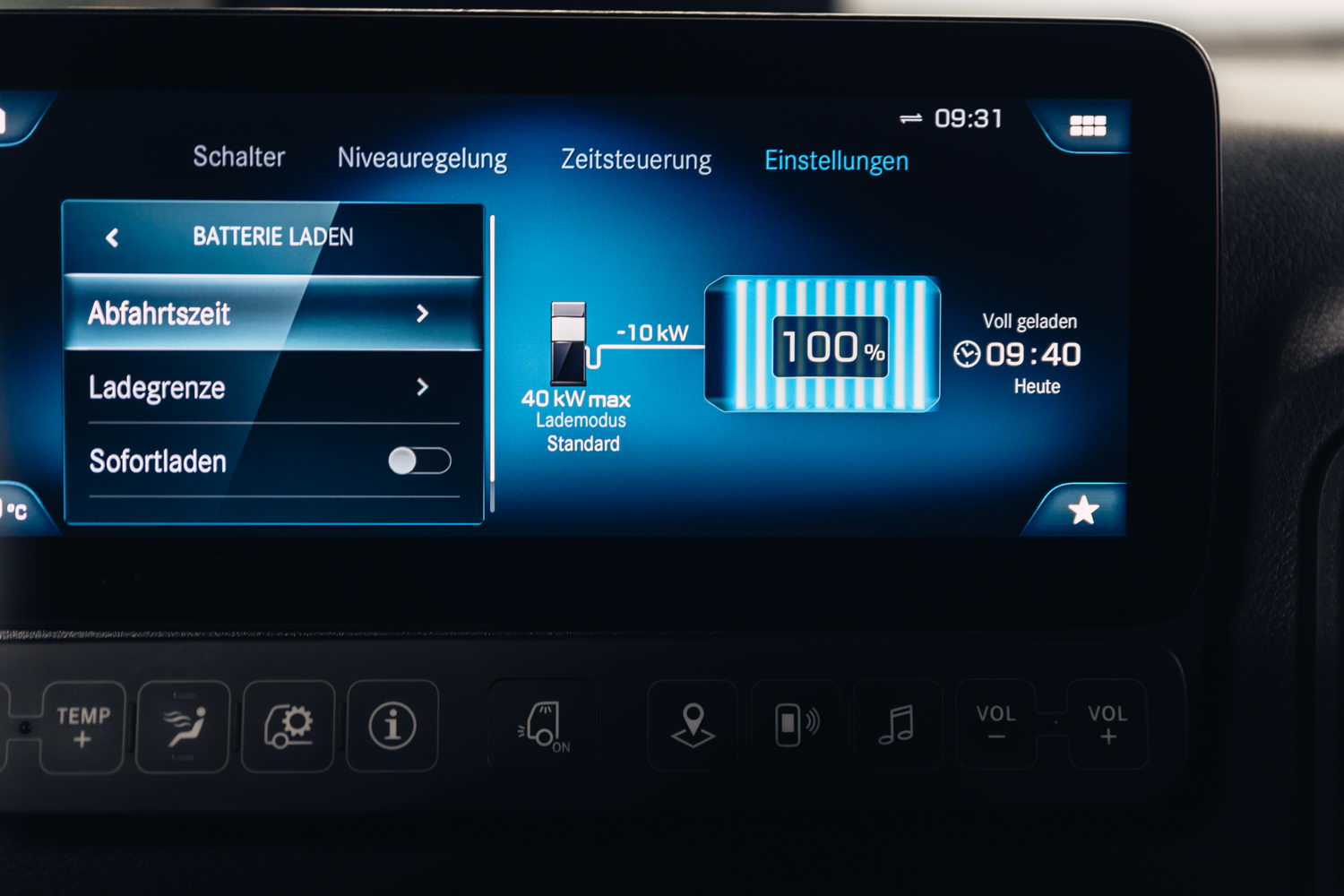 Will it be expensive?
We're afraid so; in fact Von Wallfeld says that the new eActros will cost around three times as much to buy as a regular diesel Actros. That capital outlay will alarm many fleet operators, but Mercedes says it has a number of integrated solutions to improve the total cost of ownership (TCO). This includes consulting services with partners that can formulate the most efficient regular routes, best charging options and so on, although only real-world operations are going to be able to show how effective these are at keeping TCO down.
Can we expect any more electric trucks from Mercedes?
Most definitely says Karin Rådström, head of Mercedes-Benz Trucks. She says the company is working on development of the eEconic, an electric municipal refuse truck that will be able to travel almost silently through towns and villages and which should reach the market before the end of 2021.