Ford is introducing a five-tonne (gross vehicle mass) version of the Transit for those who need to haul the heaviest loads.
Available from late November in Ireland, the new Transit sees an increase of 300kg in terms of payload over and above the previous most heavy-duty version. Ford says that this new "Transit variant will particularly appeal to customers desiring a heavier-rated donor vehicle for conversions including tippers, ambulances, police vans, and minicoaches with 19 seats or more."
Tipper, ambulance, or minicoach
"We know payload is a key factor for businesses' productivity, which is why Ford's new flagship Transit is the most capable, heaviest-rated van we've ever built," said Hans Schep, general manager, Commercial Vehicles, Ford of Europe. "We listened to our converter partners and their customers who need this extra capability for their businesses, whether it's a tipper, an ambulance or larger minicoach. The 5.0-tonne Transit's durable design and flexibility make it an ideal choice whatever their speciality."
For the 5.0-Tonne model, Ford is offering three wheelbases, four frame lengths, and both single and double-cab versions, with seats for up to seven, including the driver. The maximum load capacity is 2,886kg for both the load and the body, which equates to 2,558kg net payload when fitted with a factory flat bed.
Jumbo version available
Ford says that the Transit 5.0-Tonne is ideal for conversion to tippers or dropsides, aerial access platforms and vehicle transporters. There's an optional ten-speed automatic gearbox and you can have the 5.0-Tonne as an L4 high roof "Jumbo" van, with up to 2,383kg net payload, 15.1 cubic metres load volume and enough floor space to carry five Euro pallets of cargo.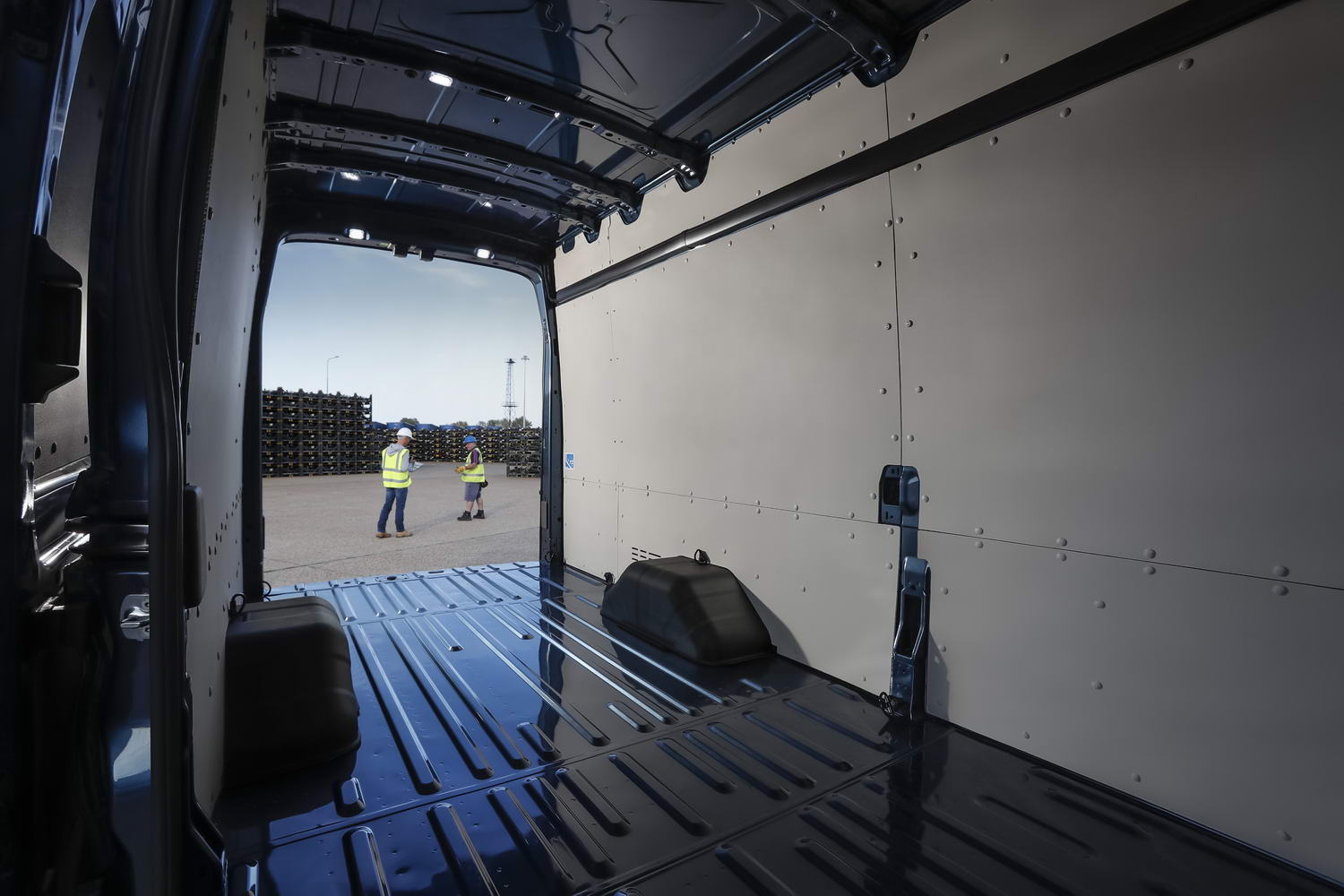 For those looking for a more specialist body conversion, Ford says that it has an extensive Qualified Vehicle Modifier (QVM) network of 165 converters in 13 countries that can put together a bespoke vehicle based on the Transit 5.0-Tonne for you.
170hp diesel engine
All the 5.0-Tonne models use the rear-wheel-drive Transit platform, and all get the 170hp 2.0-litre EcoBlue diesel engine with 390Nm of torque. The chassis features upgraded hub assemblies, wheels and wider 205mm rear tyres, as well as uprated brakes on the rear axle. In addition, the 5.0-tonne Transit introduces to Europe for the first time an uprated 3,500kg rear axle that has already proven its robustness and durability in North American Transit models. If specified with the 10-speed automatic gearbox, a new 2,100kg front axle is also fitted, which offers an additional 225kg load capacity over the standard version.
Inside, there's technology in the shape of Ford's SYNC infotainment system, which includes a module that allows for telematic systems, which can monitor vehicle use and efficiency. There's also a FordPass Connect internet link, which enables over-the-air software updates to minimise dealer visits, while displaying key information such as vehicle location, oil life and tyre pressures through the FordPass Pro app.