Ford has revealed new details of its upcoming E-Transit Custom, the fully-electric version of Europe's best-selling van, due to launch in 2023.
Unlike the full-sized E-Transit, which looks similar to the combustion-powered model, the mid-sized E-Transit Custom boasts a distinctive new look with a different grille and light treatment. However, the overall profile remains the same.
Ford E-Transit Custom power options
Ford revealed the look of the E-Transit Custom some time back, and now it confirms what will be providing the motive power. At 74kWh, the battery pack has more capacity than the bigger E-Transit and can deliver a targeted range of up to 380 kilometres. Ford says that is more than four times the daily mileage of the average driver of a one-tonne class van.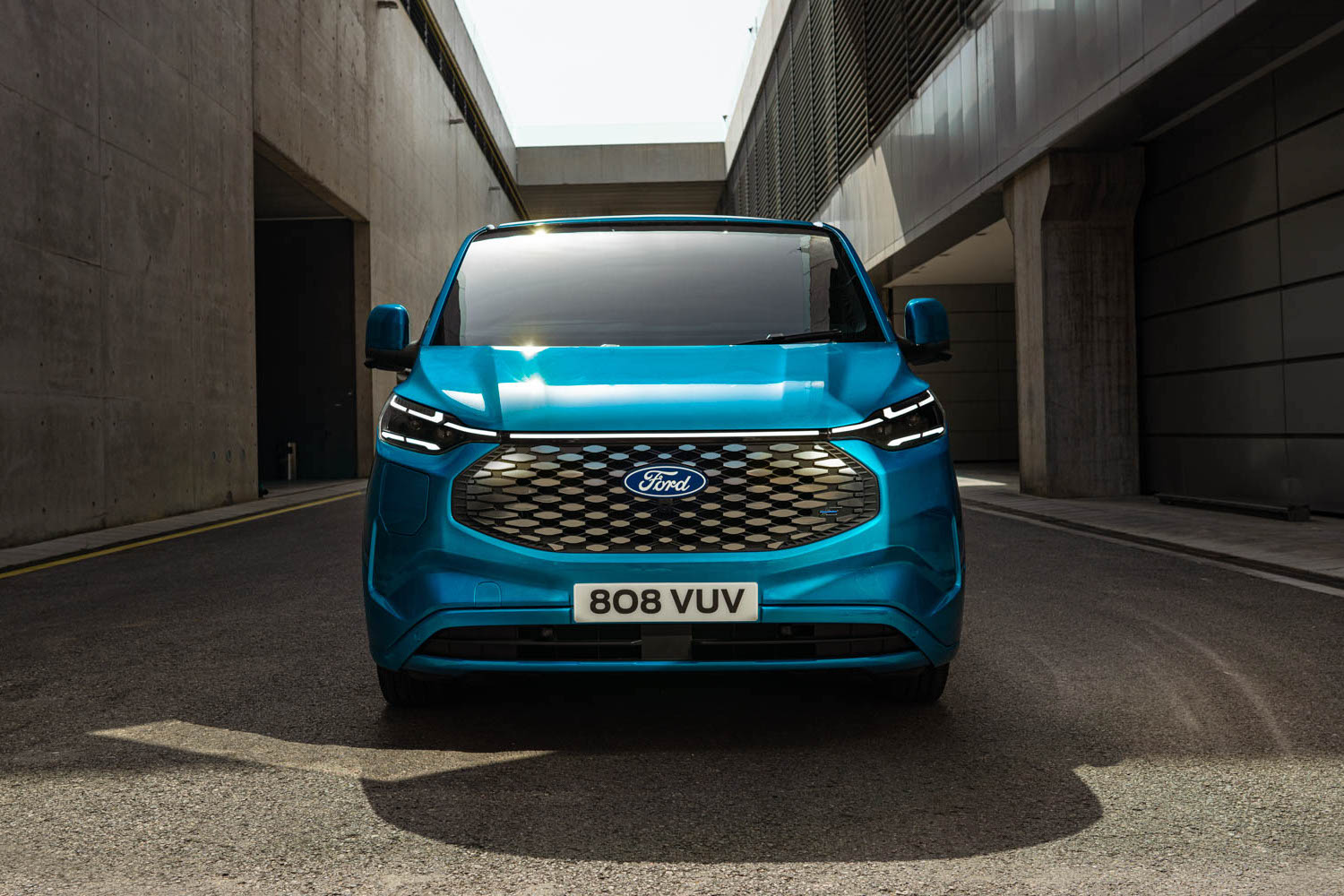 That battery pack supplies power to a choice of two motors (135hp or 217hp), both delivering a healthy 415Nm of torque. That helps give the E-Transit Custom a competitive braked towing capacity of 2,000kg when fitted with the optional retractable towbar meaning that the E-Transit Custom could potentially replace diesel vehicles in some roles.
For drivers regularly making longer journeys, the headline charging figure is a maximum capacity of 125kW, meaning top-ups from 15 to 80 per cent in around 41 minutes. Ford said that in testing, it added 38km of range in five minutes using a 125kW DC charger, though conditions may vary in the real world. Likely more pertinent for many is the ability to fully recharge at an 11kW AC home wall box in just under eight hours.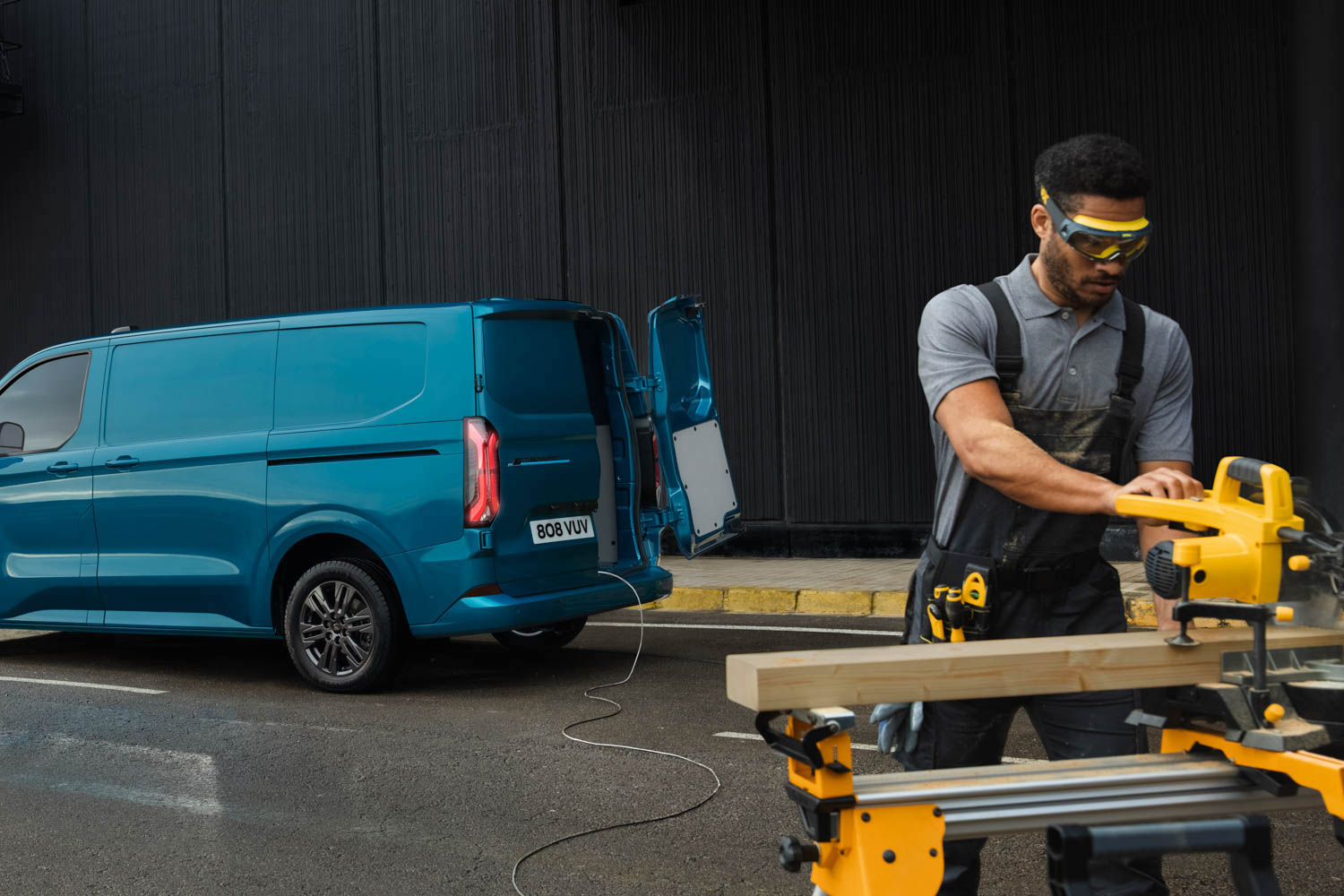 Helping to extend the battery range a bit further is a heat pump which is far more efficient than an older-style electric cabin heater which relies on electrical resistance and uses a lot more battery power, thereby diminishing range. Regenerative braking allows for one-pedal driving too. As with the larger E-Transit, users can employ sockets fed by the van's battery to deliver 2.3kW to power tools, lights and other devices where on-site power may not be available.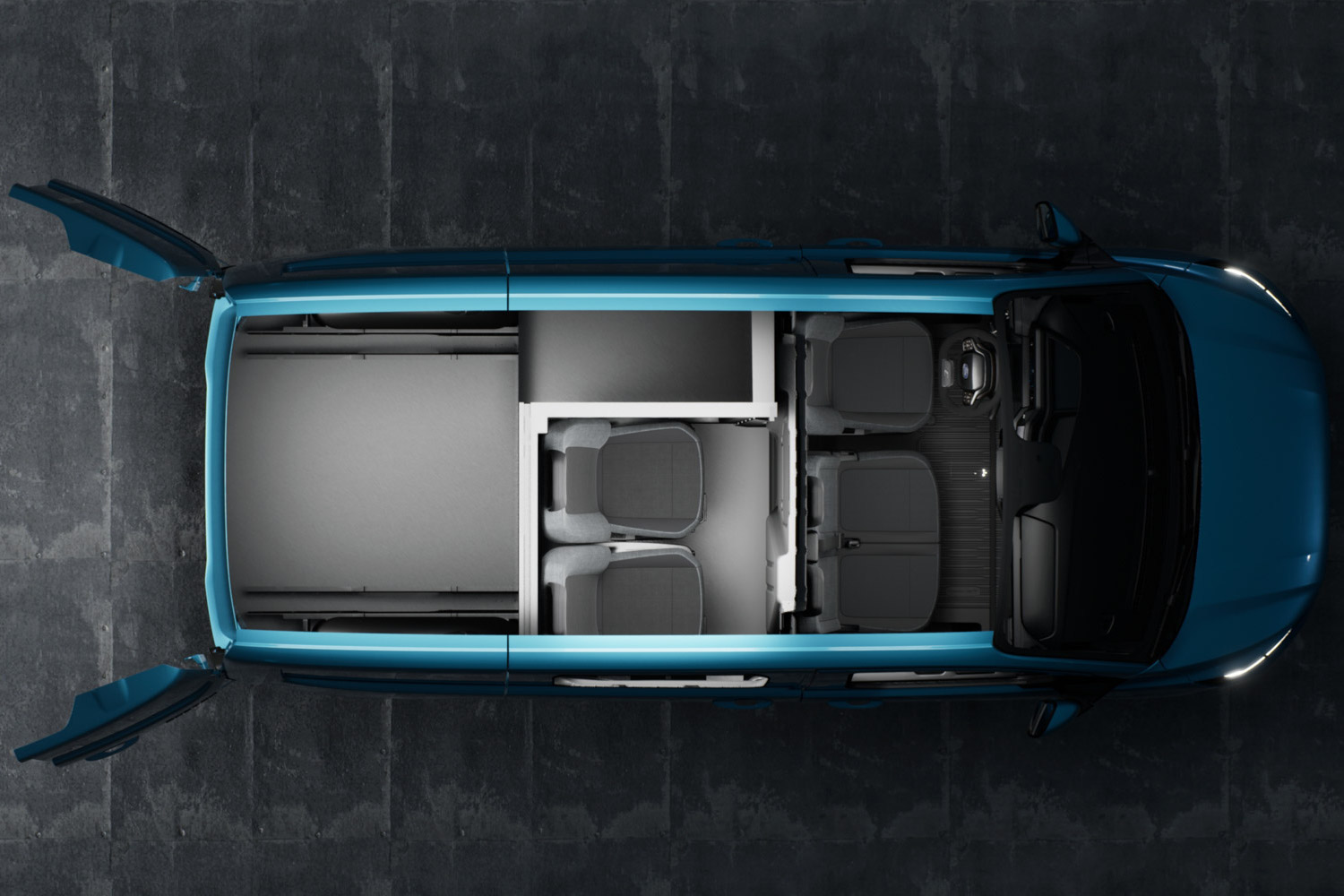 Well-packaged interior
The rear load bay in the E-Transit Custom offers a payload capacity of up to 1,100kg, though the length of the loads which can be accommodated depends on the body style chosen, whether that's a standard panel van, a double-cab or a kombi. There's even a version with an L-shaped bulkhead which allows users to handle longer loads and up to five occupants. The maximum load length in the E-Transit Custom is up to 3,450mm, and the overall height is now under two metres meaning that access to areas such as car parks with height restrictors isn't as much of a problem. The way the battery has been efficiently packaged also means that the height of the load-bay floor is lower than that in the outgoing model enabling easier access.
Clever cabin
There's tech aplenty in the cabin with a 13.0-inch landscape-aspect infotainment touchscreen running the latest version of Ford's Sync 4 operating system with 5G internet connectivity. It's a particularly well-thought-out interior, too, with the materials used both in the cabin and load-bay designed not to trap mud or water while still providing plenty of grip.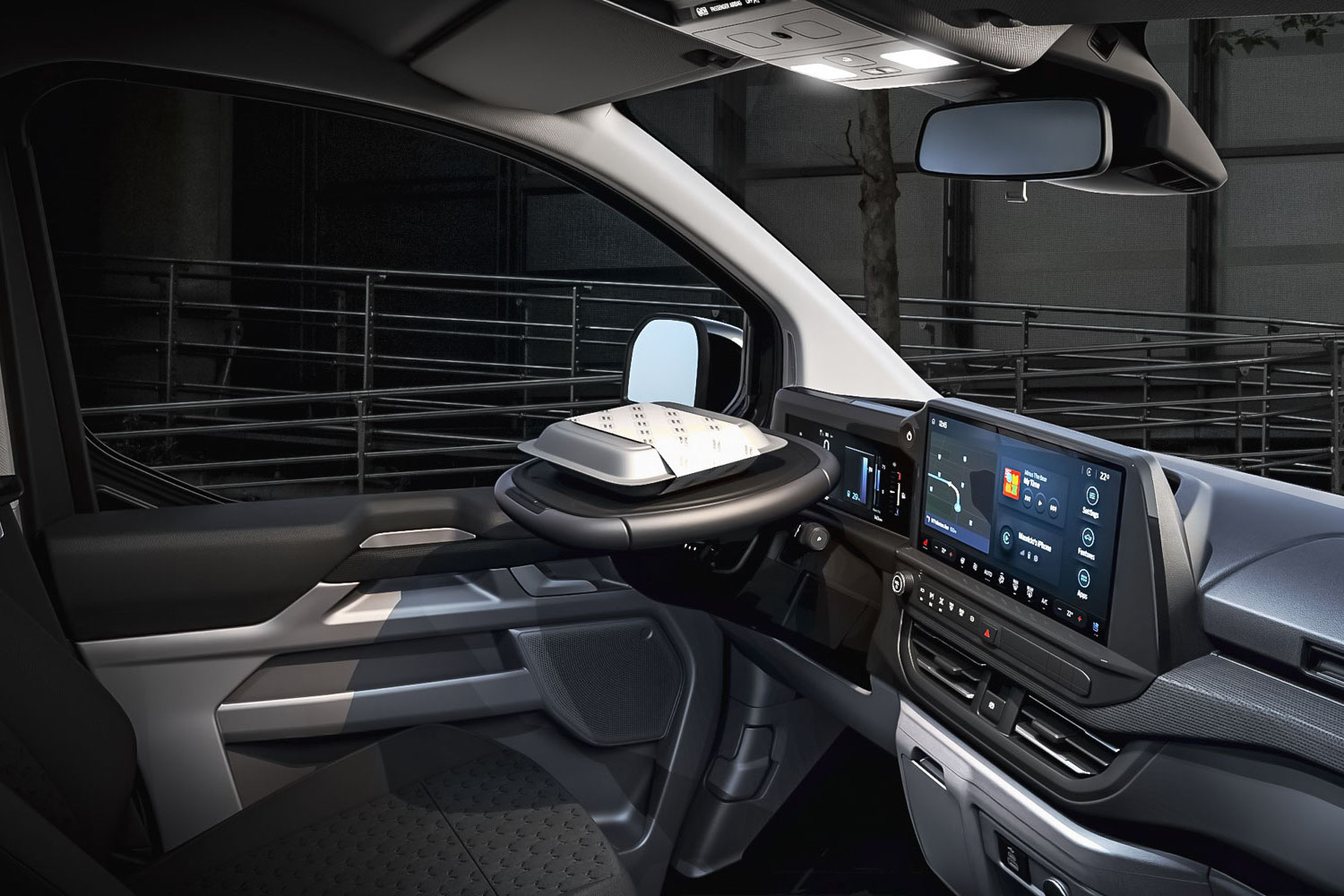 Another clever feature is the Delivery Assist feature which activates when the driver stops and puts the van into Park. It automatically switches on the hazard lights, closes any open windows and locks the door once the driver leaves the van. When returning, the driver can keylessly enter and start the van, with the hazard lights switching off and the windows automatically returning to their previous position. This feature will be handy for the likes of couriers who may need to make dozens of delivery stops every day.
Ford is also introducing a segment-first roof-mounted airbag that enables dashboard storage large enough to take a laptop or A4 file, as well as increase flexibility for upfit panels and devices which can now be fitted closer to the driver using industry-standard AMPS mountings. That also means that the steering wheel can be tilted upwards to double-up as a small table for either working on a laptop of having lunch.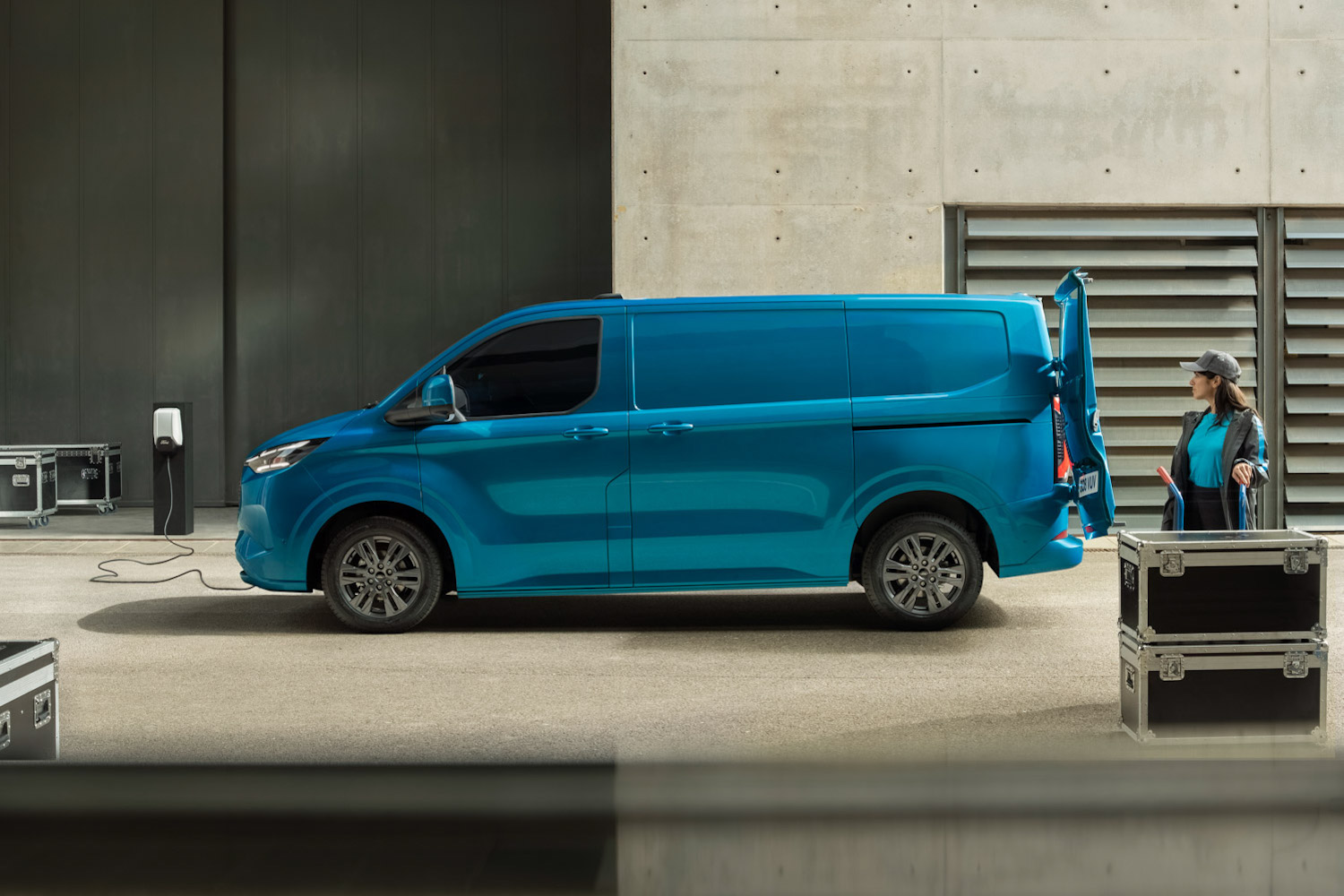 Lower running costs
Pricing for the E-Transit Custom hasn't been announced yet, but it will undoubtedly be more expensive than its diesel-powered counterpart. That said, some of that extra expense will be offset by lower running costs which Ford estimates to be around 40 per cent of those of the combustion-engined variants.
The Ford E-Transit Custom will be built in Turkey by Ford's Turkish joint-venture, Ford Otosan, alongside an electric version of the Volkswagen Transporter with which it will likely share a platform. Deliveries of the Ford are due next year.