BWG Foods, one of Ireland's largest retail wholesale groups, has become one of the first companies in this country to put one of Mercedes' new electric e-Sprinter delivery vans on its fleet.
Saves 20 tonnes of CO2
While it's just the one van for now, BWG estimates that even on its own, it will help the group save some 20 tonnes of CO2 emissions every year. In part, that's because it will be charged up from a renewable energy source, as BWG has put solar panels on the roof of its Kilcarberry-based national distribution centre, specifically to charge the van.
City centre deliveries
Initially, the e-Sprinter, with its 150km range, will be used for small 'just-in-time' deliveries for retailers based in Dublin city centre. Owners and operators of the Spar, EuroSpar, Londis, Mace and XL brands in the Republic of Ireland, BWG Foods claims to have one of the 'greenest' fleets in its industry, with a number of biogas-fuelled and CNG-powered trucks in operation. In what it says is a 'further expansion of its ambitious sustainability strategy', the company views the addition of the eSprinter as another major step towards becoming a leading climate change innovator in the Irish FMCG marketplace.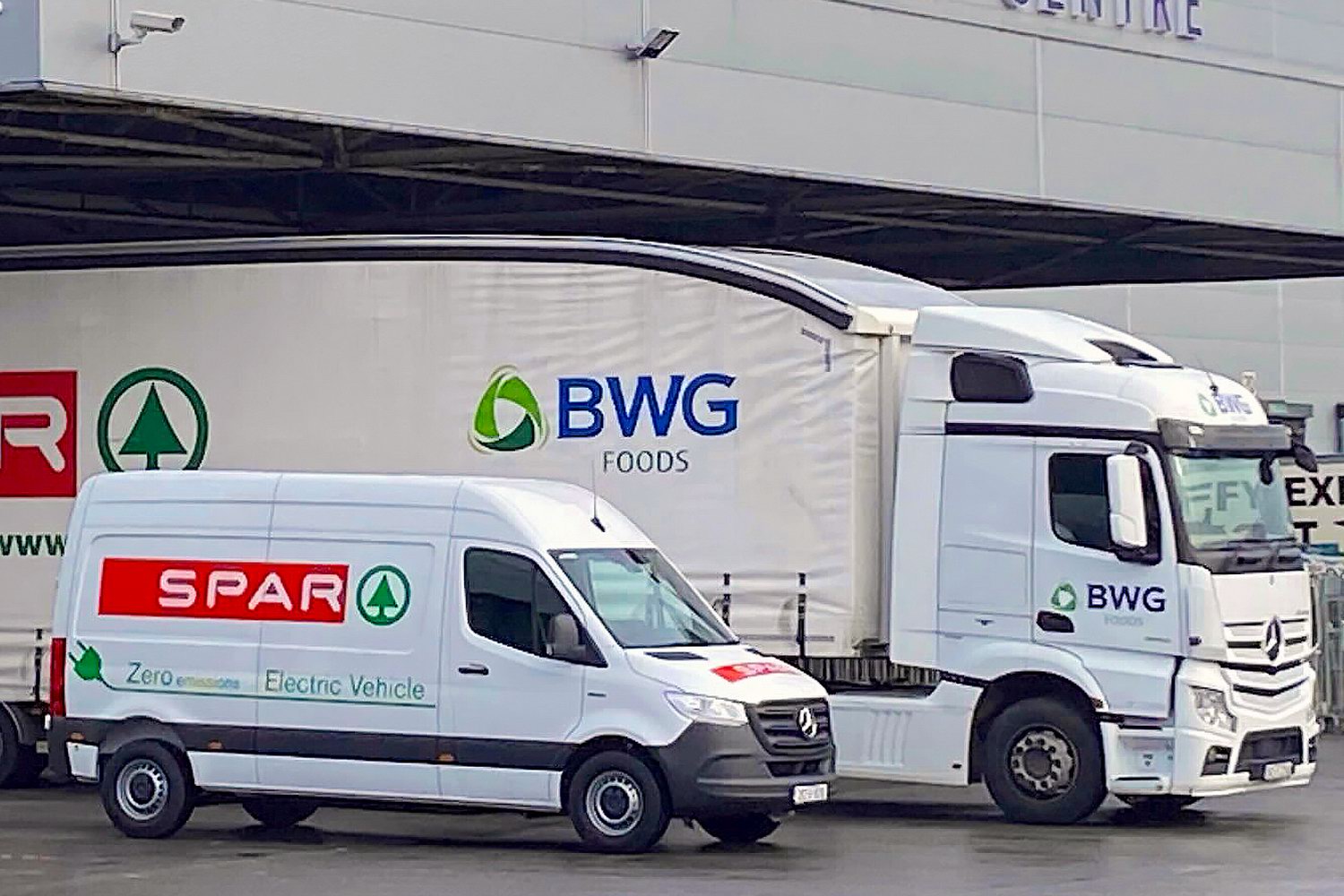 Environmental impact
Commenting, Joanne Mellon, Logistics Director, BWG Foods said: "We are very passionate about finding new solutions that can reduce our environmental impact and it is critically important that we invest in new technologies that allow us to pioneer less carbon intensive methods of delivery. The addition of the eSprinter to our fleet for specific Dublin City centre deliveries is yet another exciting milestone on our journey."

Praising BWG Foods for what he termed their 'innovative and socially responsible decision' to invest in this ground-breaking electric van operation, Mercedes-Benz commercial vehicles sales manager, Fergus Conheady said: "Investment in the e-Sprinter is a further example of the responsible management style that has led BWG Foods to success in so many areas of its operations. The introduction by BWG Foods of electric-powered transport is one that will be welcomed by customers and public whilst setting an example to others whose logistical needs are similar."