Stellantis Group is one of the biggest van-making conglomerates out there and consists of — deep breath, now — Peugeot, Citroen, Opel, Vauxhall, Fiat Professional, and Ram. So, when Stellantis releases news about its line up, it's generally a big deal. It's not usually quite this big, though…
Heat pumps for EVs
Stellantis has released details of new and updated versions of almost all of its combustion and electric LCV range across all six brands. Now, these are upgrades and improvements rather than all-new models, but those upgrades are important and include the fitment of heat-pump heating systems for these electric models, significantly improving their efficiency and range, especially in cold conditions.
"This second generation of zero-emission vans, in line with customer expectations and offering increased EV autonomy, additional fuel-cell offer, 18 ADAS assistants, full connectivity, and innovations such as 'electric Power Take Off', will reinforce even further our current leadership in EV vans and in all van segments," said Xavier Peugeot, Senior Vice President, Stellantis Commercial Vehicles Business Unit.
So, the compact EV models — such as the Peugeot Partner and Citroen Berlingo — can now squeeze 330km out of their 50kWh batteries. For the larger models — the Expert, the Jumpy, the Ducato — there will be a choice of 50kWh or 75kWh batteries, with ranges of up to 350km. For the biggest models — Expert, Movano, Boxer — there will be new 102kWh batteries with ranges of up to 420km. That new big battery will get the option of 150kW DC fast charging, allowing a top-up from 0-80 per cent charge in less than an hour.
Hydrogen power for larger vans
Stellantis will also be rolling out its hydrogen fuel-cell models, which have the potential for a combo of zero-emissions running but with refuelling time measured in minutes, although these will, of course, be market-specific and will only be offered where there's a proven H2 fuelling setup available. A second generation of hydrogen fuel-cell power in the mid-size vans, launching in mid-2024, gets a mid-power system and provides a segment record of up to 400 kilometres of range. Hydrogen fuel-cell propulsion will expand to large vans in 2024 with the mid-power architecture, a range of up to 500 kilometres and a refill time of five minutes.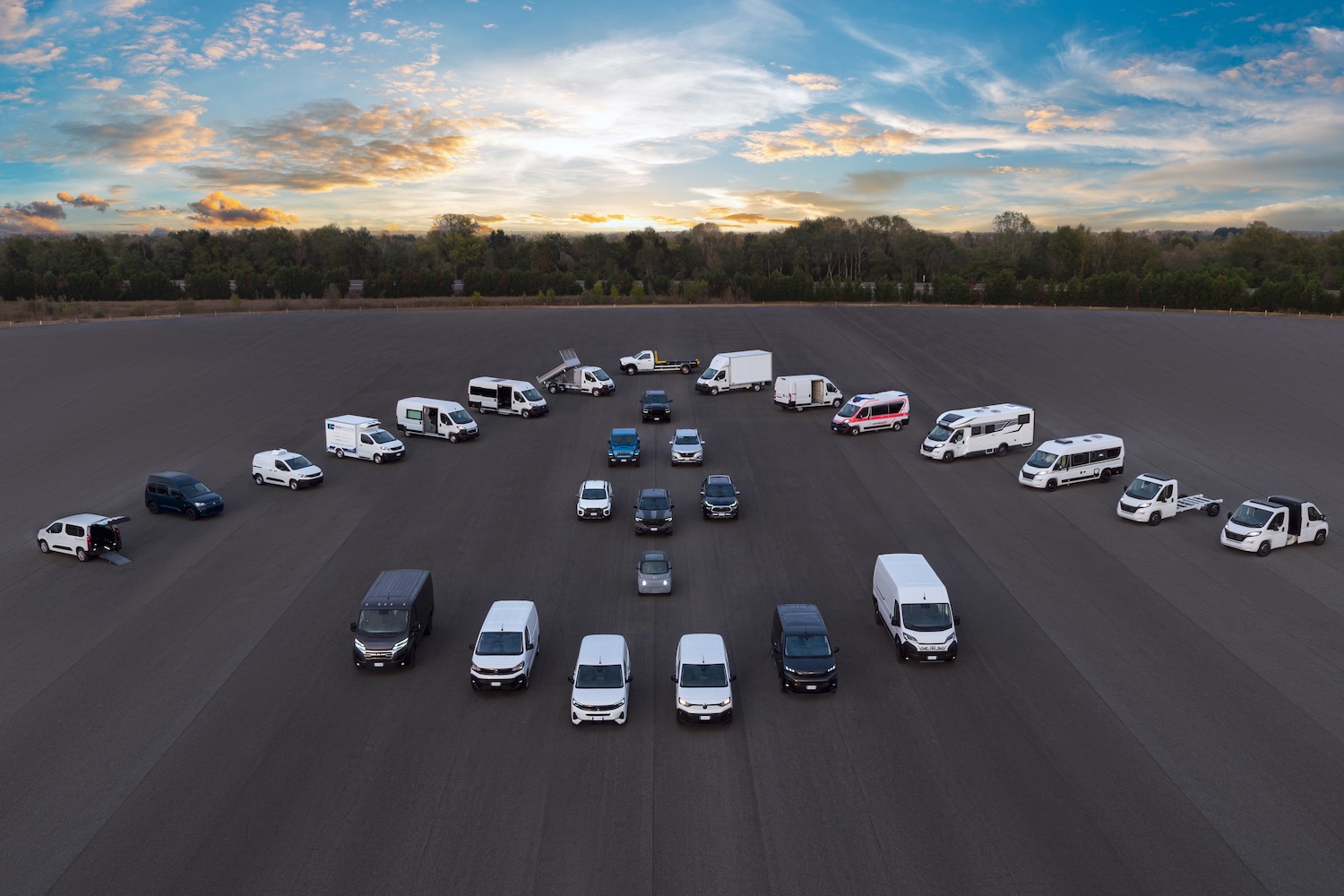 Inside, all models get updated cabins with improved quality, new ten-inch touchscreen infotainment systems, connected online services, and a new 400-volt e-PTO — a socket which allows external devices and power tools to run off the van's battery. The regenerative braking systems will now be adjustable by paddles behind the steering wheel. At the same time, compact van models will get a new Smartphone Station that connects to a dedicated app, enabling the mobile phone to become a control panel for the vehicle, including interaction with steering wheel buttons, making it a cost-effective way to upgrade the online experience.
In large vans, drivers can enjoy a Level 2 assisted driving solution via the combination of adaptive cruise control with stop-and-go function, lane centring steering and traffic jam assist.
LED headlights
Diesel drivers won't be left out either, with a new generation of the internal combustion engine mates with an eight-speed automatic transmission for improved range and capability. In the US market, the Ram brand will see its electric options improved with the Ram ProMaster EV by the end of 2023 and the Ram 1500 REV in late 2024, with hydrogen fuel-cell models to follow.
All models will also now get LED headlights for better vision at night, further improving safety. There will be a series of specific options and variations to ensure that each brand's van has its particular character. So Citroen's vans will major on comfort with the company's new Advanced Comfort seats in the cab; Fiat will try to be: "close to our customers with a dedicated network and innovative, ingenious, affordable and electric solutions"; Peugeot will offer more distinctive interior design with the i-Cockpit layout; while Opel and Vauxhall will focus on technology with high-tech lighting, including matrix headlamps.
"The essence of our customer-centric renewal of our entire van lineup is no compromise – in range, capability, safety and connectivity," said Luca Marengo, Global Head of Product – Serial Life for the Stellantis Commercial Vehicles Business Unit.